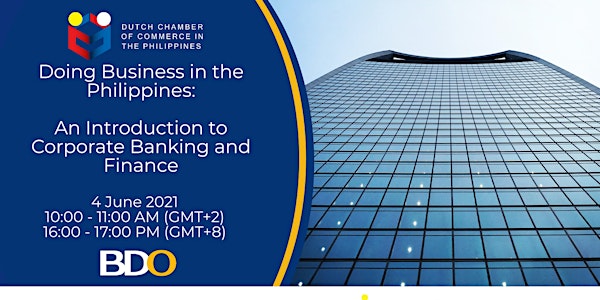 An Introduction to Corporate Banking and Finance
Doing Business in the Philippines
About this event
The Philippines has consistently recorded annual GDP growth of over 6 percent since 2012. And while the Covid19 pandemic and its resulting quarantine measures has brought contraction in Philippine GDP, increasing consumer spending and reacceleration of the government's infrastructure projects move the Philippines towards a gradual economic rebound. These key drivers to economic recovery provide opportunities for companies to expand their businesses in the Philippines.
Companies interested in the Philippine market are invited to this session titled "An Introduction to Corporate Banking and Finance" which will take place June 4, 16pm – 17pm (PH time); 10am – 11am (NL/Europe times). Attendees can expect macro-economic date on the Philippine economy, concrete information on the banking and finance landscape in the Philippines, what to expect on arrival, what to anticipate in the near future and which products and services can best serve their needs.
This Webinar is hosted by the Dutch Chamber of Commerce in the Philippines with the support of BDO Unibank, partnered with Advantage Austria, the British Chamber of Commerce of the Philippines, CCI France Philippines, the German-Philippine Chamber of Commerce and Industry, the Italian Chamber of Commerce in the Philippines, NordCham Philippines and the Spanish Chamber of Commerce in the Philippines.