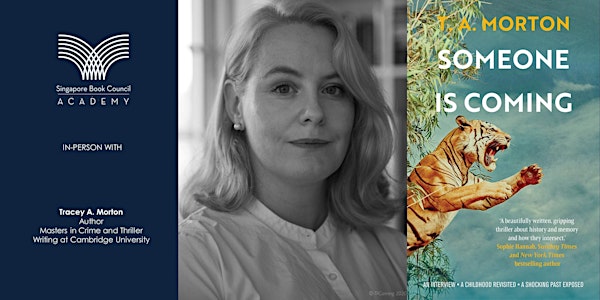 An Introduction to World of Crime Writing
An introductory writing workshop for Crime Writing.
By Singapore Book Council
Date and time
Sat, 1 Apr 2023 10:00 - 13:00 +08
Location
Goodman Arts Centre 90 Goodman Road Block E, #03-32, Singapore Book Council Training Room *Please note that there is no lift access to the Training Room Singapore, 439053 Singapore
About this event
Promotions
40% concession* rates for students and seniors
20% off buddy tickets (min 2 tickets)
20% off past participants of SBC Academy**
10% off for Kinokuniya Privilege Card members**
*Participants will have to present their student pass or senior citizen card on day of talk for verification purposes.
** Request promo code via email to programmes@bookcouncil.sg
Synopsis
This workshop will aim to provide a greater understanding of the world of crime writing:
A broad overview of the history of crime fiction and nonfiction.
Examine and highlight the sub-genres of crime fiction and nonfiction, including true crime, and cover the various other genres of crime writing.
Explore the roots of crime writing, the first detective story, the golden age of crime, thrillers and conclude with today's popular cosy crime genre.
Writing exercise will include:
Handouts that will contain paragraphs taken from the sub-genres in crime writing, the workshop will discuss and highlight the differences and their effectiveness in portraying the genre and crime overall.
An array of crime themed writing exercises to enable participants to begin to develop their own crime story, with instructions of how to continue after the workshop has ended.
This workshop is open to anyone curious about the workings of crime writing, whether they be a writer or not.
About Speaker
Tracey A. Morton is a Singapore-based Irish/ Australian writer. Her short stories have appeared in the Lakeview International Journal of Arts and Literature and The Best Asian Short Stories in 2019. In 2020, she was shortlisted for the Virginia Prize for Fiction and the Bridport Prize. She has recently completed her Masters in Crime and Thriller Writing at Cambridge University.
In August 2022, her novel, Someone is Coming , was published by Monsoon Books. In October 2022, her new novel, Restless Haints, was longlisted for the International Literary Seminars Contest.
Currently, she is working on a documentary about W. Somerset Maugham and his time spend in the Far East during the 1920s.
Cancellation:
The workshop can be cancelled or postponed two weeks before the workshop date if the minimum number of participants is not met. Participants will be fully refunded for workshops cancelled by us.
Participants who are unable to attend a workshop they have registered for are to inform us of the reason two weeks before the workshop date. They will be fully refunded in the event of extenuating and mitigating circumstances (E.g. illness, bereavement, accidents) . Those who inform us up to 5 working days before the workshop date will receive a 50% refund. Those who did not turn up at the workshop will not receive a refund.
Upon registration, you are deemed to have read and understood the cancellation and withdrawal policy and accept the terms contained therein.
Please note there is no lift to the venue.
About the organiser
Singapore Book Council (SBC) is a charity founded in 1968. Its vision is to Build Our Imagine-nation by developing creativity, imagination and original thought through writing, reading, illustrating and storytelling. Its mission is to fulfil this vision through books and literary art events, workshops, and awards, because it all starts with a story.
 Support the Singapore Book Council!
As an independent charity with IPC status, the Singapore Book Council relies heavily on individual donations to help us promote a diverse, multilingual Singapore literature. Please donate to us so that we can organise more events like this, especially during this challenging time: https://www.giving.sg/singapore-book-council-limited