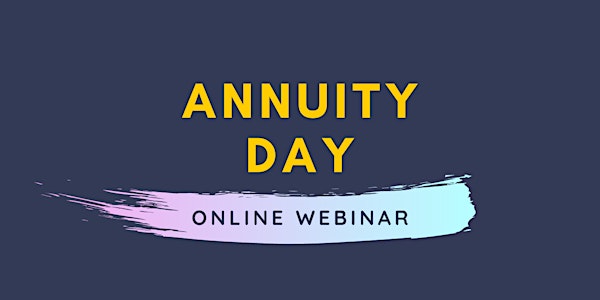 ANNUITY DAY
This is a 1 hour program designed to help you understand where annuity fits in when it comes to personal retirement planning.
About this event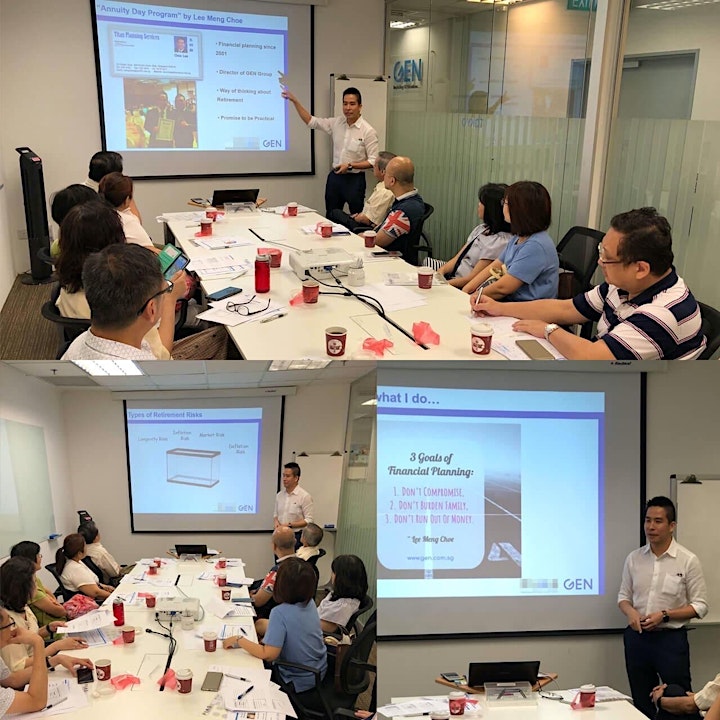 GET CLARITY ON HOW TO SOLVE YOUR RETIREMENT PROBLEM AND LEARN HOW TO CUSTOMISE YOUR RETIREMENT INCOME USING ANNUITY
ABOUT:
This is a 1 hour program designed to help you understand where annuity fits in when it comes to personal retirement planning. 
Retirement is all about income and the success in retirement is about ensuring you will never run out of money – no matter how long you live.
Annuity is designed to do exactly this – providing an income that is certain and predictable to remove longevity risk. 
Done correctly, annuity planning provides the foundation and peace of mind for all other personal and financial objectives in retirement. 
Done incorrectly or worse, retiring without any annuity may leave you stuck with a perpetual "withdrawal dilemma" (and the accompanying worries and confusion) to decide between what is the right amount to spend and what is the right amount to save.
AFTER ATTENDING THIS PROGRAM, YOU'LL BE ABLE TO:
Get clarity on which phase of retirement will annuity fit in
Learn how to choose the right type of annuity for your own unique retirement needs
Create a customised annuity portfolio from the many types of annuity available
GETTING STARTED WITH A RETIREMENT READINESS ANALYSIS
In addition, the program includes an additional follow-up service – an income and expense analysis planning exercise that projects your retirement cashflow.  This analysis will allow you to learn if you  are likely to run out of money in retirement and if you are, when will it happen.
THE PROGRAM WILL COVER THE FOLLOWING TOPICS:
1. The 3 Phases of Retirement
2. Understanding Annuity for Retirement
What is an annuity?
What are the types of annuity?
What are the benefits and risks of an annuity?
How to choose and evaluate an annuity?
What are the mistakes people make in choosing an annuity?
3. How long can your retirement last?
THE ANNUITY DAY PROGRAM IS SUITABLE FOR:
a. People who are not investment savvy and requires an alternative to retirement income besides investment based assets such as real estate or equities.
b. People who are 10 years or less from retirement
c. People who have retired but have yet to set up a long term retirement income strategy
d. People who are considering annuity for their retirement but is not sure how to start
e. People who would like to reduce the risks in their retirement portfolios
f. People considering annuity as an asset class to diversify their retirement portfolios
g. People who wants to learn about using annuity as part of their legacy planning
THE ANNUITY PROGRAM IS NOT SUITABLE FOR:
a. People who would like to completely self-manage their assets to generate income in retirement
b. People who do not prefer to have insurance and/or annuity as part of their retirement portfolio
c. People who currently have no intention of planning for retirement income
FEEDBACK FROM OUR PREVIOUS ATTENDEES:
"Informative. Provides food for thought on retirement through the use of annuity"- Geraldine Chow
"Good summary and overview of annuity which useful for our next move in planning for retirement."- Loh Ter Hoe, Isaac
DETAILS:
Date: 19 June 2021
Time: 10:30 am to 11.30 am
Location: Online Zoom Webinar
Price: $10
Important Notice:
As this event is a Workshop style done online, participants are encouraged to turn on their camera and microphone and participate in the sessions to get the full learning benefits.
Should you have any question please email us at events@gen.com.sg
ABOUT YOUR SPEAKER, MR LEE MENG CHOE:
Meng Choe specialises in retirement planning for people in the pre-retirement phase which he defines as within 10 years from retirement.
He started as a financial planner in 2001 and is a Chartered Financial Practitioner (FChFP).  You can learn more about him here.
Read his personal message about why he decided to build this program:
"I often get enquiries about annuity and retirement planning from the articles I wrote.  A common thread amongst the people that I meet is that while they are aware of the need to plan, they feel that there is so much to learn before they can get to the stage of being confident to even start the planning process.
It is not uncommon for me to take a few meetings, emails and many text messages to educate someone to the point where they have enough clarity to think about how their retirement will be like. Unlike the process of buying a single financial product, people instinctively know that a mistake in annuity and retirement planning can be costly and even irrevocable.
This is why I decided to build a program where I can cover as much of what someone should know before they start putting together a concrete plan for retirement.  Essentially, compressing the many meetings, emails and text messages into a program to cover the "salient and the FAQs" when it comes to annuity and retirement.  The idea is a bit like a marriage preparation course for couples before they get married or antenatal course for young parents before the baby arrives.  The only difference is that this is a preparation program for another phase of life.
My hope is that the program can help people make better decisions for their retirement, avoid some of the costly mistakes others have made and save me some late night emails and text messages!" 
----------------------
IMPORTANT NOTES FOR WEBINARS/SEMINARS/WORKSHOPS
GEN (GEN Financial Advisory) respects the privacy of all our clients and visitors and are committed to safeguarding the personal information you provided to us in accordance to the Singapore Data Protection Act.
For the event registrations, you will be requested to provide your personal particulars, which include but are not limited to the following:
a) Full Name
b) Contact details, including telephone number/s and/ or email addresses
Please note that GEN will send out "Email Confirmation", Short Message Service (SMS), events / seminars and marketing via email to all registrants for all GEN events.
GEN may change, add, suspend, cancel, remove or otherwise modify the services offered, including event orders, on this website at any time without prior notice.
Should you wish to withdraw your consent from receiving events information, please contact us at events@gen.com.sg. All personal data held by GEN will be kept confidential, will not use and disclose to third parties.