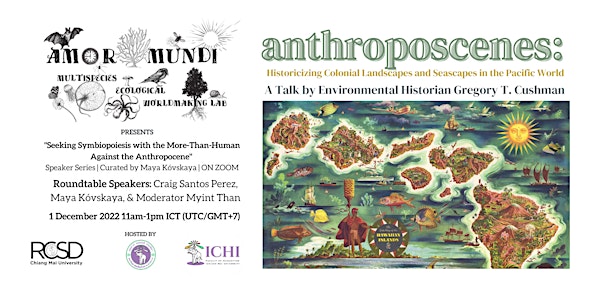 "anthroposcenes"—A Talk by environmental historian Gregory T. Cushman
A talk by Gregory T. Cushman, with roundtable speakers Craig Santos Perez & Maya Kóvskaya, moderated by Myint Than w/ audience Q&A.
About this event
AMOR MUNDI Multispecies Ecological Worldmaking Lab's "Seeking Symbiopoiesis with the More-Than-Human Against the Anthropocene" Speaker Series presents: "anthroposcenes: Historicizing Colonial Landscapes and Seascapes in the Pacific World"—A Talk by Environmental Historian Gregory T. Cushman, and Roundtable Speaker Discussion with CHamuro Poet & Scholar Craig Santos Perez & Multispecies Anthropocene Scholar Maya Kóvskaya, moderated by Mon Researcher Myint Than, with Audience Q&A.
Thursday, 1 December 2022 11 AM-1 PM (ICT) INDOCHINA Time / GMT+7/ UTC+7
TALK ABSTRACT
From the time that humans first set foot on its shores, the Pacific World has had colonial landscapes and seascapes. Pictorial maps have been central to the modern history of representation and conception of this vast region, and they provide a vivid chronicle of colonialist ideologies in action and their contributions to environmental change, aspects of which long predate as well as critique Euro-American penetration of the region. From a decolonial perspective, Pacific landscapes and seascapes are as notable for that which is missing, erased, or out-of-sight as that which is easily visible to the colonial gaze. This article uses pictorial maps as a guide to three key epochs of environmental history in the region: the Homogenocene, Plantationocene, and Anthropocene. If earth scientists must insist on demarcating a starting point for the 'human epoch' of planetary history, they should look to dramatic absences—to anti-sedimentary formations—at the heart of the Pacific World to place their golden spike, which are symbolic of the extractivism and ruthless quest for power that drives industrial capitalist civilization.
ABOUT SPEAKER
GREGORY T. CUSHMAN (He/Him)
Gregory T. Cushman joined the history faculty at the University of Arizona, USA, this past August after years at the University of Kansas. He specializes in global environmental history, Latin American history, Pacific history, and the history of science, technology, and engineering. His award-winning book Guano and the Opening of the Pacific World: A Global Ecological History (Cambridge University Press, 2013) is one of the first studies to examine the environmental and cultural history of the modern world from the perspective of the whole Pacific Basin and demonstrates how humble bird excrement changed the course of modern history. Climate change and variability are central issues in Cushman's work, as well as the environmental engagements of Indigenous peoples in the Andean and Pacific Worlds. In 2015-17, he was the recipient of an Andrew Carnegie Fellowship.
ROUNDTABLE SPEAKERS
CRAIG SANTOS PEREZ (He/Him)
Dr. Craig Santos Perez is an indigenous CHamoru from the Pacific Island of Guam. He is the co-editor of six anthologies, including Geopoetics in Practice (Routledge, 2019), Indigenous Literatures from Micronesia (U of Hawaii Press, 2019), and Indigenous Pacific Islander Eco-Literatures (U of Hawaii Press, 2022). He is also the author of six books of poetry, most recently Habitat Threshold (Omnidawn, 2020), which is a collection of "eco-poetry" about ecology, environmental justice, human-animal relations, and climate change. His monograph, Navigating Chamoru Poetry: Indigeneity, Aesthetics, and Decolonization (U of Arizona Press, 2021), is the first full-length study of poetry from the native peoples of Guam. He is professor in the English department, and affiliate faculty in the Center for Pacific Islands Studies and the Indigenous Politics Program, at the University of Hawaii, Manoa.
MAYA KÓVSKAYA (Femme They/Them)
Maya Kóvskaya (Ph.D. UC Berkeley, 2009) is founder and head of the AMOR MUNDI Multispecies Ecological Worldmaking Lab—a multidisciplinary research initiative in the Global South focused on how human and more-than-human world-making and survival are mutually entangled under the compound crises of climate chaos, mass extinction, and patchy Anthropocene conditions. Maya teaches Multispecies Anthropocene Studies; Science, Technology, and Society (STS) Studies; and Political, Critical, Cultural, and Semiotic Theory at Chiang Mai University in the Faculty of Social Science. They have published widely on the intersection of the political, linguistic, and ecological with performative, semiotic, and visual culture. Their ecophilosophical work further involves a conceptual examination of the philosophical underpinnings and etiologies of what they call the "Anthroposupremocene." Interrogating the workings of the invidious, hierarchical, dualist division between humans and the more-than-human world, Maya traces the historically contingent, constitutive and rupturing "species-alienation" of Western Humanist "Man/Anthropos" from "Nature," and the unfolding catastrophic consequences for the planet. Their multispecies ethnographic work explores what they call "feral agency," "more-than-human speech acts," "multispecies language games," "eco-performativity," and bio- and eco-semiosis, to investigate the extralinguistic ways that nature "speaks." Understanding how nature "speaks" can help us "rethink the human in a more-than-human world," better conceptualize a "politics beyond the human, and imagine "multispecies polities" as shared sites of symbiopoiesis—symbiotic shared worldmaking practices against the Anthropocene. They have also been a curator, and award-winning art critic since 2005, having lived, taught, curated exhibitions, and done research in Russia, China, India, and Thailand, since the 1990s.
MODERATOR
MYINT THAN (He/Him)
Myint Than is an indigenous Mon researcher hailing from Mon State in Myanmar. He is a former Buddhist monk and was an educator teaching refugees in camps in Thailand and Mon State. Currently a master's student studying Social Science and Sustainable Development at Chiang Mai University (CMU) under the Presidential Scholarship, Myint Than is part of the AMOR MUNDI Multispecies Ecological Worldmaking Lab "Dynamics of Multispecies Contact Zones" research project, spearheaded by multispecies scholar Eben Kirksey (Oxford University), and AMOR MUNDI Lab Director, Anthropocene scholar Maya Kóvskaya (CMU), resulting in a co-authored article with Kirksey and other lab members. He was also a scholarship participant in the "Indigenous and More-Than-Human Ecological Justice: Environmental Humanities Research in the Global South" workshop at CMU (2022). His master's research on community-centered "sustainable development" in Mon State explores the dynamics of and challenges to "multispecies sustainability" beyond the dominant human-centric paradigm, and against centralized State and capitalist power amidst political chaos in Myanmar, as a mode of empowerment to and reparation for indigenous Mon people. A native speaker of Mon—one of the oldest languages in Southeast Asia—his work also seeks to promote the use of Mon language in an era when indigenous languages are rapidly disappearing. Myint Than is also fluent in Burmese, English, and Thai languages.
ABOUT AMOR MUNDI Multispecies Ecological Worldmaking Lab
The AMOR MUNDI Multispecies Ecological Worldmaking Lab is an intersectional multidisciplinary research initiative in the Global South investigating how human and more-than-human worldmaking and survival are mutually entangled. Our aim is to grow a knowledge-making community by fostering dialogues and collaborations amongst disciplines spanning ecophilosophy and ecological political theory, ethology, animal, plant, and critical life studies, geography, anthropology, political and social sciences, humanities, arts, and natural sciences, through research, publications, workshops, curated conversations, art/science exhibitions, multispecies ethnography, and innovative pedagogy.
HOSTS
—The Regional Center for Social Science and Sustainable Development (RCSD), Chiang Mai University
—The Integrative Center for Humanities Innovation, Chiang Mai University
ORGANIZER
—AMOR MUNDI Multispecies Ecological Worldmaking Lab
SERIES CURATOR
Maya Kóvskaya
EVENT MANAGER
Blake Palmer
LAND ACKNOWLEDGEMENT
We acknowledge that this land on which we speak, work, and live belongs to all earthly beings, past, present and future, including the many diverse indigenous peoples who came here and made homes long before there were Nations or States. Acknowledgements are not enough, however. We need to actively begin decolonizing our relations with "othered" humans and the more-than-human natural world. Returning stolen lands to the care of traditional indigenous custodians, who have proven their capability and will to preserve biodiversity and landscape integrity in the lands under their stewardship for millennia, is one of many needed steps. To borrow the words of Tuck and Yang: "Decolonization is not a metaphor."