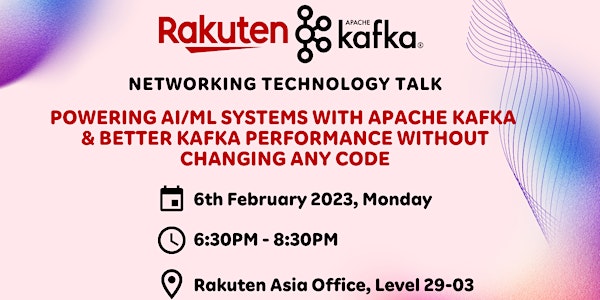 Apache Kafka® Meetup Singapore - 6 February 2023
IN PERSON! Apache Kafka® Meetup Singapore - 6 February 2023
When and where
Location
Rakuten Asia 138 Market Street Level 29-03 Singapore, 048946 Singapore
About this event
Agenda:
18:30pm-19:00pm: Pizza 🍕 , Drinks 🍻🥤 & Networking
19:00pm-19:30pm: Engin Cukuroglu, PhD, Staff Solutions Engineer, Confluent
19:30pm-20:00pm: Michael Chong, Regional Solution Architect, Azul
20:00pm-20:30pm : Q&A / Networking
***
💡 Speaker:
Engin Cukuroglu, PhD
Staff Solutions Engineer, Confluent
Bio:
Engin Cukuroglu is a Staff Solutions Engineer at Confluent based in Singapore. Previously he wore multiple hats varying from Data Scientist, Cancer & Stem Cell Researcher, and HPC bender in different companies where he gained vast experience on distributed systems and highly scalable analytics for different verticals. After receiving his BSc in Chemical and Biological Engineering, he completed his MSc and PhD in Computational Science and Engineering. His studies primarily focused on data analytics in distributed systems and developing pipelines for protein structures and genomics data. He published his findings in peer reviewed scientific journals. Most recently, he has dedicated his time to designing scalable solutions using Kafka.
Talk:
Powering AI/ML systems with Apache Kafka
Abstract:
The values of companies revolve around their innovations, designs and adaptability to the market reactions. Nowadays, AI/ML systems are the key drivers of the innovation. A big shift from batch oriented solutions to real-time solutions also affected the way AI/ML systems are built.In this meetup, how Apache Kafka powers AI/ML systems and unlock the power of real-time data will be explored.
-----
💡 Speaker:
Michael Chong, Regional Solution Architect, Azul
Bio:
Michael is a veteran in the IT industry working in various multinational companies and software vendors in various roles such as developer, technical consultant, pre-sales consultant/director, solution architect, project manager etc.
He has widely contributed to the architecture and solutioning of various software applications to the FSI, logistics companies, government ministries, statutory boards, service providers, etc in Singapore and in the ASEAN region.
Talk:
Better Kafka Performance Without Changing Any Code
Abstract:
Need better Kafka throughput to keep your data pipelines, streaming analytics, and mission-critical applications running within SLAs in complex, challenging environments? Why does throughput matter? Faster Kafka = Less Compute = Lower Infra Bill. You may already know that Kafka runs on the Java framework, meaning swapping your Java Virtual Machine (JVM) for a faster one can have a huge impact on your infrastructure costs. It's that simple. In this talk, we are going to discuss how choosing a high-performance JVM helps to significantly reduce the cost of infrastructure by up to 40% and increase Kafka maximum throughput by up to 45%. The JVM achieves this by compiling more efficiently, eliminating pauses, and reducing latency.