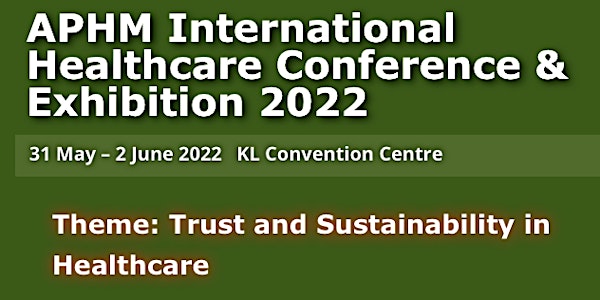 APHM International Healthcare Conference and Exhibition 2022
APHM International Healthcare Conference & Exhibition on 31/5 -2/6/2022 at Kuala Lumpur Convention Centre for the 28th year.
When and where
Location
Kuala Lumpur Convention Centre Exhibition Halls 4 & 5, Ground Floor Kuala Lumpur, Wilayah Persekutuan Kuala Lumpur 50450 Malaysia
About this event

Visitors, Book Early NOW for the Exhibition! REGISTER DIRECT AT https://aphmconferences.com/visitors-registration/
This Exhibition is free for all trade visitors.
About the Event:
The Association of Private Hospitals of Malaysia (APHM) will be organising the annual APHM International Healthcare Conference and Exhibition on 31 May – 2 June 2022 at Kuala Lumpur Convention Centre, for the 28th consecutive year with the theme: "Trust and Sustainability in Healthcare".
Here is your opportunity to visit this premier healthcare exhibition in Malaysia…proven with our 27 years of record from 1993.
We expect 190 Exhibition booths, 800 Conference delegates & over 2500 Exhibition visitors.
Meet key decision makers and find out more about new and latest innovative products and healthcare supplies.
The exhibition previously attracted Exhibitors & Visitors from Australia, Bangladesh, Canada, China, Guatemala, HongKong, India, Indonesia, Iran, Italy, Japan, Korea , Laos, Libya, Malaysia, Maldives, Nepal,Nigeria, Pakistan, Senegal, Singapore, Taiwan, Thailand, United Arab, UK, US, UZBEKISTAN,Vietnam.
FOR MORE INFO ABOUT THE EXHIBITION - https://aphmconferences.com/exhibition/
To view 2022 List of Exhibitions - https://aphmconferences.com/exhibition/
To view the floor plan and location of the exhibitors - https://aphmfloorplan.aphmconferences.com
Visitors please pre-register at https://aphmconferences.com/visitors-registration/
In conjunction with the Exhibition, we have a 3 days Conference at Conference Hall 2&3, Level 3 of KL Convention Centre...
Introduction to this year's theme - "Trust & Sustainability in Healthcare".
Integrity, trust, competence and reliability of healthcare players, cyber theft of Identity and personal data are matters of increasing concern. How should healthcare players respond to these and more? And how can we nurture the trust of our patients and the communities we serve? Doctors, nurses and pharmacists still remain in the top of list of trustworthy professionals. It's something to be proud of, complacency has no place here though.
SPECIAL RATES FOR 3 DAYS REGISTRATION! PRE-REGISTER NOW FOR THE CONFERENCE AT https://aphmconferences.com/register/
Email info@aphmconferences.com for more info or call +6012-3923560
DOWNLOAD CONFERENCE BROCHURE FROM www.aphmconferences.com/downloads
About APHM
APHM is a voluntary association of the private hospitals and medical centres in Malaysia and currently has over 153 members. Take this opportunity to showcase your products and services to over 1,000 middle to top management personnel in the private and public hospitals in Malaysia and abroad who will be participating in the Conference. We also expect over 3,000 visitors to the Exhibition. The visitors are from the private and public healthcare sectors as well as suppliers and personnel from the related industries, interested to view the products and services.
Managed by EventsMastery Asia Pacific Sdn Bhd (1045322M)
Email info@aphmconferences.com for more info or call +6012-3923560
Some of our past exhibitors:
Abex Medical System Sdn Bhd; Agrow Corporation Sdn Bhd; AL Global Corporation (M) Sdn Bhd; Allen Healthcare Products (M) Sdn Bhd; Almex System Technology Asia Sdn Bhd; Anest IwataSoutheast Aisa Co. Ltd; BDC Corporation Sdn Bhd; BenQ Medical Technology Corporation; BergamotSdn Bhd; Best Contact (M) Sdn Bhd; Bio-Collagen Technologies Sdn Bhd; BTL Industries Malaysia SdnBhd; Canon Medical Systems Malaysia Sdn Bhd; China Doctorsfave Biotechnology Co., LTD; ClarionEvents Pte Ltd; Creative Medical; CS Laundry System Sdn Bhd; Cypress Medic Sdn Bhd; DISPO-MED(Malaysia) Sdn Bhd; Eetarp Power (M) Sdn Bhd; Encore Med Sdn Bhd; Enviroterm Sdn Bhd; EquipMedical (M) Sdn Bhd; Ergotron; Fajar Saintifik Sdn Bhd; First Ambulance Services Sdn Bhd; FormosaCultural Corporation; Freerider Corp.; Fujifilm (MALAYSIA) Sdn Bhd; Goodrich Global Sdn Bhd;Hartalega Sdn Bhd; HorecaBid Sdn Bhd; HR Wellness Development PLT; I World Alliance Sdn Bhd; IDSMedical Systems (M) Sdn Bhd; Impian Global Marketing Resources; IMU Education Sdn Bhd; InBodyAsia Sdn Bhd; Institut Jantung Negara (IJN); Jardine Lloyd Thompson Sdn Bhd; Klose Industrial ServiceSdn Bhd; KPJ Healthcare Berhad; LKL Advance Metaltech Sdn Bhd; Mahkota Medical Centre Sdn Bhd; Malaysia External Trade Development Corporation (MATRADE); Malaysia HealthCare Travel Council; Malaysia Productivity Corporation (MPC); Malaysian Healthcare Sdn Bhd; Malaysian InvestmentDevelopment Authority (MIDA); Malaysian Rubber Export Promotion Council (MREPC); MalaysianSociety for Quality in Health; Maymedic Technology Sdn Bhd; Mecomb Malaysia Sdn Bhd; medavisGmbH; Medical Device Authority (MDA); Medico Sdn Bhd; Medika Supplies Sdn Bhd; MeditopCorporation (Malaysia) Sdn Bhd; Meditron Furniture Sdn Bhd; Metrotube Sdn Bhd; MIMS MedicaSdn Bhd; MPCN dot com Sdn Bhd; Muzamal Industries Sdn Bhd; Napier Healthcare Solutions; National Kidney Foundation of Malaysia (NKF); National Pharmaceutical Regulatory Agency; NetturulResources Sdn Bhd; New Zealand Trade and Enterprise; Next Level Technologies Sdn Bhd; OrionHealth; Parkway Pantai; Perunding Endah Alam Sdn Bhd; Photomedic Solutions Sdn Bhd; PreceptHealth; Prince Court Medical Centre; ProMed Marketing Sdn Bhd; RSDH (Malaysia) Sdn Bhd; SalineeHealthcare Sdn Bhd; Sato Auto-ID Malaysia Sdn Bhd; SD Global Technologies Sdn Bhd; SemmelHealth Sdn Bhd; Shimadzu Malaysia Sdn Bhd; SIRIM Berhad; Smart Instruments (M) Sdn Bhd; SunwayMedical Centre Sdn Bhd; Taiwan Pharmaceutical Alliance; Tech-Lab Manufacturing Sdn Bhd; TheNational Cancer Society of Malaysia; TMC Life Sciences Berhad; Tourism Ministry; Traditional and Complementary Medicine Division; UiTM Private Specialist Centre; UM Specialist Centre Sdn Bhd; United Imaging Healthcare (Malaysia) Sdn Bhd; Urban Health Sdn Bhd; UWC Healthcare Sdn Bhd; World Wildlife Fund/ APPCO Sdn Bhd; WTK Technologies (M) Sdn Bhd; Wu's Tech Co., Ltd.; ZenWellness Sanctuary Sdn Bhd
This is not an exhaustive list. It is only a sample of exhibits - Air and Water Treatment Technologies, Air Conditioning Equipment, Air Rescue Services, Alarm Equipment, Anesthetics Beds/Bedside, Materials Bio Technology Business, Machines Cardiac Therapy Equipment Care Support Systems, Cleaning Equipment Consumable Supplies and Products Data Processing Equipment, Diagnostic Equipment, Dialysis Equipment, Disposable Materials Distribution Systems, Educational Programmes, Emergency Vehicle Equipment and Maintenance, Energy Saving Systems, Fire Fighting Equipment, Floor Materials Garments/Footwear, Gas Piping Equipment, Health Food and Products, Health Insurance and Financing, Imaging Equipment, Laboratory Apparatus, Lasers, Life Support Equipment, Medical Furniture, Medical Information Systems Management, Nurse Calling System, Operating Theatre Equipment, Orthopedics Equipment, Para-Medical Equipment, Patient Monitoring Equipment, Pharmaceutical Drugs, Physiotherapy/Prosthesis Materials, Robotics technology, Security Systems, Software Solutions, Sterilization and Disinfection Equipment, Storage/Preservation Materials Surgical Equipment and ProductsTelemedicine - Hardware/Software, Ultrasonic Diagnostic Instruments, X-Ray Diagnostics Equipment.
Breakdown of past exhibition visitors includes :
Senior Management : Chairman, Chief Executive Officer, Chief Operation Officer,Chief Financial Officer, General Manager, Managing Director, Country Manager,Executive Director, Director, Regional Director, President, Vice-President, Principal,Senior Manager, Proprietor, Partner, Owner, Associate, Founder, Department Heads –(Radiology, Medical Services, Patient Safety, Rehabilitation Services, Experience Management, Sales Medical Asia, Marketing & PR, Business Development, Procurement, Healthcare, Quality & Regulatory Affairs, Medical Laboratory, Sustainable Development, Sales, Engineering, Physiotherapy, Imaging, Digital Marketing)
Managerial Level : Sales & Marketing, Technical, Business Development, Planning,Housekeeping, Public Relations, Project Management, Operations, e-Commerce, Accounts, Administrative, Clinical, Regulatory Affairs, Radiology, Rehabilitation, Products, Procurement, Human Resource, Pharmacy, Investment, Financial Planning, Finance, Clinic, Factory, Corporate Communication, Client Relationship, Medical Technology, Accounts, Customer Service, Risk Advisory, Biomedic, IT, Export, Training, Quality.
Mid-Level Executives – Business Development, Sales, Accounts, Corporate, Marketing,Operations, Maintenance, Procurement, Projects, Technical Sales, Project & Research,IT, Medical Sales, Housekeeping, Store, Finance, Healthcare Waste Operation, Medical Records, Pharmacy.
Medical Equipment Planner, Pharmacist, Engineer, Biomedical Technician, Medical Product Specialist, Lecturer, Physiotherapist, Consultant, Business Analyst, Trade Analyst, Product Specialist, Acupuncturist, Merchandiser, Audiologist, Counsellor,Clinical Marketing, Nutritionist, Sonographer, Market Researcher, Programmer,Accountant, Software Marketer, Architect, Designer, Legal Counsel, Microbiologist.
Doctors and Nurses: Doctor, Lecturer, Healthcare Consultant, Physician, Managing Director, Executive Director, Medical Director, Founder, CEO, Chief Medical Officer, General Surgeon, Medical Advisor, Dentist, Director of Nursing, Matron, Nursing Supervisor, Sister in Charge, Staff Nurse, Unit Manager, Nurse Manager, Nurse Instructor.
FAQs 
What are my transport/parking options for getting to and from the event?
Please refer to https://aphmconferences.com/travel-to-venue/
How can I contact the organiser with any questions?
Email info@aphmconferences.com