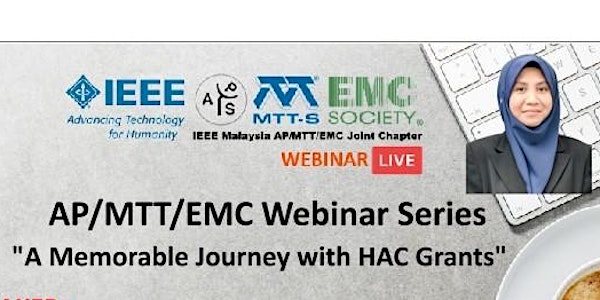 AP/MTT/EMC WEBINAR SERIES 10/2022 BY ASSOC. PROF. DR. FAUZIAHANIM CHE SEMAN
INVITATION AP/MTT/EMC WEBINAR SERIES 10/2022 BY ASSOC. PROF. DR. FAUZIAHANIM BINTI CHE SEMAN
About this event
Greetings Everyone
IEEE Malaysia Antenna Propagation / Microwave Theory Technique / Electromagnetic Compatibility (AP/MTT/EMC) Joint Chapter in collaboration with the Faculty of Electronic Engineering Technology (FTKEN), Universiti Malaysia Perlis (UniMAP), IEEE UniMAP Student Branch, and IEEE UTM Student Branch would like to invite you to the AP/MTT/EMC Webinar Series 10/2022, as follows:
Date: 17 August (Wednesday)
Time : 10 am - 11.30 (MYT, GMT +8)
Speaker: Assoc. Prof. Fauziahanim Binti Che Seman (Assoc. Prof, Principal Researcher Applied Electromagnetic Research Center (EMC), Institute of Integration Engineering), UTHM Malaysia.
Title: A Memorable Journey with HAC Grants
Google Meet joining info
Video call link: https://meet.google.com/wxs-rojp-eui
Or dial: ‪(US) +1 636-287-0625‬ PIN: ‪876 394 593‬#
More phone numbers: https://tel.meet/wxs-rojp-eui?pin=7213564653551