AP/MTT/EMC WEBINAR SERIES 6 BY ASSOC. PROF. ANDRÉS ALAYÓN GLAZUNOV
INVITATION AP/MTT/EMC WEBINAR SERIES 6 BY ASSOC. PROF. ANDRÉS ALAYÓN GLAZUNOV
About this event
INVITATION AP/MTT/EMC WEBINAR SERIES 6 BY ASSOC. PROF. ANDRÉS ALAYÓN GLAZUNOV
Greetings Everyone
IEEE Malaysia Antenna Propagation / Microwave Theory Technique / Electromagnetic Compatibility (AP/MTT/EMC) Joint Chapter in collaboration with The Faculty of Electronic Engineering Technology (FTKEN), Universiti Malaysia Perlis (UniMAP) , IEEE UniMAP Student Branch and IEEE UTM Student Branch would like to invite you to the AP/MTT/EMC Webinar Series 5/2021, as follows:
Date : 21.4.2021 (Wednesday)Time : 3 pm - 4 pmSpeaker : PROF. ANDRÉS ALAYÓN GLAZUNOVTitle: Antenna Systems, Propagation Channels, OTA and Wireless Performance of Buildings
For more details, kindly refer to the attached poster. An e-certificate will be provided to attended participants only.
Google Link: https://meet.google.com/gqr-qjtz-nxn
Thank you.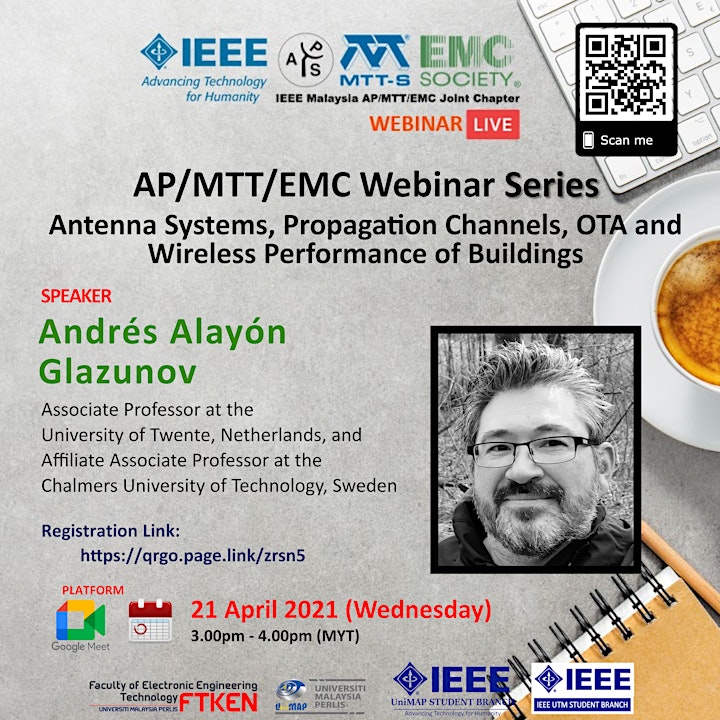 Organiser of AP/MTT/EMC WEBINAR SERIES 6 BY ASSOC. PROF. ANDRÉS ALAYÓN GLAZUNOV