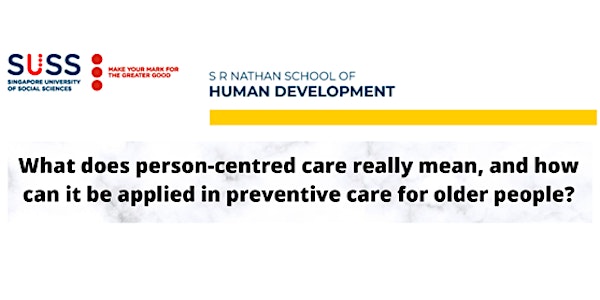 Application Of Person-Centred Care In Preventive Care For Older People.
What does person -centred care really mean and how can it be applied in preventive care for older people?.
When and where
Location
Singapore University of Social Science (SUSS) 463 Clementi Road SUSS Blk C Seminar Room Level 6, SR C.6.09 - 10 Singapore, 599494 Singapore
About this event
Abstract
In this workshop, we will cover the following:
Explore the concept of person-centred care in contrast to professional models
Discussion about effective consultation theory
How ACT Assess and Connect tool has been developed and used as a person-centred approach to promote healthy ageing
How the ICOPE model which is based on a professional (indeed largely medical) concept of care and describe the fit with ACT Assess and Connect
How ACT Assess and Connect can be used to promote person-centred care in Singapore, within a larger suite of assessment tools which serve professional and for resource planning purposes
(This is face to face workshop, limited seat available)
Provisional timetable:
10:30-11:00: Registration and networking
11:00-11.45: What does person-centred care really mean? How can it be applied in preventive care for older people?
11:45-12:45: Q & A
12:45-13:00: Summary and Closing remarks
13:00-:14:00: Lunch cum Discussion
Dr Ian Philp, MD CBE
Founder of Age Care Technologies Chair, British Society of Gerontology Special Interest Group on Ageing, Business and Society
Prof. Adrian Hayter
National Clinical Director for Older People and Integrated Person Centred Care (OPIPC), NHS
By registering for this event, you agree that the Singapore University of Social Sciences (SUSS) may collect, use and disclose your personal data (including any visual images, photographs and/or videos of yourself captured during the event) for the purposes of (a) processing your registration; (b) administering and planning your participation in the event; (c) maintaining of event participants' database; (d) processing your payment for the event, if any; (e) responding to your queries about the event; (f) obtaining your feedback on your event experience; and (g) sending updates and news on future events organised by SUSS and/or their partner organisations which may be of interest to you. You further agree that images of yourself in video recordings or photographs taken at the event ("Images") may be used for other marketing and publicity-related purposes in SUSS publications including on the SUSS website or other websites and that copyright in the images belong to SUSS. If you wish to request SUSS to cease using the Images at any time, please write to gerontologytemp@suss.edu.sg, they will not be used in future publications but may continue to appear in publications already in circulation.