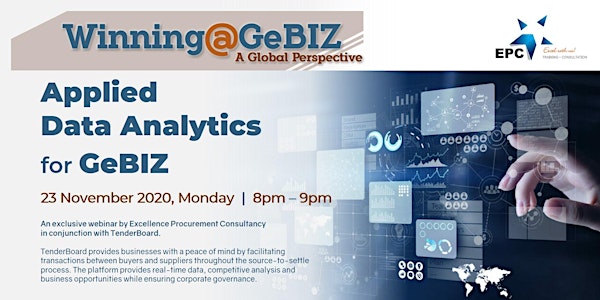 Applied Data Analytics for GeBIZ
A webinar discussing how you can leverage on applied data analytics to start winning at GeBIZ.
About this event
The Singapore government has budgeted an estimated spending of over S$83 billion in the 2020 financial year, much of which are through GeBIZ. If you could secure even just 0.01% of this spending on GeBIZ, it would mean a substantial revenue of over millions for you.
The GeBIZ platform is the best platform to clinch tender these lucrative projects. It not only a platform providing direct access to do business with the Singapore government, but also a repository of business data that the public can access to find out more about the various markets. Not many people realise that such information are critical in helping them in the following key areas:
acquire insights into their competitors' profile
identifying the right opportunities
develop the best strategy to clinch those opportunities
In this webinar, you will hear from Rick Chong, an industry practitioner with over 18 years of experience in procurement and supply chain. More importantly, he was a key architect of the government procurement process having previously helped revise the policies governing GeBIZ.
You will also be introduced to TenderBoard, a digital platform providing businesses with a peace of mind by facilitating transactions between buyers and suppliers throughout the source-to-settle process. It provides real-time data, competitive analysis and business opportunities while ensuring corporate governance.
Join us in this session as Rick reveals the various types of data that reveal the market competition and how to analyse them to start winning at GeBIZ.