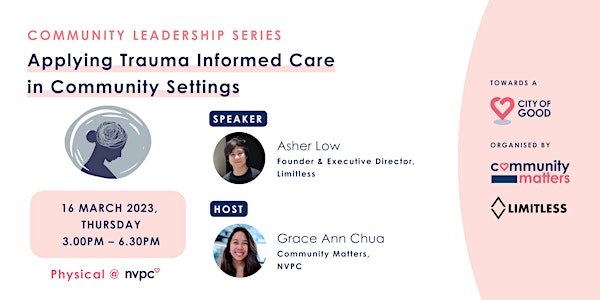 Applying Trauma Informed Care in Community Settings
A 3.5-hour physical workshop for community leaders to practise applying trauma informed care in their communities.
When and where
Date and time
Thu, 16 Mar 2023 15:00 - 18:30 +08
Location
National Volunteer & Philanthropy Centre - NVPC 6 Eu Tong Sen Street ##04-88 Singapore, 059817 Singapore
About this event
Have you ever wanted to help someone who was facing troubles but did not know how to support them? Join us for our next Community Leadership Series to learn about the presence, symptoms and role of trauma in our lives and the people around us, so that we may best know how to care for and support others in our communities and organisations!
Organised by NVPC's Community Matters team and Limitless, a youth mental health-focused charity, this workshop will cover the key questions:
What is trauma and how do I identify it?
What is trauma-informed care?
How can I practise trauma-informed care? (In-depth, includes role-play)
How can leaders bring about healing?
This workshop is happening on:
16 March (Thursday) from 3:00pm to 6:30pm - Physical @ NVPC 's MPH
Address: 6 Eu Tong Sen Street, The Central, #04-88, Singapore 059817
Registration starts at 2.45pm, do arrive earlier!
This workshop will bring participants through the concepts of trauma, focusing on the application of trauma informed care through interactive activities such as role-plays. In this workshop, participants will learn practices that they may adopt to encourage healing and create more positive interactions within their community.  
*If you attended the online introduction session on 16 February, you are more than welcome to attend this physical workshop to gain a deeper understanding.
This in-person workshop is useful for:
Leaders within communities such as in an NPO, ground-up, company or other interest groups that are looking to better care for their community members and improve their mental wellbeing
Individuals interested in understanding deeper about mental health and trauma
Register on Eventbrite now and we hope to see you there!
Workshop Facilitator
Asher Low | Founder & Executive Director, Limitless
Asher is the founder and current Executive Director of Limitless, a non-profit organisation aimed at empowering youths from disadvantaged backgrounds through their mental wellness programmes.
Being a social worker and a member of the steering committee for Singapore Mental Wellbeing Network, Asher brings with him more than ten years of experience working with young people. He is especially passionate about helping youths who struggle with mental health conditions, and has spearheaded research, advocacy, and public education efforts to help promote help-seeking behaviour, reduce stigma in youths, and improve public knowledge and skills in trauma-informed care.
About the organiser
Community Matters is embarking on a Community Leadership series.

The series will consists of monthly events that bring together community leaders to network, learn, and share from each other about topics related to the life of their community. This year, our focus is on the community journey, looking at different aspects of community experience from start to end.