Sales Have Ended
Registrations are closed
The respective webinar links will be sent to your emails closer to the event date. For more information on the programme, visit https://blog.nus.edu.sg/aprusymposium/
Sales Have Ended
Registrations are closed
The respective webinar links will be sent to your emails closer to the event date. For more information on the programme, visit https://blog.nus.edu.sg/aprusymposium/
For this year's symposium, we will reflect on the research and preservation of architectural heritage and its place in the urban landscape.
About this event
APRU University Museums Research Symposium 2021
Universities and Architectural Heritage
15 – 16 November 2021
The Association of Pacific Rim Universities (APRU) is a network of universities from Asia, Australasia and the Americas. The association established the APRU University Museums Research Symposium in 2012 to bring participants together for the sharing of research and education initiatives concerning their universities' cultural and scientific collections.
This year, we will reflect on the research and preservation of architectural heritage and its place in the urban landscape. Architectural heritage involves multidisciplinary perspectives and collaborations which demonstrate expertise in science, culture, and the environment. Continuity and change have become crucial considerations when looking at our built environment and heritage buildings, as evident in recent examples of public health and climate concerns. The Asia-Pacific landscape especially provides a cross-cultural platform on which developments in architectural heritage research, education and practice can flourish, allowing ideas exchanged during the Symposium among universities, museums, and its collaborators to form a foundation upon which future research can be based.
15 November
Symposium Opening Keynote
Keynote speaker: Professor Ho Puay-Peng, Head, Department of Architecture, National University of Singapore. UNESCO Chair on Architectural Heritage Conservation and Management in Asia
Panel 1: Intangible Cultural Heritage
Panel 2: Architectural History
Keynote speaker: Dr Wu Ping-Sheng, Department of Architecture, National Cheng Kung University. Director, NCKU Museum
-
16 November
Panel 3: Urban Planning and Regeneration
Keynote Speaker: Kinoshita Hikaru, Department of Architecture, Faculty of Environmental and Urban Engineering, Kansai University
Panel 4: Sustainability and Conservation
Keynote Speaker: Dr Louise Cooke, Archaeology Department, University of York
Please click here to view symposium details and themes. The programme booklet can be downloaded here. The respective webinar links will be sent to your emails closer to the event date.
For all attendees:
Registration is required to attend this conference and must be done through Eventbrite.
Registration opens on 13 Sep and closes on 14 November.
Please note that this symposium is held entirely online.
Digital element:
Due to Covid-19 affecting worldwide travel and aviation, the symposium will be 100% online, including post-symposium activities.
Kindly note that all times reflected in the programme are in GMT +8, and that the programme may be subject to change.
Cancellation policy
As far as possible, changes in the programme will be communicated to attendees in advance.
Unless the event is cancelled by the organiser, no refunds will be made after payment.
In the event that the programme is cancelled by the NUS Baba House, you will be provided with a full refund.
-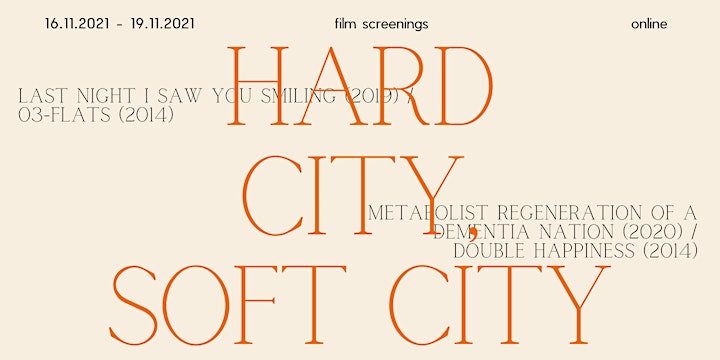 [Film Series] Hard City, Soft City
Serving as a postscript to the APRU University Museums Research Symposium 2021 on Universities and Architectural Heritage, this film programme, running from 16 November to 19 November 2021, draws out cinematic impulses around the Symposium's discursive material to investigate the porous layers between the built environment and the manifold interests that both govern and are elided by it.
Hard City, Soft City invokes Jonathan Raban's book and lexicon to describe the tensions between the macro structures that bind the city, and the plasticity of personal imaginaries that encroach it. Through a series of films, blog resources, and a closing panel discussion, the programme's collection of intimations, memories, and aspirations coalesce to form the soft city, offering moments of resistance and transcendence against the limitations of master plans and the processes of urbanisation and global capital. As a corollary, each of these representations are new avenues to approach pertinent questions of policy, conservation, modernisation – that is, the polemics of negotiating the spaces we produce and build for ourselves. 
To register, click here
For more information, visit [FILM PROGRAMME WEBSITE]
-
Panel Discussion with Ella Raidel and Jerome Ng
Date: 19 November 2021
Time: 7PM - 9PM
We will be hosting a panel discussion with the filmmakers of the last Double Bill screening (Double Happiness + Metabolist Regeneration of a Dementia Nation) to mark the end of the programme on 19 November. In this session, Ella Raidel and Jerome Ng will be reflecting on their films and its implications and suggestions towards the pertinent issues of conservation, urbanisation, global capital, and the environment. Here, buildings function as history books, speculative research and design is used as an architectural tool, and the cinematic lens provides a mode of recreating and critiquing the rapidly changing world around us.
To register, click here
Organiser of APRU University Museums Research Symposium 2021
Built around 1895, 157 Neil Road is a three-storey townhouse located in Singapore's historic district of Blair Plain, presented as a heritage house which contextualises Peranakan Chinese material culture and aesthetics within a domestic setting.