Description
A mention of the term "public housing" in Singapore and the ubiquitous rows of high-rise apartments spring to mind. Today, 80% of Singaporeans live in public housing apartments and 90.9% of the households own their homes. Public housing apartments, more affectionately known as HDB flats, are defining characteristics of the Singaporean society.

History of Public Housing in Singapore
The scarcity of housing had assumed epidemic proportions in the early 20th century. Reports composed by the visiting health and sanitary experts led by W.J. Simpson in 1907 accentuated the congestion and unsanitary conditions in the island's densely populated city area. A Housing Committee report in 1918 reiterated the predicament, postulating that unaffordable rentals had brought about a "general subdivision of housing space into cubicles thus further aggravating the overcrowding conditions and leading to a high percentage of sickness and a high rate of mortality." The committee also proposed the creation of an Improvement Commission to implement public housing for the poorer immigrants living in slums and squatters. This, in turn, resulted in the establishment of the Singapore Improvement Trust (SIT) in 1927.
One of the primary objectives of the SIT, as articulated by former chairman Lazarus Rayman, was to "rehouse the people and to abolish the fearful slums of the town with their terrible overcrowding and their attendant evils of crime and disease." To these ends, the SIT carried out a myriad of public works enhancement programmes including building new roads and open spaces, widening existent arterial roads and clearing cluttered back lanes. The first public housing scheme took off in 1936 when a single block of apartments was erected on a modified shop house in Tiong Bahru and single-storey artisan quarters were constructed in Balestier.
Let us explore the architecture of early public housing in Singapore with Dr Lai Chee Kien on Sunday, 17 May 2020.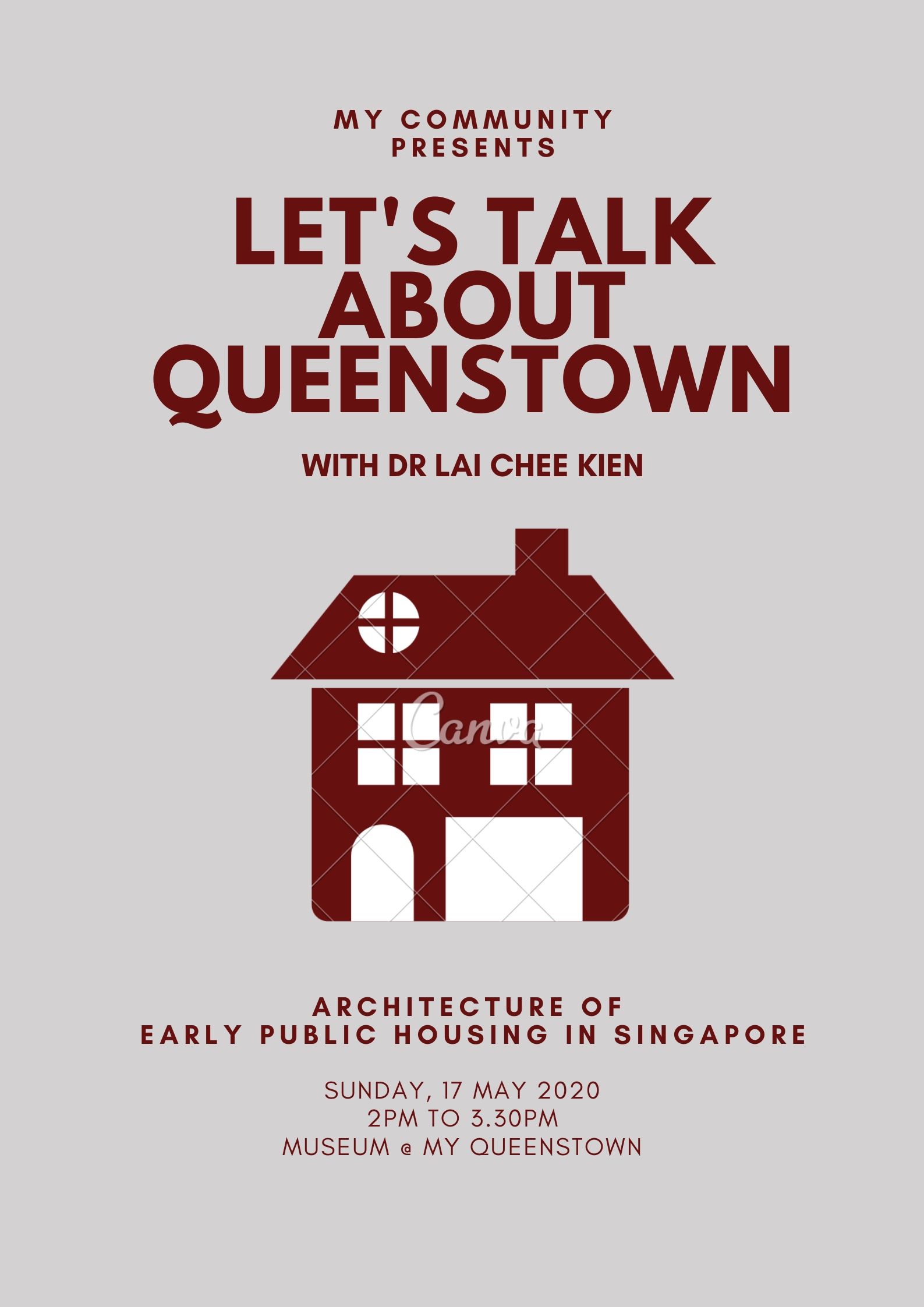 About the speaker
Dr Lai Chee Kien is a registered architect in Singapore, and researches on histories of art, architecture, settlements, urbanism and landscapes in Southeast Asia. He holds a PhD in Architectural History and Urbanism from the University of California, Berkeley.
About Let's Talk About Queenstown
"Let's Talk About Queenstown" is a seminar series organised by My Community where residents and participants can get to know about the different aspects of Queenstown through professionals and experts. The series take place on every 3rd Sunday of the month.
Duration & Venue
Approximate Duration: 1.5 hours (2pm to 3.30pm)

Sunday, 17 May 2020

Language: English

Venue: Museum @ My Queenstown (Block 46-3 Commonwealth Drive 01-388 Singapore 140463)