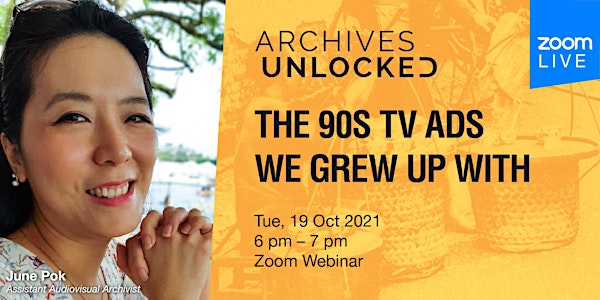 Archives Unlocked: The 90s TV Ads We Grew Up With
-
About this event
What were your favourite TV commercials from the 90s? Join Assistant Audiovisual Archivist June Pok as she revisits memorable advertisements from the downright hilarious to ones that tugged at our heartstrings. See if you can recognise the celebrities, iconic brands or even sing along to the jingles in these ads! This talk will provide insight into the changes in Singapore's political landscape as well as social engineering measures that were reflected in these commercials.
About the Speaker
June Pok is an Assistant Audiovisual Archivist with the Audio Visual Archives department. She was previously part of the Outreach team, where she helped to organise and run children's programmes at the National Archives of Singapore and Former Ford Factory.
About Archives Unlocked
Curious about what goes on in the National Archives of Singapore? Join us for this monthly series of talks, as we unlock stories of our nation through the archives' collections.
Online Programme/Event Administrative Information
This programme is conducted entirely online. You may access Zoom via the app or using a web browser.
Please ensure that you enter a valid email address as you will receive an email with the link to the online programme/event nearer the day of the programme/event.
The link of the programme should not be shared with others.
Do ensure you have a strong internet connection. Using your mobile data is not recommended.
The National Library Board, Singapore (NLB) reserves the right in its absolute discretion to disqualify or refuse admission to any registrant without any reason and notice.