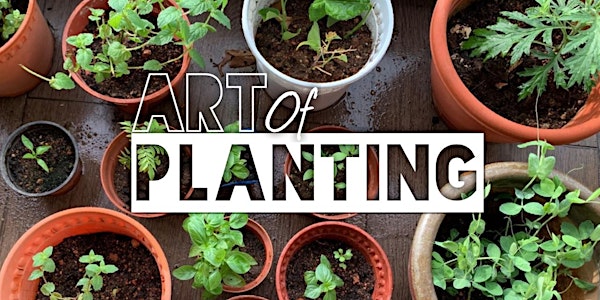 Art of Planting - TP20220207AOP
4-week edibles gardening workshop to discover the art of planting
Date and time
Mon, 7 Feb 2022 12:30 - 17:00 +08
Location
Brahm Centre @ Tampines 473 Tampines Street 43 ##01-94 Singapore, 520473 Singapore
About this event
During this 4 -week edibles gardening workshop, participants will be growing their own food, the various types of easy-to-grow edible herbs in this tropical climate.
Participants will learn how different types of soil affect plant growth. Apart from that participants will also plant their own microgreens and learn more about under-watering or over-watering issues in planting, soil fertility, and pest and plant health management.
You will bring home :
- A potted herb
- Leafy vegetables seedlings
- Microgreens
- Bring back a container of enzymes made in class
- Bring back a packet of compost + fertilizer to use for potted plants from previous sessions
Course Outline
SESSION 1 (4 HOURS)
-Introduction to the importance of growing your own food.- types of easy-to-grow edible herbs in tropical climate.
- Learn plant propagation from stem-cutting.
- Learn to propagate plants through stock division.
- Learn the different sunlight requirements of 10 common edible herbs.
- Learn to observe signs of sunlight deficiencies through observation of stems & leaves.
- Create a potted herb from stem-cutting propagation
- Create a potted herb from stock division
SESSION 2 (4 HOURS)
-Learn how different types of soil affects plant growth: i.e Clay loam & Sand loam
- Learn to select soil type for 10 different types of herbs & vegetables.
- Learn which plants can be propagated from different parts of a plant: stems, rhizomes, leaves,seeds
- Learn how to grow from sucker division of climber plants
- Learn how to mix soil for seeds propagation
- Learn the steps to propagate vegetables from seeds.
- Plant a pot of vegetable seeds to bring back home.
- Plant a pot of butterfly oxalis (from rhizome cutting) to bring back home
SESSION 3 (4 HOURS)
-Introduction to microgreens planting
- Learn the steps of growing microgreens
- Find out the difference between annual and perennial plants
- Learn how to prune old growth on plants to encourage new growth
Introduction to watering issues in plants
- Learn to identify drainage issues in potted plants: under-watering and over-watering issues
- Pests attracted to over-watering and wrong watering care
- Learn methods to prevent over-watering plants.
Plant 1 tray of 3 different microgreens to bring back home
SESSION 4 (4 HOURS)
-Introduction to soil fertility
-Learn to choose fertilizers to use for different stages of plant growth (after germination,
-Learn how to read labels on fertilizer
-Learn how the percentages of NPK affects plant growth.
-Learn how to separate food waste for enzymes making, composting and vermi-composting
-Learn what is good compost and how it affects the soil.
-Learn the importance of managing plant health with 3 basic requirements: Sunlight, soil and water to prevent pest
-Learn the steps to transplant seedlings
-Bring vegetable seedlings from session 2 to transplant to bigger pot
-Bring back a container of enzymes made in class
-Bring back a packet of compost + fertilizer to use for potted plants from previous sessions
Learning Outcome
Participants will be :
(1) Able to use appropriate edible plants growing techniques: stem-cuttings, stockdivision, seeds germination, rhizome cutting, sucker division
(2) Able to identify and fulfill 3 basic growing requirements for plants: sunlight, water and soil
(3) To grow microgreens independently
(4) To identify fertilizers and pesticides to use at different plant growth stages
Schedule
Dates: February 7th, 14th, 21st, 28th | Mondays
Time: 12.30pm - 5.00pm (There will be a 30min break during the each session)
Location: Brahm Centre @ Tampines
No. of sessions: 4 (16 hours)
Materials:
A complete set of materials will be prepared for you!
These are the only materials we need you to prepare yourself: (1) Tissue Napkins (2) Pen _______________________________________________________________________________________
Course Fee: $350 |$70 for seniors eligible for National Silver Academy (NSA) subsidy*
*NSA subsidy is for Singaporeans and Permanent Residents aged 50 and above.
In addition to NSA subsidy, course fee may be offset by SkillsFuture Credit (SFC).
First, course participants are to make payment for the course through Brahm Centre Eventbrite page.
They should claim with SFC before the course start date through the SkillsFuture portal.
Brahm Centre will reimburse the amount that is successfully claimed upon receipt of the funds from SFC.
Notes:
Please note that payments for courses are non-refundable.
There are no make-up lessons if you miss any session.
If you miss the first session, you are allowed to proceed with the course. However, the trainer is not obligated to do a recap during the second session.
Instructor's profile
Ang Ee Peng began her farming journey after living a self-sustainable life growing rice and vegetables in Hyogo, Japan for 3 years. She has designed and implemented food gardens around Singapore with schools, private homeowners, hotels, and restaurants for the past 6 years. She has developed the teaching content and led Soil Regenerative Workshop in collaboration with Foodscape Collective imparting knowledge to community gardeners on waste cycling and permaculture farming practices. Being an ex-employee of Edible Garden City, she has also co-created content for gardening workshops for clients such as Singapore Prisons, Pathlight School, and Nparks research program on horticulture therapy's effects on dementia patients
About the organiser
Brahm Centre is a leading course provider of a wide range of science-based mindfulness programs to reduce stress and enhance well-being in today's fast paced world. We have worked with healthcare agencies, schools and corporations to equip employees, parents and students with mindfulness tools to help them stay physically and mentally well. 
Course graduates may enhance their practice by joining our weekly mindfulness clubs. Furthermore there are free regular health talks conducted by healthcare professionals and qualified speakers open to the public.
Launched in 2012 as a charity that aims to promote happier and healthier living, Brahm Centre is a full member of the National Council of Social Services and an Institution of Public Character.
Come begin your mindfulness journey with us. 
Please note that all course registrations are NON-refundable. Transfer of selected mindfulness courses is subject to a $30 transfer fee and a $10 admin fee for a mindfulness make-up class. There are NO transfers or make-up classes available for all other courses.