Accelerate your Digital Transformation with AI
About this event
Recent technological advances in the area of Artificial Intelligence (AI) is transforming business and entrepreneurial landscapes dramatically. AI has already penetrated firmly into many spheres of our business, professional and even personal life. Its ability to streamline and improve business processes, create innovative products and services, and solve complex tasks is producing an unprecedented level of new possibilities resulting in a massive growth of entrepreneurial activities and other businesses. In this series, participants will understand the fundamental aspects of Artificial Intelligence (AI) and its up-to-date technological development. Especially, participants will get insights on how AI can be applied in various industry verticals, and thus to reimagine and develop future businesses with AI. .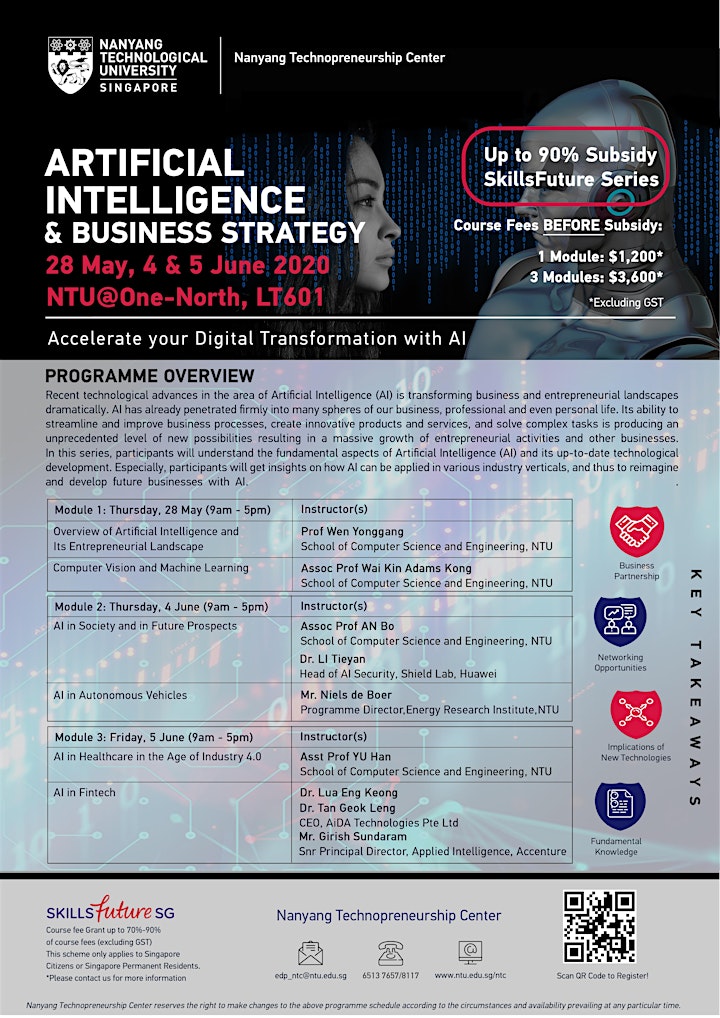 Organiser of Artificial Intelligence & Business Strategy
As part of its mission to deliver a holistic entrepreneurship education, NTC encourages passion as a key motivator for dreams to be realised. This inculcates an entrepreneurial mindset to initiate innovative changes wherever possible; harnesses technology as an enabling tool for learning and business; and stresses the importance of developing responsible and ethical entrepreneurs who are committed to using their entrepreneurial expertise and resources to bring about significant economic and social development in the communities in which they operate. Entire communities stand to benefit over the long term when livelihoods and lives are uplifted in this way, and this in essence, the ethos of the NTC's philosophy.