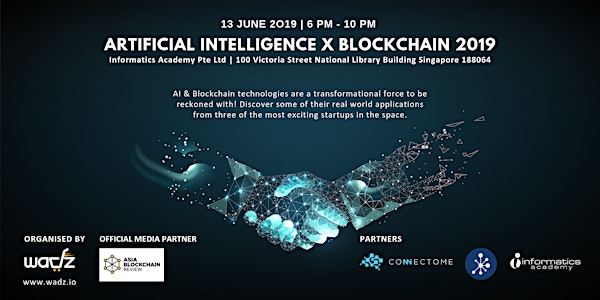 Artificial Intelligence X Blockchain 2019
Discover real-life applications of AI & Blockchain Tech https://t.me/AIxBlockchain
When and where
Location
Informatics Academy Pte Ltd 100 Victoria Street, #13-01/02 National Library Building, Singapore 188064 Singapore, 188064 Singapore
About this event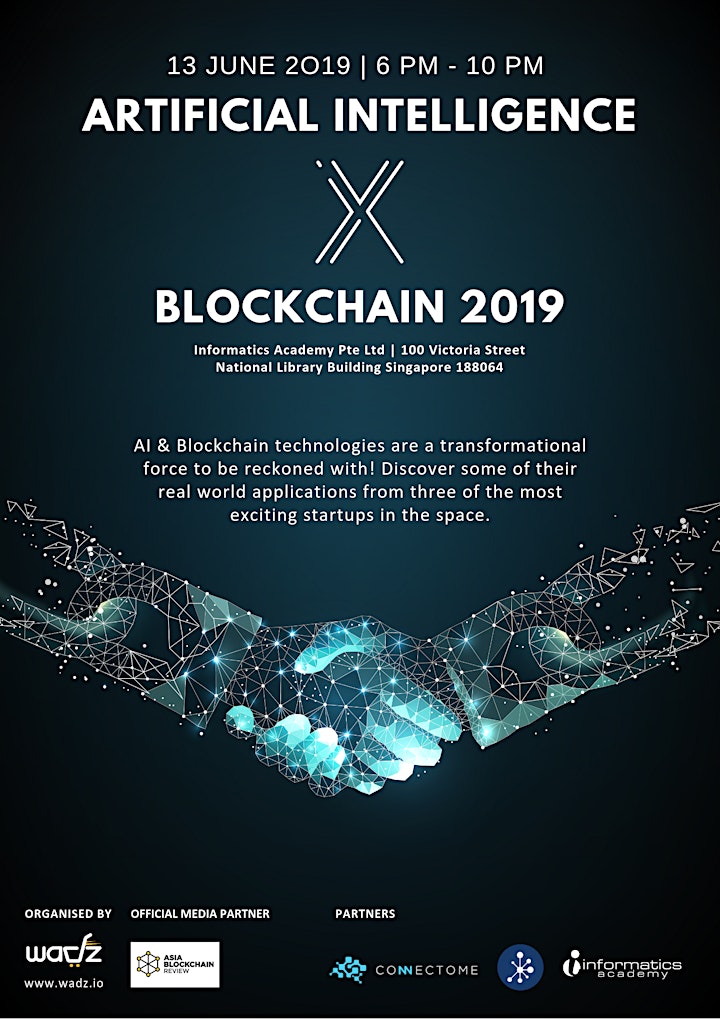 Non-Alcoholic Lager will be provided by Hararu Izakaya - https://www.facebook.com/hararuizakayaSG/
Please join our event telegram channel to stay updated!
The AIxBlockchain In Real Life series aims to bring you the most innovative and disruptive real-world applications of these emerging technologies. You will be greeted by industry professionals and like-minded individuals who have a wealth of knowledge and experience to share.
In this first series, three speakers from three of the most exciting companies in this space will be showcasing their solutions to real-world problems. So come on down to discover the latest insights and happenings in the tech ecosystem with real-life applications of AIxBlockchain!
Please join our event telegram channel to stay updated!
----------SEQUENCE OF ACTIVITIES----------
1800 – 1900 | Registration + Light Dinner
1900 – 1910 | Welcoming Speech by Informatics
1910 – 1935 | Sharing by Liquidity.network - Blockchain scalability, challenges and future direction
1935 – 2000 | Sharing by Wadz - Cryptocurrency and Payment ecosystems
2000 – 2025 | Sharing by Connectome - Tackling issues in AI Tech using Blockchain
2025 – 2115 | Panel Discussion
Moderator
Aaron Tan, Head of Partnership at Wadz / Co-founder at Nakka Singapore
Speakers / Panelist
Tony Tran, Head of Community at Liquidity.Network
Ghislain Bonamy, Chief Operating Officer at Wadz
Crystal Lim, Global Community Manager at Connectome
2115 – 2200 | Networking
-------------------------------------------
Please join our event telegram channel to stay updated!
-----------LOCATION--------------------
Informatics HQ
100 Victoria Street, #13-01/02 National Library Building, Singapore 188064
-------------------------------------------
Please join our event telegram channel to stay updated!
-----------DATE & TIME--------------------
13th June 2019 (Thursday)
6 PM to 10 PM
---------------------------------------------
Please join our event telegram channel to stay updated!
----------PARTICIPANT PROFILES-----------
Liquidity.Network
Liquidity Network is a 2nd layer solution, built upon the NOCUST protocol, a scalable secure commit-chain. A commit-chain is similar to a side-chain, but doesn't require an additional consensus mechanism and solely relies on the security of its parent-chain.
Website - Liquidity.Network Website Link
Telegram - Liquidity.Network Telegram Group
Wadz
Wadz is a collaboration between payments, blockchain, artificial intelligence and supply chain experts to revolutionize the way traditional payments & accounting is managed. Wadz will unify payments, inventory management and accounting into one easy to use system.
Wadz mission is to support financial inclusion by leveraging state-of-the-art decentralized blockchain and artificial intelligence (A.I.) technology
Website - Wadz Website Link
Telegram - Wadz Telegram Group
Connectome
Connectome is a technology platform to realize human-like AI assistant, "Virtual Human Agent" (VHA). By harnessing the Artificial Intelligence (AI), Game AI (human-like intelligent NPC technology), blockchain and human sciences, VHAs can, amongst other things, be personal assistants, the cornerstone of productive organizations and companies, assist in healthcare and be the future of human-technology interaction. The goal is to create a future where humans can trust in and live alongside AI technologies that will increase the quality of communication between humans, as well as between humans and technology.
Website - Connectome Website Link
Telegram - Connectome Telegram Group
-------------------------------------------
Please join our event telegram channel to stay updated!
We understand that its held during dinner time so food & drinks will be provided for you.
Once again, please join our Telegram Channels to stay updated with all announcements and updates!
Seats at this event are on a first come first serve basis so do register before it's too late.
See you there!
---------ENQUIRY----------
Please join our event telegram channel if you have any enquiries about the event
Our event organisers will be there to respond to you
By registering to this event, you consent Wadz & its partners to use your contact info to reach out to you regarding this event & related services. The event details mentioned are only for information purpose and may be subjected to change without prior notice.
-----------------------------