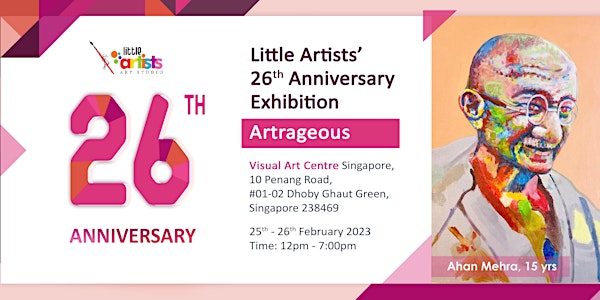 Artrageous Art Exhibition
Little Artists is back with its signature series of premium children's art exhibition, with 125 featured artists from 9 to 19 years of age
By Little Artists Art Studio Singapore
Date and time
Sat, 25 Feb 2023 12:00 - Sun, 26 Feb 2023 19:00 +08
Location
Visual Arts Centre (Professional Art Courses Singapore) 视觉艺术中心 10 Penang Road ##01-02 Singapore, 238469 Singapore
About this event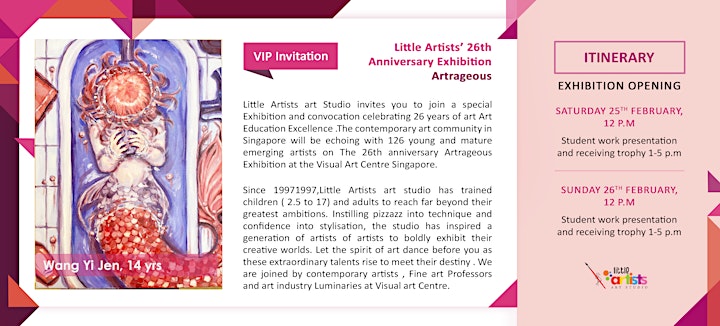 Little Artists Art Studio is proud to raise the curtains on our Artrageous Exhibition 2023 at The Visual Arts Centre.
In this post Jubilee year, we are delighted to revive our eagerly awaited student exhibitions after the pandemic.
Picasso was discovered when he was 13 years old. We have our own 125 featured artists, from 9 – 19yrs old and their repertoire includes sketching, painting, concept art works, printmaking, sculpture, illustration and many more genres. Each work is a unique individual, student-lead artistic expression.
We invite you to enjoy these creations with family and friends, meet the young artists and share their journey and processes through their oral narration, to complement their creations.
We are honored by the presence and participation of many renowned contemporary artists, luminaries in other fields.
Contact : 62550711 (Visual Arts Centre)
64490339 (Little Artists Art Studio)
Dates: Feb 25 & Feb 26, 2023
Timings: 12 pm – 7 pm
Special events: Student Presentations & Trophies (1 – 5 pm)
About the organiser
Whether you are 2 ½ or 75 years old, you are welcomed as an artist at Little Artists Studio. Our fully appointed studios nestled in lush nature, offering beginner to specialist art courses, along with a wide range of workshops to include all interests and objectives.
Our cosmopolitan and multi-cultural studio environment fosters confidence, curiosity, imagination, interaction, expansive thinking, diversity and inclusiveness. Our team of highly qualified and well-trained staff are totally invested in the children's welfare and development.
We take pride in our long history of students getting accepted, year after year, into top colleges like Parson's, Pratt, RISD Institute, UC Berkeley, U Penn, Carnegie Mellon, School of the Art Institute of Chicago – in U.S.A., Monash and RMIT in Australia, LaSalle, NAFA, NUS- in Singapore, and The Royal College of Arts in the U.K.
In its 26 years of operations, Little Artists Studio has been recognized and awarded for quality, vision and excellence – The Singapore Quality and Brand Award, The Singapore Excellence Award, The Asia Excellence Award, The SME of the Year Award, and The Singapore Enterprise Medal of Honour, Top 100 Trusted SMEs.