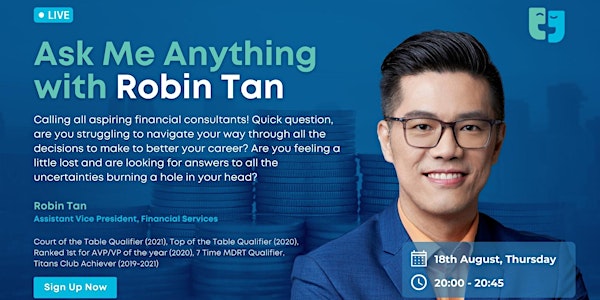 Ask Me Anything with Robin Tan
Calling All Aspiring Financial Services Consultants!
About this event
Speaker's Profile
Robin Tan Jia Hao, Assistant Vice President, Financial Services
Robin has been in the financial planning industry for 15 years and has achieved the Million Dollar Round Table award for 7 years consecutively.
He has achieved Court of the Table Qualifier (2021), Top of the Table Qualifier (2020), Ranked 1st for AVP/VP of the year (2020) in Personal Production (Revenue Credits), Million Dollar Round Table Qualifier, Titans Club Achiever (2019-2021), as an Assistant Vice President (AVP), Financial Services.
Apart from his personal sales, Robin is determined to build a team of professionally competent and ethical Financial Services Consultants who will make a positive difference in society through doing the right things right.
His ethos is honesty, integrity, and sincerity; always putting clients' interest first and seeking to build long term relationships with his clients. He strives to do 3 things for them; maximise their benefits, minimise their costs, and manage his relationships with them.
His commitment in assisting his clients to attain financial security, freedom and independence through providing them with well-thought-out and customized financial strategies is supported by the broad and extensive range of solutions provided by the platform at Manulife Financial Advisers (Manulife FA).
As an Assistant Vice President, he practises servanthood leadership; to lead is to serve. He believes in building a culture of accountability, openness, and collaboration.