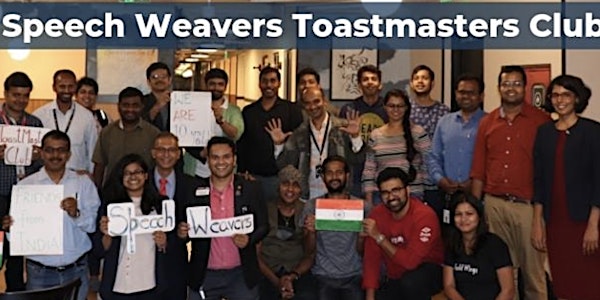 Attend Our Toastmasters Club To Become a Better Public Speaker & Leader
Become a Good Public Speaker & Leaders By Joining Us on Fridays From 5:00 - 6:30 PM IST/11:30 P.M. (GMT)
About this event
Do you avoid giving presentations to your Clients?
Join Speech Weavers Toastmasters Club to improve your public speaking & leadership skills today
We are part of Toastmasters International, which is a non-profit organisation that helps individuals develp communication & leadership skills. The organisation boasts over 365000+ members in over 16000+ clubs in 145 countries.
Took know more, please visit https://www.toastmasters.org/
Join Toastmasters and you will :
Improve Public Speaking Skills, leadership skills, Maximize your potential, Enjoy unlimited personal growth, Networking in a supportive environment, Practice writing speeches and presenting them, Gain a competitive advantage in the workplace, Build self-confidence and self-awareness.
Attend one of our meetings for free as a guest.