Autism Partnership SG:Parent Training for Managing Behavior & Communication
APSG: Parent Training Workshop Dec 2020: Behavior Management and Increase Communication Opportunities (Didactic lecture and/or Hands-On)
About this Event
Raising a child with autism spectrum disorder (ASD) can be challenging. If you are looking for ways to manage your child's behavior at home, we are excited to share an upcoming Parent Training Workshop this December!
This workshop includes a hands-on add-on segment that aims to improve the skills of parents and help them gain the ability to manage some of their child's challenging issues at home.
✏️Format: Didactic lecture 👩‍🏫and/or Hands-On Practice 👥
🗓️Sessions will commence on Dec 4th (Fri) from 6:30 pm to 8:30 pm.
✍️Sign up by 30 Nov to enjoy a special rate of up to $700 off!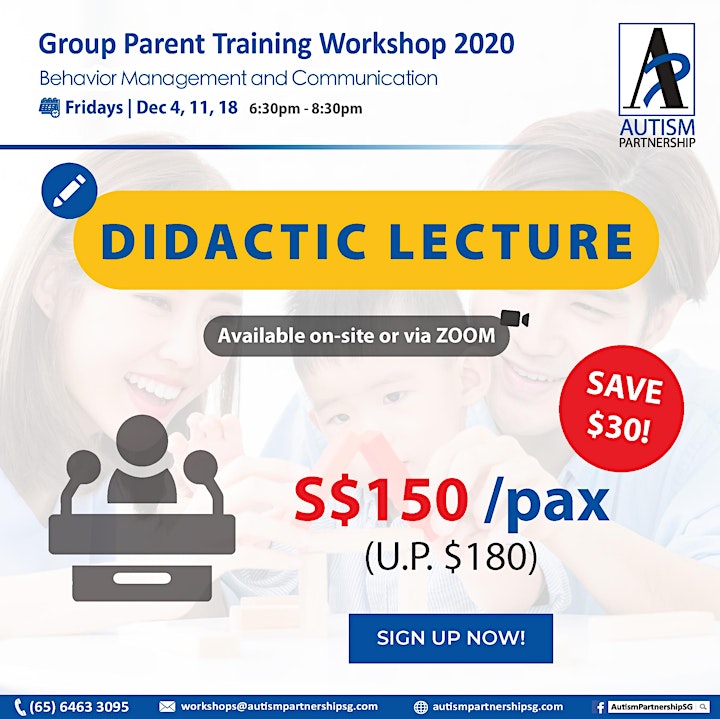 6-hr Didactic Lecture ONLY
(available physically on-site or via Zoom online)
Dec 4, 11, 18 (Fri), 6:30pm - 8:30pm
S$ 150* per pax (U.P. S$ 180)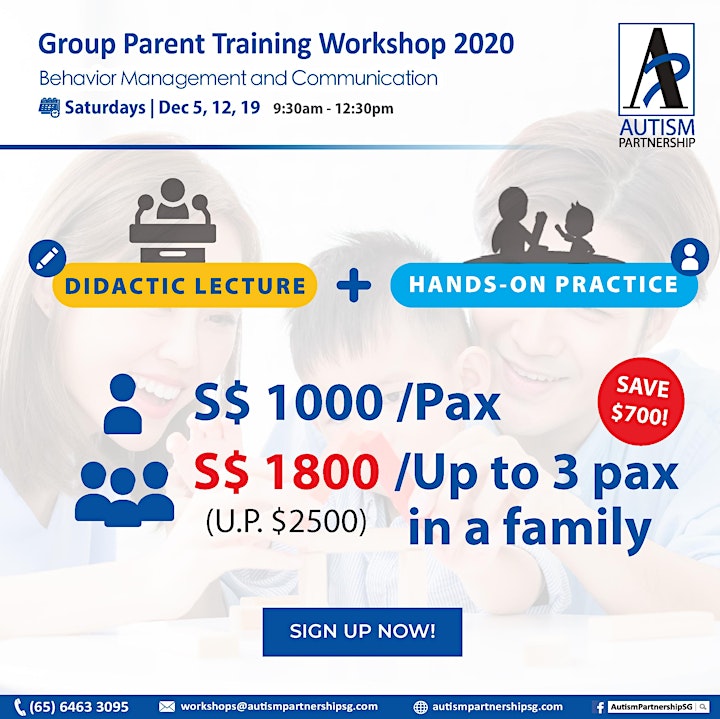 Full Workshop: 6-hr Didactic Lecture + 9-hr Hands-On Practice
Dec 5, 12, 19 (Sat), 9:30am - 12:30pm
S$1000/pax
S$1800* for up to 3 pax in a family (U.P. S$ 2500)
Includes 1 hour follow-up consult at the end of workshop
Sign up by 30 Nov to enjoy the special rates!
For any enquiries, please contact us at
📤 workshops@autismpartnershipsg.com
☎️ +65 6463 3095
About Us: Autism Partnership is one of the largest and most established Applied Behavior Analysis (ABA) service provider for Autism Spectrum Disorders (ASD) in the world.
To learn more, visit us at www.autismpartnershipsg.com