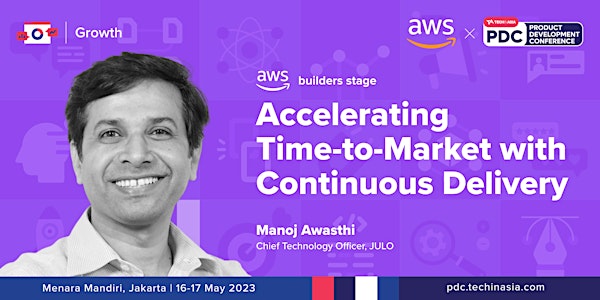 [AWS Builder Stage] Accelerating Time-to-Market with Continuous Delivery
Explore the key principles of continuous delivery and how it can help businesses accelerate time-to-market
Date and time
Tue, 16 May 2023 10:30 - 11:20 WIB
Location
Menara Mandiri Jl. Jenderal Sudirman No. Kav. 54 - 55, Senayan Jakarta Selatan, Jakarta 12190 Indonesia
About this event
In today's fast-paced business environment, speed is everything. Companies that can bring products to market quickly and efficiently have a competitive advantage over those that cannot.
In this session, we will explore the key principles of continuous delivery and how it can help businesses accelerate time-to-market. Using real-world examples, we will discuss the benefits and challenges of continuous delivery and provide practical tips for implementation. By the end of the session, attendees will be equipped with the knowledge and tools needed to start implementing continuous delivery in their own product development process, and to stay ahead of the competition in today's rapidly-evolving business landscape.
Format: Workshop
Focusing on small group learning and deep engagement. Each roundtable will help you gain fresh perspectives from industry peers.
Session Agenda - Manoj Awasthi, CTO, JULO
This session is held in partnership with JULO.
1. Introduction to JULO
2. Discussion points
Overview of accelerating time-to-market
Understanding Continuous Delivery
Case Study: Successful Implementation of Continuous Delivery
Interactive Segment + Best practice for accelerating Time-to-Market with Continuous Delivery
3. Q&A session
*Please note that this session is exclusively for Pro Pass holders only. Tech in Asia reserves the right to cancel the ticket if you do not meet the qualifications. Seats are limited so RSVP today.
Don't have a ticket? Get your Pro Pass today.
About PDC
Tech in Asia Product Development Conference (PDC) gathers product and tech professionals (product leaders, managers, engineers, data people, designers, UX professionals, and product enthusiasts) in SEA to learn the best practices on building digital products from speakers and experts around the world. This has been our 7th PDC, and we are excited to host you as one of our speakers. Check out this year's lineup of PDC speakers and agenda here.
About the organiser
Tech in Asia (YC W15) is the go-to online platform for Asia's tech community, with annual conferences in Singapore, and Jakarta. Right here is where you can keep abreast of Asia's tech industry, share your thoughts alongside ours, and connect with startups and investors alike.

With an ever-growing team of close to 100 based all across Asia and the US, spanning editorial, events and database functions, we are fully dedicated to bringing Asia's tech ecosystem closer together.
Apart from producing and delivering quality editorial content, we connect brands with early adopters via Studios, our advertising agency unit. We organize tech conferences and events across Asia, and we operate the region's go-to startup and technology jobs marketplace.