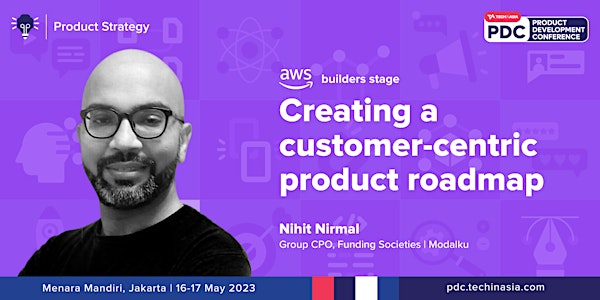 [AWS Builder Stage] Creating a Customer-Centric Product Roadmap
Understanding of how customer interviews can help them make more informed decisions about their products or services
Date and time
Wed, 17 May 2023 14:50 - 15:40 WIB
Location
Menara Mandiri Jl. Jenderal Sudirman No. Kav. 54 - 55, Senayan Jakarta Selatan, Jakarta 12190 Indonesia
About this event
During this workshop, Nihit Nirmal, CPO, Funding Societies, will provide valuable insights into the subject of The Power of User Insights to Build Customer Centric Products.
Format: Workshop
Focusing on small group learning and deep engagement. Each roundtable will help you gain fresh perspectives from industry peers.
Session Agenda
1. Introduction
2. Discussion points
What tactics and strategies do you apply when creating a customer-centric product roadmap
How do you prioritize customer-centric features and enhancements?
How to execute this prioritization strategy
What we could do better in prioritizing the product roadmap
3. Customer Interviews
4. Audience Vote
5. Q&A / Closing
*Please note that this session is exclusively for Pro Pass holders only. Tech in Asia reserves the right to cancel the ticket if you do not meet the qualifications. Seats are limited so RSVP today.
Don't have a ticket? Get your Pro Pass today.
About PDC
Tech in Asia Product Development Conference (PDC) gathers product and tech professionals (product leaders, managers, engineers, data people, designers, UX professionals, and product enthusiasts) in SEA to learn the best practices on building digital products from speakers and experts around the world. This has been our 7th PDC, and we are excited to host you as one of our speakers. Check out this year's lineup of PDC speakers and agenda here.
About the organiser
Tech in Asia (YC W15) is the go-to online platform for Asia's tech community, with annual conferences in Singapore, and Jakarta. Right here is where you can keep abreast of Asia's tech industry, share your thoughts alongside ours, and connect with startups and investors alike.

With an ever-growing team of close to 100 based all across Asia and the US, spanning editorial, events and database functions, we are fully dedicated to bringing Asia's tech ecosystem closer together.
Apart from producing and delivering quality editorial content, we connect brands with early adopters via Studios, our advertising agency unit. We organize tech conferences and events across Asia, and we operate the region's go-to startup and technology jobs marketplace.