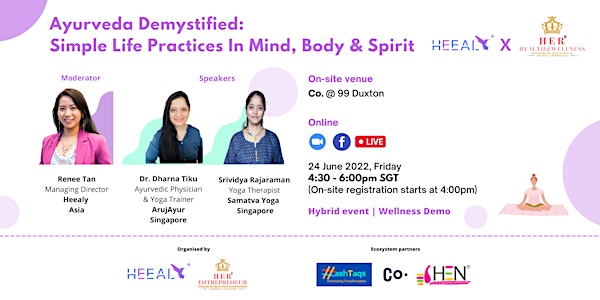 Ayurveda Demystified: Simple Life Practices In Mind, Body & Spirit
Ayurveda Demystified: Simple Life Practices In Mind, Body & Spirit
About this event
Join Renee with invited speaker:
• Dr. Dharna Tiku, Ayurvedic Physician & Yoga Trainer, ArujAyur , Singapore
• Srividya Rajaraman, Yoga therapist, Samatva Yoga, Singapore
for this Health & Wellness webinar on 'Ayurveda Demystified: Simple Life Practices In Mind, Body & Spirit', where we will be sharing on:
4:30-5:00pm: Online Panel Discussion (On-site attendees listen in from zoom)
• Introduction to the science of life: Ayurveda & Yoga
• Exploring the three bio-energies & understanding types of yoga postures & holistic nutrition to enhance our immunity & intellect based on your body type (Fire, water & earth)
• Understanding the three Pillars of Ayurveda that sustain our lifestyle – diet, sleep and celibacy
5:00-6:15pm: On-site at 99 Duxton
45 minutes Yoga to overcome stress and build immunity (Please bring a mat/long towel)
20 minutes Ayurveda Cleansing Foods Tasting Workshop: Re-charge your gut
DETAILS
Date: 24 June 2022 (Friday)
Time: 4:30pm to 6:00pm SGT (On-site registration starts at 4:00pm)
Venue:
On-site: Co. @99 Duxton Road #02-00, S(089543)
Online: Zoom & Facebook Live
For online attendees, we will be conducting the session via webinar, so do RSVP by registering here to receive the webinar link.
Register for the Premium Pass to receive the full recording of the event.
Early bird Premium passes end 22 June 2022! Get your tickets now!
TICKETS
1. Freemium Pass
+ Online LIVE Broadcast only
+ Q&A
2. Premium Pass
+ On-site passes or Online LIVE Broadcast only
+ Video recording
+ Q&A
Contact us at contact@heealy.com or +65 8868 1418 for any inquiries.
*Content creation and training sessions are self-funded, support us to get this going if you can. 😊