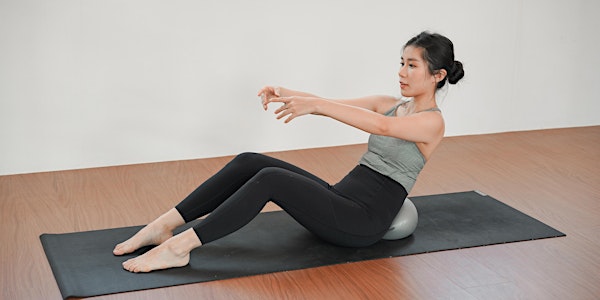 Barre Sculpt with Grace Chew
On Good Ground x Sweaty Betty April Takeover
About this event
Energize yourself with Barre Sculpt, our intermediate class that weaves in the fundamental barre postures with a higher octane of dynamism and movement. Feel the lovely burn as you pulse through the multi-level sequence, with a myriad of options offered for you to bring your workout up or down a notch, depending on how you feel. Sculpt those muscles with this full body workout which targets your arms, thighs, glutes and core – you'll be sure to thank us after!
*****
Passionate about becoming a better version of herself everyday, barre is Grace's choice of exercise – a life-changing healthy mind and body workout! Being apprehensive of barre at first, she can't dance to save her life, she was pulled by a good friend for her barre class – and the rest is history. Now apart from improving her posture, muscle strengthening and increased flexibility, barre has helped grow Grace's mental strength, stress management and focus by heaps. It's no wonder that she is unabashedly addicted to barre!
Her classes focus on form and technique so that you get the best barre burn in the targeted muscle groups. With high reps of small precise movements and dynamic barre-specific moves, definitely expect to break some serious sweat while sculpting your body and toning that booty!
*****
This class is brought to you by Sweaty Betty and On Good Ground. All participants will receive an SGD35 voucher within 5 working days after the event, redeemable in store at ION Orchard.
Important:
Please use full registered name to sign into Zoom. Participants must attend and complete class to receive voucher – participant's video has to be shown.
The class will be conducted on Zoom - link will be sent to your email before the class commences. Please log in 10-minutes prior to class start time.