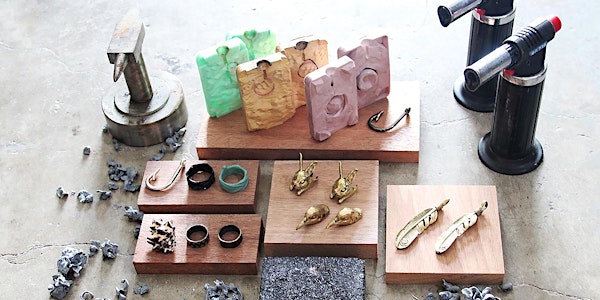 Multiple dates
Basic Jewellery Casting
Turn Anything Into Jewellery!! Go from a carved wax model to a piece of metal in hours!
By The Imperial Smithster
Date and time
Sat, 26 Mar 2022 15:00 - Sun, 1 Sep 2024 18:00 +08
Location
229 Joo Chiat Rd 229 Joo Chiat Road Singapore, 427489 Singapore
Refund Policy
Contact the organiser to request a refund.
About this event
About this event
See lost wax casting as the professionals do in jewellery manufacturing.
Lost wax casting has been around for centuries and have been used since the early days to cast items such as weapons, sculptures and jewellery out of brass. It involves first, sculpting of a wax model, applying the right sprues, pouring a investment over the wax model, burning out the wax (hence the term lost wax casting), then pouring in molten metal into the cavity left by the evacuated wax.
Come join us and learn this lost art firsthand!Duration: 2-3hrsCost Fee :$140
Level : Beginner
What you'll learn :
Turn Anything Into Jewellery!!
-Choosing the right master model
Learn the many techniques employed in the jewellery industry, including 3d printing, wax carving...
-The secrets to mould making
Learn about the different types of silicon used.
Cut your very own silicon mould the professional way.
-Metal characteristics
Have you ever wondered why does your silver bracelet turn black? We'll explain the different metals in jewellery making and you'll get to pour and melt your own pewter.
-Lost wax casting in the industry
Learn how jewellery pieces are mass produced amd finished with the different poishing techniques.
Workshop Workflow:
-Students get to come out with their own design of ring, pendant or trinket and have them hand-carved out of a block of wax
Choose between:
1.Cast in Pewter (Get to bring piece homw immdediately after class)-Make a silicon mould out of carved wax, leave it aside to cure
-Practice the proffesional way of cutting moulds
-Get to melt and pour pewter (low melting point metal) in your very own moud made earlier
-Cutting off sprues and polishing the piece to perfection.
(please take note that this method is reserved for simpler patterns as the silicon mould takes at least 30mins to cure, giving lesser time for wax carving)
2. Cast in Brass (Approximately one week to receipt of final piece)
-Leave your wax carvings with us and have it professionally cast and polished.
Fees Include:
-All tools and materials (basic metals, for other precious metals can be bought at market rates)
-Up to 20 g of brass
-Take back your own wax carving (will be lost if cast in brass), moulds and final finished piece.
** All pieces shown are done by actual students
*** Do contact us if there are any special dates/ group booking requests.
**Schedules do get shifted a little to ensure minimum capacity, in order to bring classes to you at an affordable rate, do ensure provided email is valid , in case there'll be a re-shuffle of dates