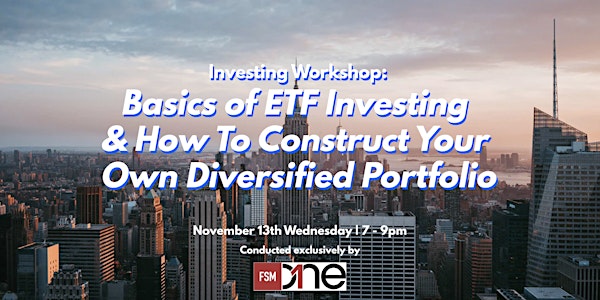 Basics of ETF Investing & Constructing an ETF Portfolio
This is a workshop to guide investors on understanding ETFs and how to construct a good ETF portfolio.
When and where
Location
FSMOne Office Ocean Financial Centre 10 Collyer Quay #26-01 Singapore, 049315 Singapore
About this event
What is an ETF?
An exchange-traded fund (ETF) is a type of security that involves a collection of securities—such as stocks—that often tracks an underlying index, although they can invest in any number of industry sectors or use various strategies.
To those unfamiliar, investing in ETFs can seem complicated and confusing. But an ETF is a marketable security, you can buy and sell them through the stock market just like an ordinary share.
ETF investing has been gaining traction
Often touted as a low-cost and efficient way to get instant diversification, ETFs have been increasingly popular. Some well-known ETFs like the SPDR S&P 500 ETF (SPY), which tracks the S&P 500 Index, gave a return of more than 70% in just 5 years.
Investment guru Warren Buffett himself has also specifically recommended ETFs as a way to boost retirement savings.
This comprehensive workshop we're having in partnership with FSMOne will demystify what ETFs are and equip you with the knowledge to enhance your portfolio.
Key things you'll learn in this workshop:
✔ What is an ETF?
✔ What types of ETFs are available for retail investors
✔ How can ETFs enhance your portfolio
✔ How to construct your own diversified ETF portfolio from scratch
✔ Trending Global ETF investing ideas every investor should know
There will also be a Q&A session to clear your doubts and get a clear picture on ETF investing.
You can look forward to upgrading your investing skill-set in this comprehensive 2-hour workshop.
Register your seat now. Strictly limited seats.
*no refreshments will be provided
Venue:
FSMOne Office
10 Collyer Quay #26-01, Ocean Financial Centre
Singapore 049315
(Nearest MRT: Raffles Place MRT station exit C)
About the speakers:
Ferlyn Tan, FSMOne Equity Analyst
Ms. Ferlyn Tan is an equity analyst with the research team at iFAST Singapore, providing analysis and research coverage on both stocks and ETFs listed on the Singapore, Hong Kong, and US markets. She has most recently initiated coverage on the midstream, real estate infrastructure and wastewater treatment industries. Apart from providing equity views through various media platforms including Lianhe Zaobao and 96.3FM, Ferlyn is also an avid investor herself. Ferlyn graduated with a Bachelor of Business with Honours (Banking and Finance) from Nanyang Technological University.
Tan De Jun, FSMOne Equity Analyst
Mr. Tan De Jun is an equity analyst with the research team at iFAST, providing analysis and research coverage on both stocks and ETFs listed on the Singapore, Hong Kong and US markets. De Jun's research covers the semiconductor industry, China's banks and China's technology sector.Besides contributing his views to the local media, including Business Times, Lianhe Zaobao and 96.3FM, De Jun is a strong believer in continuous learning, and enjoys reading across various subjects during his free time. De Jun graduated from Nanyang Technological University with a Bachelor of Aerospace Engineering.
About our partner, FSMOne.com:
Founded in the year 2000 in Singapore, FSMOne.com (formerly known as Fundsupermart.com) is the Business-to-Consumer (B2C) division of iFAST Financial Pte Ltd ("iFAST Singapore").
The FSMOne account provides a comprehensive range of investment products and services, with over 1,500 funds and over 900 bonds, including wholesale/ retail bonds, Managed Portfolios (MAPS), Singapore, Hong Kong, US-listed stocks and Exchange Traded Funds (ETFs), cash management solutions and insurance products.
iFAST Singapore is the Singapore subsidiary of SGX-ST Mainboard-listed iFAST Corporation Ltd (AIY). Regulated by the Monetary Authority of Singapore (MAS), iFAST Singapore is also a Central Provident Fund-registered Investment Administrator.
The group has a presence in Singapore, Hong Kong, Malaysia, China and India.