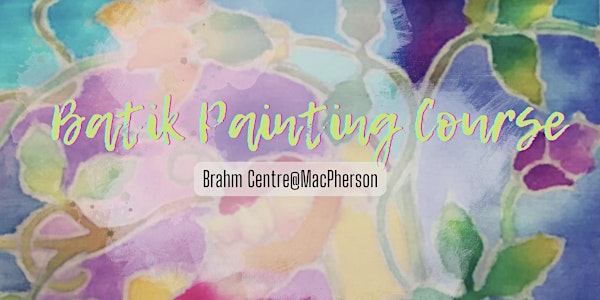 Batik Painting Course by Tan Ching Ching- MP20230130BPC
Learn to create your own Batik using cold wax outliner (the current day method).
When and where
Location
Brahm Centre @ MacPherson 55 Pipit Road #01-01 Singapore, 370055 Singapore
About this event
WHAT:
BATIK is an ancient art form where images and designs on fabric are created using wax. This course allows participants to learning basic, albeit non-traditional, batik techniques and learn about famous local batik artists such as Sarkasi Said.
Course Objectives:
In this course, participants will enjoy the use of vibrant batik dyes and the convenience of cold wax outliner to design and create their own batik paintings. This technique can be applied in various ways such as designs on T-shirts and bags (once they are colourfast treated using Batik fixers)
Course Outline (Topics Covered)
Session 1: Introduction to batik painting and some local artists specializing in batik painting. (i.e. Sarkasi said)
Participants will learn about the materials used in traditional batik and basic techniques.
Application Techniques: color graduation, color blending
Colors (elements of art): warm and cool colors, complementary colors
Session 2: Recap and practice on application techniques in Session 1 and complete batik painting on pre wax design
Session 3: Introduction to patterns, lines, shapes and how it can be used as the batik design (Theme – flowers and flora & geometry)
Tracing design onto cloth, using pencil
Using cold wax (liners are in tube form) to trace on the pencil lines
Session 4 & 5: Application of Color Theory
Primary vs secondary colors, cool vs warm colors
Color blending
Painting of main subject and background
Session 6: Application of previous techniques taught. Participants to create their own batik designs
Session 7 & 8: Application of color theory. Participants to touch up and complete their work. Review and sharing of final work.
Learning Outcomes:
Learning how to produce a batik painting using current-day methods
WHEN:
Monday, 30 January - 2pm-4pm
Monday, 6 February - 2pm-4pm
Monday, 13 February - 2pm-4pm
Monday, 20 February - 2pm-4pm
Monday, 27 February - 2pm-4pm
Monday, 6 March - 2pm-4pm
Monday, 13 March - 2pm-4pm
Monday, 20 March - 2pm-4pm
Total: 8 sessions
**Minimum 13 students to start class
WHERE:
Brahm Centre @ MacPherson
**All Art materials will be provided during the class
Participants to bring the following materials to class :
Pencil x 1
Eraser x 1
Container x 1 (For washing brushes)
Cloth for cleaning the brushes
Newspaper (The newspaper helps prevent accidental dirtying of the tables)
________________________________________________________________________________________
Course fee:
$280 | $56 for seniors eligible for National Silver Academy (NSA) subsidy*
*NSA subsidy is for Singaporeans and Permanent Residents aged 50 and above.
In addition to NSA subsidy, course fee may be offset by SkillsFuture Credit (SFC).
First, course participants are to make payment for the course through Brahm Centre Eventbrite page.
They should claim with SFC before the course start date through the SkillsFuture portal.
Brahm Centre will reimburse the amount that is successfully claimed upon receipt of the funds from SFC.
**All Art materials will be provided during the class
* Participants are encouraged to bring their own newspaper and cloth for their own usage. The newspaper helps prevent accidental dirtying of common equipment and the cloths will allow you to clean the brushes given to you.
Notes:
Please note that payments for courses are non-refundable.
There are no make-up lessons if you miss any session.
If you miss the first session, you are allowed to proceed with the course. However, the trainer is not obligated to do a recap during the second session.
Trainer Bio
Tan Ching Ching holds a specialist diploma in Arts Education from National Institution of Education, and a certificate in Western Art from Nanyang Academy of Fine Arts. She conducted workshops using watercolour and received positive feedback on her classes. Creative and full of new ideas, attending her classes is always enjoyable and engaging. She also conduct other workshops such as Batik Painting, glass painting and pottery.
Some samples of Tan Ching Ching's work:
Some samples of Tan Ching Ching student's artwork: