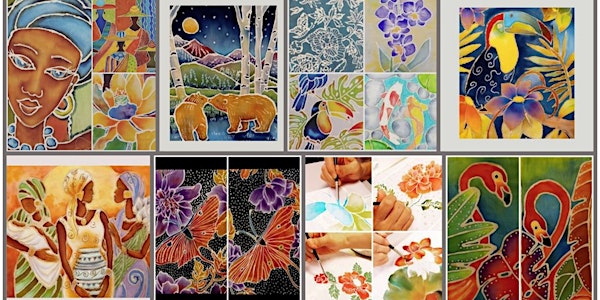 Batik Painting Course starts Dec 4 (8 sessions)
Learn basic skills in using cold wax outliner to design and paint vibrant colours on your batik
When and where
Location
Brahm Centre @ Simei 227 Simei Street 4 #01-50 Singapore, 520227 Singapore
Refund Policy
Contact the organiser to request a refund.
About this event
Batik is an ancient art form from which images and designs on fabric are created using wax. This introductory course will expose students to basic, albeit non-traditional, batik techniques and some famous local batik artists such as Sarkasi Said and Jaafar Latiff. Participants will enjoy the use of vibrant batik dyes and convenience of cold wax outliner to design and paint their own batik paintings.
Course Objectives
In this course, participants will learn basic skills in using cold wax outliner to design and paint vibrant colours on their batik. Techniques learnt include basic application of dyes and cold was, design elements and colour theory.
Course Outline (Topics Covered)
Session 1: Introduction & Practice of batik basic techniques like colour graduation and blending and lining using cold wax and resist.
Session 2: Recap painting techniques, design patterns with intro to colour schemes for application. Composition skills will also be introduced.
Session 3: Drafting first piece of work onto cloth and line with cold wax and/or compatible resist.
Session 4: Apply dyes with colour schemes for first piece of work.
Session 5: Sharing first piece of work done with introduction of works by our famous local artists: Sarkasi Said and Jaafar Latiff.
Session 6: Drafting second piece of work with more details onto cloth and line with cold wax and/or compatible resist.
Session 7: Apply dyes with colour schemes for second piece of work.
Session 8: Sharing of final work done with introduction of other Southeast batik artists such as Datuk Chuah Thean Teng and Bambang Darmo.
Learning Outcome
1. Using various techniques of batik painting and elements of art to design x2 batik paintings.
2. Participants will appreciate this beautiful wax-resist dyeing traditional art with works from famous artists from local and the region.
3. Participants will learn and enjoy this painting artfrom from completion of x2 works.
Schedule:
Dates : Dec 4 - Feb 5 | Saturdays
Time:10am - 12pm
Venue: Brahm Centre @Simei
No of Sessions : 8
**Minimum 10 students to start class
Course fee:
$280 | $56 for seniors eligible for National Silver Academy (NSA) subsidy*
*NSA subsidy is for Singaporeans and Permanent Residents aged 50 and above.
In addition to NSA subsidy, course fee may be offset by SkillsFuture Credit (SFC).
First, course participants are to make payment for the course through Brahm Centre Eventbrite page.
Brahm Centre will reimburse the amount that is successfully claimed upon receipt of the funds from SFC.
**All Art materials will be provided during the class
* Participants are encouraged to bring their own newspaper and cloth for their own usage. The newspaper helps prevent accidental dirtying of common equipment and the cloths will allow you to clean the brushes given to you.
Notes:
Please note that payments for courses are non-refundable.
There are no make-up lessons if you miss any session.
If you miss the first session, you are allowed to proceed with the course. However, the trainer is not obligated to do a recap during the second session.
If you miss both the first and second sessions, you will not be allowed to proceed with the course
Trainer Profile:
Lau Sheow Tong is the founder of Composite Art & Design, a company that runs art education programmes for children, adults and seniors. He has an extensive track record in Art education spanning from primary to tertiary levels. As an Art teacher with Ministry of Education from 2000 to 2006 (April), he was teaching at both primary and secondary levels. While managing his company from 2006 (May) to 2015, he was also lecturing at Temasek Polytechnic (Design Integrated Studies), LaSalle College of the Arts (Fine Arts/Arts Management) and First Media Design School on part-time and consultation bases. As a teachers' trainer with World Prime Arts Education (2007), he has conducted various Art workshops specially tailored for teachers from MOE such as Art Interpretation for Study of Visual Arts, Fashion Illustration, Mixed Media Painting etc.
As a practicing Artist, he has exhibited his works at local galleries such as Utterly Art (Solos: 'Lucky Cat', 'Fantasy of Luck') and Sunjin Gallery (Group Exhibitions: 'Emerging Talents: 5 Artists for the Future', 'Sweetalicious'). He has also realized a community Art project The Garden under Composite Art & Design with paper sculpture works installed at Ng Teng Fong General Hospital for Jurong Health Service.
His painting Circus of Plants was awarded Merit Award for International Botanicals Art Competition 2020 organised by Art Room Gallery UK.
He holds a Master in Fine Arts (2007) from LaSalle College of the Arts (validated by Open University, UK), a Post-graduate Diploma in Education (2000) from National Institute of Education and a Bachelor in Arts from National University of Singapore (1996). He has also acquired certifications in Nature Matters in Conversation; Neighbourhood Nature; Introducing the Environment: Ecology and Ecosystems from Open University (OU) due to his interest in Nature, Horticulture and Landscape Design.
Sample work from Sheow Tong: