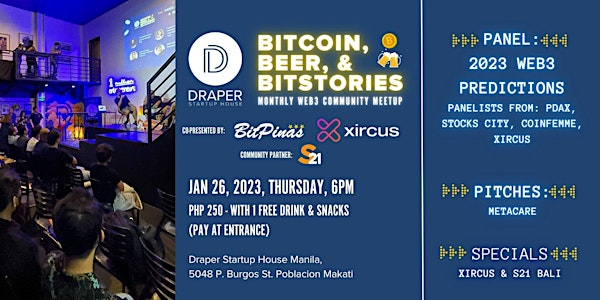 BBB Jan 26, 2023 - Bitcoin, Beer, and Bitstories
Bitcoin, Beer & Bitstories is Draper Startup House Manila's monthly Web3 community meetup. Open to anyone interested! Walk-ins are welcome.
When and where
Location
Draper Startup House Manila 5048 P Burgos Makati, NCR 1210 Philippines
About this event
About Bitcoin, Beer, & Bitstories:
Bitcoin, Beer & Bitstories is an information-filled gathering of builders dedicated to transforming the future of the web. You'll enjoy in-depth interviews and interactive panel discussions with the top movers and shakers in the local Web 3.0 community. Our events are open to all from beginners to experts. Come along to learn more and have some fun!
This event is co-presented by: BitPinas and Xircus Web3 Protocol
Community Partner: S21
📌 Ticket Price is P250 to be paid at the entrance, includes 1 free drink and snack
Program Flow:
6PM: Registration opens, socials
7PM: Opening remarks by DSH
7:10 PM - 7:20 PM - BitPinas segment
7: 20 PM - 7:30 PM - Xircus segment
7: 30 PM - 8:00 PM - Web3 startup pitches
8:00 PM - 8:15 PM - Short Break
8:15 PM - 9:15 PM - Panel Discussion
9:15 PM - 9:30PM- Q&A
9:30 PM - 9:35 PM - Closing remarks
9:35 PM - 9:40 PM - Segment from S21
9:35 PM Onwards - Socials