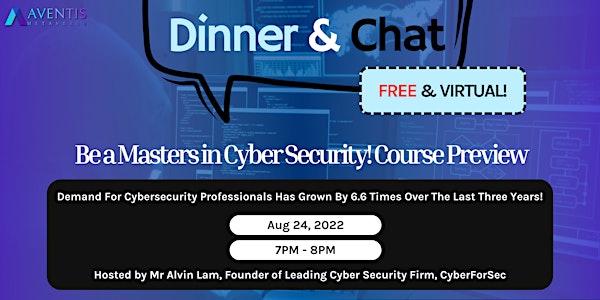 Be a Masters in Cyber Security! Course Preview
Did You Know? Demand For Cybersecurity Professionals Has Grown By 6.6 Times Over The Last Three Years!(Skillsfuture Singapore)
About this event
What is Cyber Security? What career prospects will I gain from an Masters in Cyber Security? What sets this Msc apart from the rest? How do I capitalize on the growing demand for Cyber Security professionals?
Find your answers by catching up with the last intake of 2022! Bring your questions and curiosity in. Let's have a chat with Mr Alvin Lam and the Aventis team over dinner!
The Master of Science in Cyber Security programme in Singapore comprises 6 modules on top of a dissertation delivered on a modular basis, structured to complement and accommodate global professionals and managers' busy commitments.
10 Months Part-Time
100% Coursework
Choice of Dissertation or Consultancy Project
Modular Structure for Busy professionals
Join 3,000 Successful Graduates
Join our Academic Director, Mr Alvin Lam, in this informational dinner talk on the 24th Aug (Wednesday). In this dinner talk, Mr Alvin Lam will share with you the learning experiences, career opportunities and expectations of Cyber Security program. Bring your curious and questions in, let's have a dinner talk.