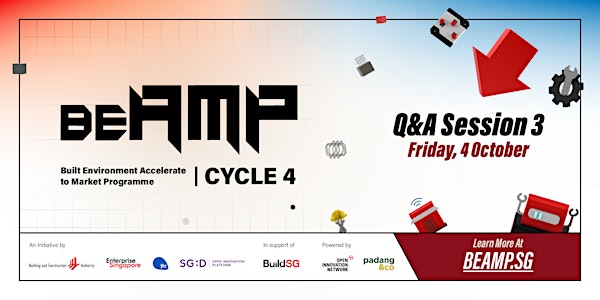 BEAMP 4: Q&A Session 3: Inspection, Automation & Robotics
Challenge statement owners will discuss select challenge statements under the Built Environment Accelerate to Market Programme (BEAMP).
About this event
The Built Environment Accelerate to Market Programme (BEAMP) is a multi-agency initiative designed to build a vibrant innovation ecosystem for the built environment sector in Singapore.
BEAMP is a platform for innovators and industry players to collaborate and accelerate the adoption of advanced building technologies in the built environment sector, allowing for cleaner, higher quality construction that is less manpower intensive.
This session will deal with challenge statements under 'Building Inspection, Maintenance & Facility Management' and 'Automation & Robotics':
1. Routine Inspection of Corridors of HDB Blocks [Andy Chew, General Manager (Business Development and Marketing), EM Services]
2. Automated Concrete Grinding for Wall and Ceiling Surfaces [Nicholas Eo, BIM Specialist, Construction Engineering Division, Penta-Ocean Construction]
3. Automated Installation of Noise Barriers [Bijay Joseph, Director, Civil Department, Chuan Lim Construction]
4. Automated Floor Tile Grouting [Bernard Leong, Group Chief Digital and Information Officer, Woh Hup]
Keen to learn about the rest of the challenge statements? Check out our other Q&A sessions:
- Q&A Session 1: Digital Asset Delivery & Project Management (27 September)
- Q&A Session 2: Advanced Design & Fabrication (29 September)
********
Programme Highlights
- Introduction to BEAMP programme, timelines and milestones
- Challenge statement sharing
- Q&A
We look forward to seeing you at the Q&A session.
Find out more at www.beamp.sg/challenge. If you have questions about this event, please send an email to beamp@padang.co.