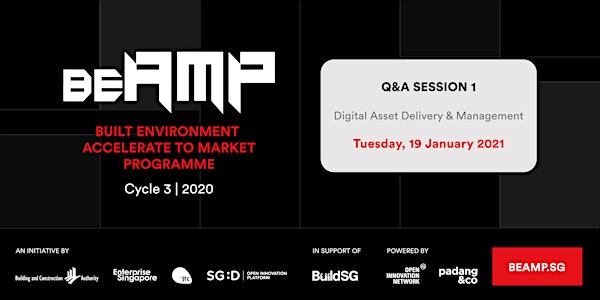 BEAMP Q&A Session 1: Digital Asset Delivery & Management
Challenge statement owners will discuss select challenge statements under the Built Environment Accelerate to Market Programme (BEAMP).
About this event
The Built Environment Accelerate to Market Programme (BEAMP) is a multi-agency initiative designed to build a vibrant innovation ecosystem for the Built Environment sector. BEAMP has created a platform for innovators and Built Environment industry players to collaborate and solve key challenges through accelerated product and market development.
BEAMP returns this year to discover new solutions and expand on the Built Environment sector's potential for disruptive innovation! If you have an innovative solution that can aid the transformation of the sector, this is an opportunity for you to receive test-bedding opportunities with industry players, be mentored by experts, and also secure a funded pilot.
We have organised a series of four Q&A sessions, organised into four thematic pillars, where challenge statement owners will discuss their challenge statements in detail and answer questions from potential participants.
This session will deal with challenge statements under 'Digital Asset Delivery & Management':
1. Digital Collection of Production Metrics with Automated Reporting (Santarli Construction)
How might we digitally collect actual production metrics and automate the reporting process?
2. Common Data Environment System for Construction Management (Penta-Ocean Construction & SK E&C)
How might we create a Common Data Environment system that can more comprehensively support the management of construction projects?
3. Excavator Usage Monitoring (Chuan Lim Engineering)
How might we monitor the usage of excavators to optimise their productivity?
4. Progress Monitoring for Cabinet Installation (Hong Leong Holdings & King Hup Construction)
How might we better monitor the progress of cabinet installation to enable better planning of manpower and material delivery?
B: 'Advanced Digital Processes'
5. Augmented Reality Visualisation for Precast Element Installation and Inspection (China Construction & Greatearth)
How might we visualise the structural installation requirements of precast elements using Augmented Reality tools for better planning, coordination and execution?
6. Automated Addition and Alteration Work Plans Submission Processing (Housing Development Board)
How might we automate the search and retrieval of relevant drawings to support the processes to review and check Addition and Alteration submissions?
7. Lifting Schedule Optimisation for Tower Cranes (Santarli Construction)
How might we optimise the lifting schedule for the tower cranes for seamless operations and better productivity?
********
Keen to learn about the rest of the challenge statements? Check out our other Q&A sessions:
- Q&A Session 2: Advanced Design & Fabrication (21 January)
- Q&A Session 3: Building Inspection, Maintenance & Facility Management (26 January)
- Q&A Session 4: Automation & Robotics (2 February)
********
Programme Highlights
- Introduction to BEAMP programme, timelines and milestones
- Challenge statement sharing
- Q&A
We look forward to seeing you at the Q&A session.
Find out more at www.beamp.sg. If you have questions about this event, please send an email to beamp@padang.co.