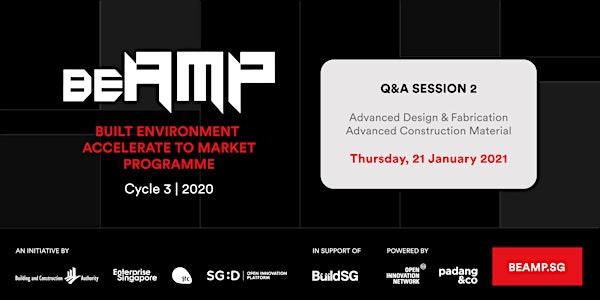 BEAMP Q&A Session 2: Advanced Design & Fabrication
Challenge statement owners will discuss select challenge statements under the Built Environment Accelerate to Market Programme (BEAMP).
About this event
The Built Environment Accelerate to Market Programme (BEAMP) is a multi-agency initiative designed to build a vibrant innovation ecosystem for the Built Environment sector. BEAMP has created a platform for innovators and Built Environment industry players to collaborate and solve key challenges through accelerated product and market development.
BEAMP returns this year to discover new solutions and expand on the Built Environment sector's potential for disruptive innovation! If you have an innovative solution that can aid the transformation of the sector, this is an opportunity for you to receive test-bedding opportunities with industry players, be mentored by experts, and also secure a funded pilot.
We have organised a series of four Q&A sessions, organised into four thematic pillars, where challenge statement owners will discuss their challenge statements in detail and answer questions from potential participants.
This session will deal with challenge statements under:
A: 'Advanced Design & Fabrication':
1. Computer-aided Interpretation of Drawings for Rebar Cage Assembly (Teambuild Construction Group)
How might we improve the process of interpreting drawings for assembling rebar cage, as well as the accuracy of the assembly?
2. Smart Storage, Management & Transportation of Rebar Parts (Teambuild Construction Group)
How might we better store, organise and transport rebar parts to reduce the time taken to identify and collect the parts required for assembly of rebar cages?
3. 3D-Printed Bespoke Building Components (Tiong Seng Contractors)
How might we construct complex bespoke building components using 3D printing techniques which allow for designs that are aesthetically impressive, cost-effective, scalable, and sustainable?
4. Unit Layout Plan Optimisation for PPVC Projects (CKR Group)
How might we use design simulation to rapidly explore permutations of residential unit layout plans for PPVC projects and reduce the number of moulds required?
B: 'Advanced Construction Material':
1. Noise Reduction for Residential Units (City Developments Limited)
How might we reduce noise from the traffic outside, while maintaining good natural ventilation in residential units?
2. Radiation Cooling Solution for External Surfaces of Buildings (Tiong Seng Contractors)
How might we apply radiation cooling solutions on the external surfaces of buildings to reduce heat gain?
********Keen to learn about the rest of the challenge statements? Check out our other Q&A sessions:
- Q&A Session 1: Digital Asset Delivery & Management (19 January)
- Q&A Session 3: Building Inspection, Maintenance & Facility Management (26 January)
- Q&A Session 4: Automation & Robotics (2 February)
********
Programme Highlights
- Introduction to BEAMP programme, timelines and milestones
- Challenge statement sharing
- Q&A
We look forward to seeing you at the Q&A session.
Find out more at www.beamp.sg. If you have questions about this event, please send an email to beamp@padang.co.