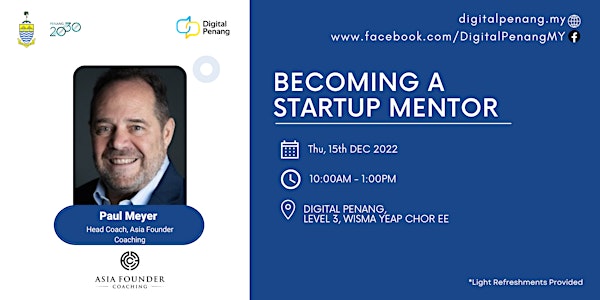 Becoming a Startup Mentor Workshop
It's well known that mentors are a key ingredient in the success of start-ups. But the true impact of mentorship is often still eye-opening
When and where
Date and time
Thursday, December 15, 2022 · 10am - 1pm +08
Location
Level 3, Digital Penang, Bangunan Wisma Yeap Chor Ee Pengkalan Weld George Town, Pulau Pinang 10300 Malaysia
About this event
Start-ups with mentors are 7x more likely to raise investment money and 3.5x more likely to grow user numbers for their products and services, according to JP Morgan Chase.
While most accelerators, VCs and innovation programs incorporate mentorship programs, it's hard to find a single definition of mentors' roles, how they work with founders and whatconstitutes "success". Equally, potential mentors can be confused about the level and length of their involvement, if there is an investment component to their engagement, how long they stay involved, etc.
"Becoming A Start-Up Mentor" will help define mentorship, provide an introduction to mentorship skills, establish goals and expectations of effective mentorship and help establish operational and success metrics for ongoing mentorship platforms.
More details on Digital Penang Mentor Program: https://digitalpenang.my/wp-content/uploads/2022/11/Tech-Mentor-Recruitment-Programme-2023.pdf
Make sure register yourself as penang startup Mentor: https://t.ly/_Kdn
Contents Include:
What is Mentorship? What is it not?
Why Mentoring is Important for Start-ups and Their Founders
What Makes an Effective Start-up Mentor
The Four Pillars of Mentorship:
Trust
Respect
Expectation
Communication
Mentorship Methods and Models
Practicum/Breakout Sessions
Developing as a Start-Up Mentor
Importance of Mentorship in the Start-up Ecosystem
Who is this for?
Current start-up mentors
Prospective start-up mentors
Accelerator program managers
Start-up investors (angels, VCs, financial institutions, etc.)
Corporate innovation team members
The 3-hour workshop will comprise lecture components, breakout sessions and Q&A-based discussions. Attendees will be expected to actively participate.
Who is The Speaker?
Paul is a serial entrepreneur and Asian digital veteran, helping to build Asia's start-up ecosystem over the past 25+ years. He has started and exited several companies – including a NASDAQ listing and 2 international trade sales - and raised tens of millions of dollars in investments.