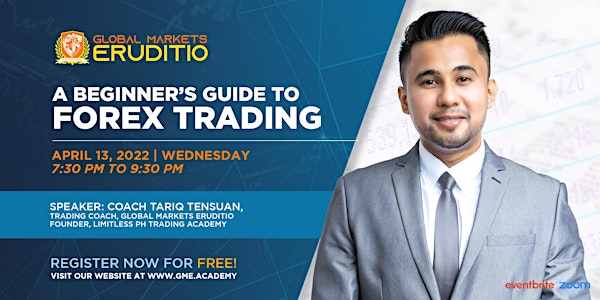 Beginners Guide to Forex Trading
FREE WEBINAR ON INTRODUCTION TO FOREX TRADING BY GLOBAL MARKETS ERUDITIO AND LIMITLESS PH TRADING ACADEMY
About this event
We are inviting you to join our FREE FOREX TRADING WEBINAR!
In this webinar with LimitlessPH, we will learn about the necessary realities in Forex trading:
☑️ Rules in currency trading
☑️ Realities of a trader's life
☑️ Trading with your mobile phone
☑️ The market structure and the role of the broker
☑️ Truths and myths of the Forex trading industry
☑️ Limitless possibilities in Forex trading
About the Event Speaker
Our speaker is the Founder of Limitless PH, Forex Trader, and Coach Tariq Tensuan. The Global Markets Eruditio is proud to be a partner of Limitless PH, a steadfast and robust organization dedicated to bringing Filipinos well-deserved financial literacy, especially on global market phenomena, risks, and opportunities.
REGISTER NOW while slots last, and we'll see you there!
FREQUENTLY ASKED QUESTIONS (FAQs):
1. How do I access the webinar?
Upon registration, you will receive the Zoom link with a password via email that only registered participants can use for each booked date. This link will be your access to the webinar.
2. What do I need during the webinar?
To have the best learning experience during the webinar, please make sure you have a laptop, a stable internet connection, pen and paper for taking notes, and a ready span of attention for the entire duration of the session.
3. How can I contact the organizer with questions about the webinar?
You may contact us directly by sending us a message on our Facebook page at Global Markets Eruditio.