Join us on 11 December 2021 for our Zoom Talk #FamilyViolenceIsNotOK
About this event
The prolonged impact of the Covid-19 pandemic has brought about increased conflict and tension in the multi-stressed families we serve, and further exacerbated the issue of family violence. Nationally, it was reported that 3,700 calls were made to the 24-hour National Anti-Violence Hotline (from January to June 2021), while the Ministry of Social and Family Development (MSF) also reported about 44% increase for inquiries on family violence in 2020 [1].
This year, the three Montfort Care Family Service Centres – Kreta Ayer Family Services (KAFS), Marine Parade Family Service Centre (MPFSC) and @27 Family Service (@27FS) – are coming together to raise awareness about the issue of family violence and provide helpful information to empower persons experiencing family violence to seek help. Our campaign tagline - "Family Violence is NOT OK" - hopes to encourage our community to take a stand against family violence. We hope to inspire the community at large to look out for their friends, neighbours as well as extended family members, and direct them to relevant professionals for support.
In this 1-hour Zoom talk, participants get to:
• Understand what family violence is
• Learn how persons experiencing family violence can seek help
• Gain insights on how to provide appropriate support to a person experiencing family violence
Follow us on @communitykakis @marineparadefsc @27fsc on Instagram to know more about our "Family Violence Is Not OK" Campaign.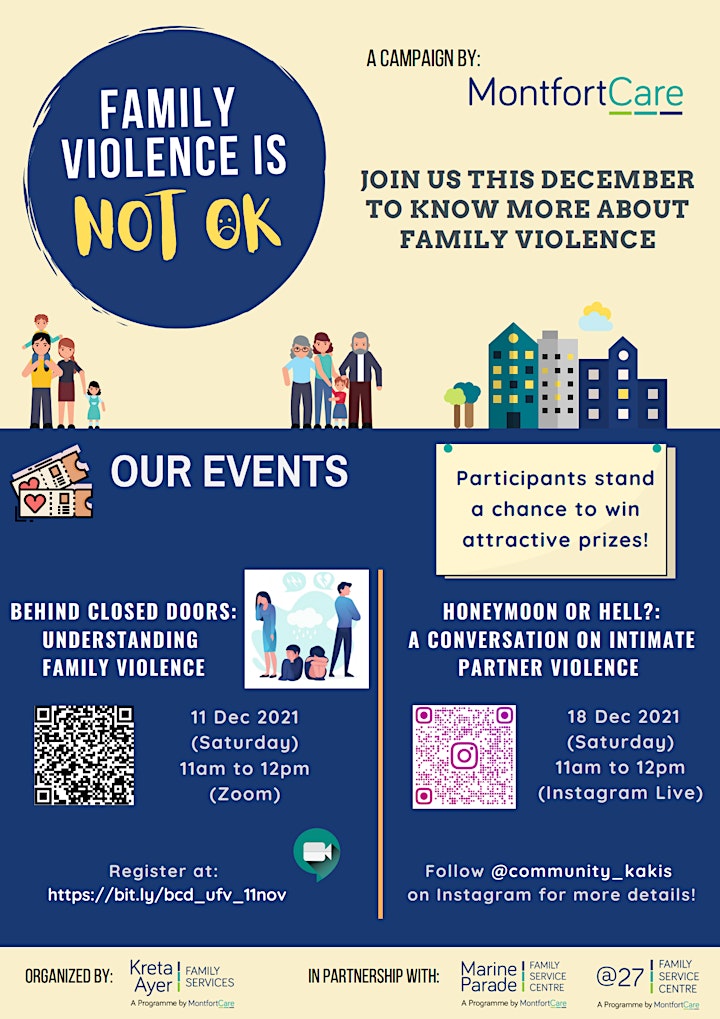 Organiser of Behind Closed Doors: Understanding Family Violence