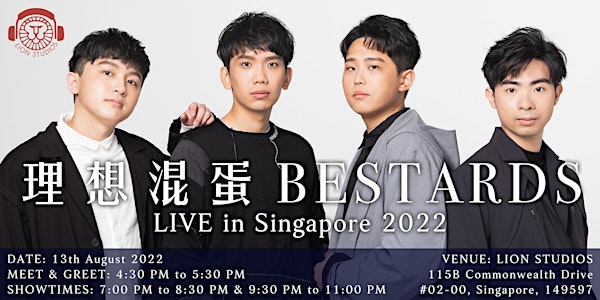 理想混蛋 Bestards Live in Singapore 2022
For the very first time in Singapore, Taiwanese band Bestards (理想混蛋) will be performing at the historical Lion Studios!
When and where
Location
Lion Studios 115B Commonwealth Drive #02-00 Singapore, 149597 Singapore
Refund Policy
Contact the organizer to request a refund.
Eventbrite's fee is nonrefundable.
About this event
BESTARDS LIVE IN SINGAPORE 2022
Come and join us for an intimate night of great music by Taiwanese band Bestards (理想混蛋)! This will be their very first time performing in Singapore, and they are just as excited to be finally meeting you, their dear fans!
They will be performing in Lion Studios, Singapore's oldest recording studio built in 1980 where legends such as Teresa Teng and Tracy Huang have recorded in. Recently, Lion Studios was the venue hire for Stefanie Sun's livestream broadcast on WeiBo, reaching over 240 million viewers.
Do not miss this rare chance to meet Bestards in a cozy studio setting, where the room is designed for the best possible sound. Seats are very limited in this intimate setting, there are only 150 tickets per show, so grab your tickets now!
There will also be a very limited 1-hour meet & greet session for special fans (additional $30) in the afternoon!
IMPORTANT NOTE: This is not a concert hall or theater performance. This is an intimate concert in a historical recording studio specially designed to host even small orchestras. You are paying for a rare VIP experience to see Bestards up close; an experience you will not be able to have anywhere else!
About Bestards:
民謠為主的音樂風格凸顯最原始的情感表現,關於那些你、我、他都經歷過的故事,揉合成 一首首歌,用自在的溫度包覆那些沒有說出口卻譜成旋律的溫柔和勇敢。
平凡而單純,卻真實而自然著。
主唱/邱建豪 (雞丁) 
吉他/郭哲成 (阿哲)
吉他/李建廷 (建廷) 
鼓手/盧可沛 (Look)
活在這個世界上,誰不是像個混蛋一樣在冒險、在橫衝直撞?
但因為身上揹負著對我們而言如此重要的理想,所以有了努力的方向。
「理想混蛋Bestards」由身兼醫師的主唱雞丁、兩位身兼藥師的吉他手建廷與阿哲、以及 專職音樂的鼓手Look,在2017年10月於台北正式組成。「理想」和「混蛋」,兩個截然不同的詞融合在一起,誠如每個人身上都同時存在著優點和缺 點,但正因此每個人才會是如此獨一無二、不完美卻完美的存在。在這個普遍被稱為「厭世 代」的時代裡,理想混蛋期待帶給大家一股截然不同的正面能量,傳遞勇敢作夢、無所畏懼 的精神。
目前剛發行第二專全新創作專輯的理想混蛋,給樂迷帶來與以往不同的音樂風格重新出發,關掉最壞的時代,打開最好的時代。
Event Details
Ticket Price: $168 (excluding Eventbrite ticketing fee)
Date: 13th August 2022
Showtimes:
7:00pm to 8:30pm (doors open 6:30pm)
9:30pm to 11:00pm (doors open 9:00pm)
Meet & Greet (Additional $30)
4:30pm to 5:30pm (doors open 4:00pm)
Important Notes:
This is a free seating event.
No food & drinks allowed in the venue.
No flash photography
Promptly exit the venue once the concert is over
Venue Address: Lion Studios, 115B Commonwealth Drive, Singapore, 149597
About the venue: Lion Studios
Established in 1980 by PolyGram Records, Lion Studios remains standing as the oldest recording studio in Singapore. Designed by Jeff Cooper (who has designed studios for Steven Spielberg and George Lucas amongst many other Hollywood elites), the fully sound-proofed and acoustically treated studio will deliver a world-class listening experience.
Visit us at: www.lionstudios.com.sg