BFF Biodiversity Challenge: Human-Wildlife Coexistence
Description
[Target audience: youth aged 16 - 30]
BFF Biodiversity Challenge: Human-Wildlife Co-existence is mooted by Second Minister for National Development, Mr. Desmond Lee, and run by the Biodiversity Friends Forum (BFF), the youth branch of the Biodiversity Roundtable.
The Challenge has 5 phases, the first beginning 13 January 2018: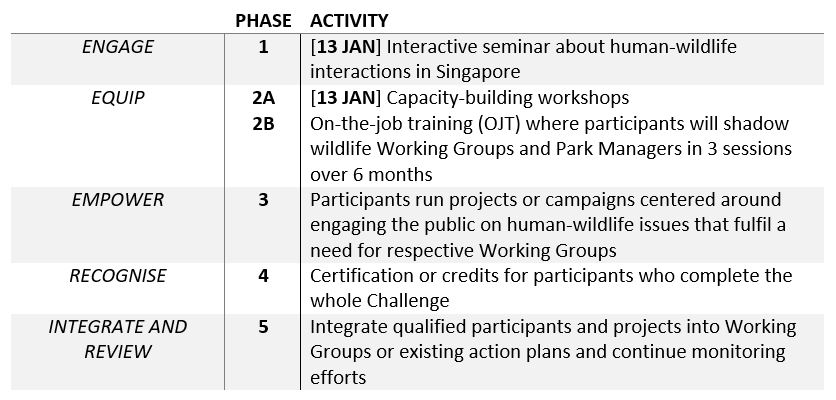 Special Guest: Second Minister for National Development Mr. Desmond Lee
Join us on the 13 Jan workshop (Phase 1 & 2A) to get a deeper understanding of human-wildlife interaction issues in Singapore with a focus on macaques, otters, wild boars, and turtles. Learn about causes of conflict and current mitigation measures, speak to experienced people who deal with these cases and get motivated to promote healthy human-wildlife co-existence!
Following the workshop, you will attend 3 on-the-job training (OJT) sessions (Phase 2B), which aim to provide first-hand experience on the ground. These OJTs will be either guided sessions by Wildlife Working Groups dealing with human-wildlife interaction cases and park managers who manage our parks and nature reserves, or self-directed field trips to observe human-wildlife interactions following a briefing. Additionally, participants will have to helm a booth about human-wildlife coexistence at the Festival of Biodiversity (FOB) 2018 in 2-3 June 2018.
Phase 3 will be the project phase, where participants can carry out projects mooted by Working Groups or Park Managers. They can begin their projects once they finish two OJT sessions (approximately from March 2018 onwards).
Participants will be certified as having completed the BFF Biodiversity Challenge following the completion of Phases 1 to 3.
Undecided? Come join us for the information lecture on 13th January to find out more!
Limited slots available, sign up by 8 January 2018!

All enquiries welcome at biodyouthsg@gmail.com.