Description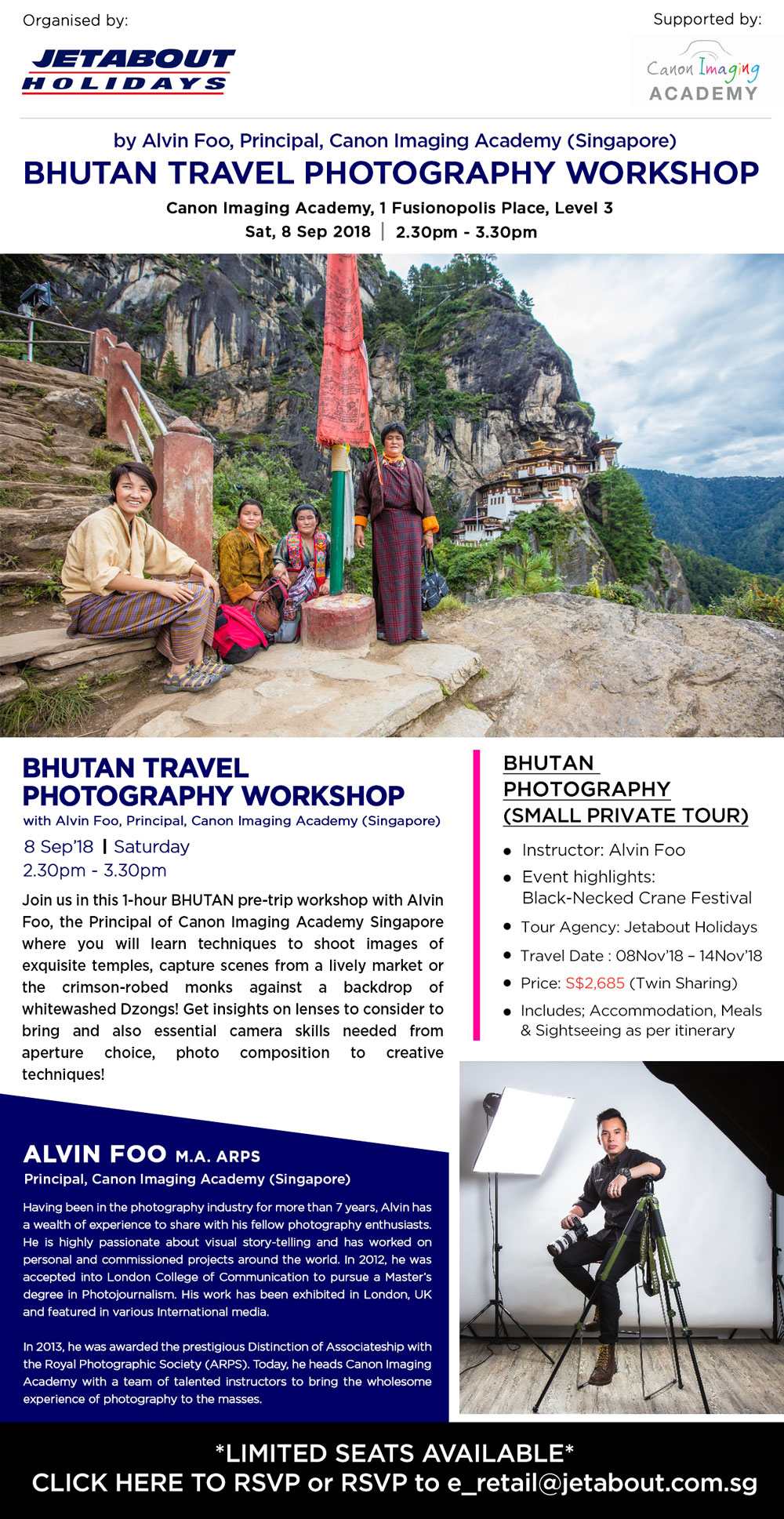 **SMALL GROUP - TRAVEL PHOTOGRAPHY (MAX 6 PARTICIPANTS)**
6 Nights Travel Photography - Bhutan, Black-Necked Crane Festival (Dep: 08Nov'18) Fr $2.685* (Twin Sharing). Details: https://bit.ly/2MnzTjF
EXCLUSIVE INSIDER DEALS for this departure:
~ Professional Photography Guidance by Alvin Foo
~ 1 time Hot Stone Bath in Paro per adult
~ Special permission to take photographs inside selected monastery
~ Visits to farmhouses and small villages
~ Complimentary 1x camera sensor cleaning and 2 lenses general check, valid within a month after the trip (for Canon DSLR / mirrorless users only)
Join us in this 1-hour BHUTAN pre-trip workshop with Alvin Foo, the Principal of Canon Imaging Academy Singapore where you will learn techniques to shoot images of exquisite temples, capture scenes from a lively market or the crimson-robed monks against a backdrop of whitewashed Dzongs! Get insights on lenses to consider to bring and also essential camera skills needed from aperture choice, photo composition to creative techniques!

Alvin Foo, the Principal of Canon Imaging Academy Singapore
Having been in the photography industry for more than 7 years, Alvin has a wealth of experience to share with his fellow photography enthusiasts. He is highly passionate about visual story-telling and has worked on personal and commissioned projects around the world. In 2012, he was accepted into London College of Communication to pursue a Master's degree in Photojournalism. His work has been exhibited in London, UK and featured in various International media.
In 2013, he was awarded the prestigious Distinction of Associateship with the Royal Photographic Society (ARPS). Today, he heads Canon Imaging Academy with a team of talented instructors to bring the wholesome experience of photography to the masses.