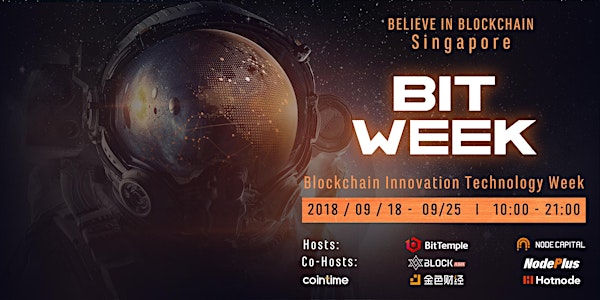 BIT Week Blockchain Innovation Technology Week-Singapore
Event Information
Location
BitTemple
5F, Republic Plaza 9 Raffles Place Exit E of Raffles Place MRT Singapore, Singapore 048619
048619
Singapore
Description
The blockchain is one of the most discussed and hottest cutting-edge technologies.
Going abroad has become a considerable issue in the blockchain industry. How to quickly enter overseas markets and understand the policies and ecological environment around the world is also essential.
BIT
Week
Blockchain Innovation Technology Week
BitTemple will host a 7-day BitWeek forum at BitTemple, 5th Floor, Republic Plaza, 9 Raffles Place, Singapore, September 18th-25th.
The forum will invite projects and institutions from China, Taiwan, Hong Kong, Singapore, the United States, Europe and other regions to gather in Singapore and discuss the important topics like government policies, technological innovation and the development of the blockchain industry in the future. Featuring a seven-day expert presentation, symposium and project presentation.
---
1. Event Overview
BIT Week – Blockchain Innovation Technology Week
Links: keynote speeches, project presentations, panel discussion, social gatherings and party
Language: English
Participants: Top institutions, projects in blockchain industry from globe, Southeast Asian investment institutions, exchanges, media, KOL, etc.


2. Activity form
For 7 days, a total of 15 forums.

10:00 – 12:00 Panel/Pitch
12:00 – 13:00 Networking
13:00 – 14:00 Lunch break
14:00 – 16:00 Panel/Pitch
16:00 – 17:00 Networking
17:00 – 19:00 Dinner time
19:00 – 19:30 Pitch by Sponsor/Partners
19:30 – 21:00 DJ/Party/Booth/Networking
Topic:
Singapore (Southeast Asia) Policy Analysis, Exchange, Capital, Public Chain Ecology, Developers' sub-forum, Community Operation, Self-media, Projects(DAPP)


3. About BitTemple
BitTemple is the largest Blockchain Incubator in Asia. BitTemple currently has serviced more than 50 projects. BitTemple is also co-invested by Node Capital and Huobi Eco to grow the engagement with the blockchain community. Being an incubator dealing with global blockchain investors and entrepreneurs, we aim to create open, symbiotic and innovative BLOCKCHAIN HUB. With good experience on building an elite community, with a full suite of community activities. As a result BitTemple links proejcts to top global blockchain resources. We aim to be part of the future technology growth and be part of the longevity of blockchain.
BitTemple is established with the philosophy of "BELIEVE IN BLOCKCHAIN", we form a Blockchain Incubation Centre for the world. We aim to build a sound service ecosystem for global qualified blockchain projects, which arrives in Singapore and from the worldwide market. In addition to providing high quality services of premium grade "A" office space. BitTemple also provides legal consultancy services, KYC project feasibility analysis, investors, consultancy advisory services, media, public relations, exchange platform and community operation. Always looking for established high-quality blockchain projects around the world to provide one-stop ecological service and communication platform.
Since launched in May 2018 we have been part of the growth of more than 50 blockchain projects from the likes of IHT, HashWorld, NEM, Bizzkey, BlockCloud, MediLOT, Ulive and more. We have a wide array of more than 100,000 investors and technopreneurs network established over the years. BitTemple has organized a hundred events in South East Asia, Silicon Valley and Europe. Few achievements in successful venture capitalist round, participation of World Blockchain Forum to form Blockchain Singapore Business School and close partnership with BlockAsia, NEM, cointime, Asch and CBDN. BitTemple will build further one-stop service ecosystem in South East Asia, Silicon Valley and Europe. Lets make history together!
Contact them:contact@bittemple.io
Website: www.bittemple.io
---
BitWeek-18th Afternoon Session
"Discuss the future of crypto community and exchange"
Date: Tuesday, September 18th
Time: 14:00 – 16:00

"Investment" and "consensus" are two important keywords in the digital asset industry. From these two words, two important industries, "exchange" and "community", have been derived.
BitKan is the industry's leading digital asset information service aggregation platform, providing market information to wallet and community integration services. Join Huobi and invite you to Singapore to talk about the future of crypto community and exchange
BitWeek-18th Evening Party
"NODE CAPITAL × BITTEMPLE Landing night"
Date: Tuesday, September 18th
Time: 20:30 – 23:00


BitWeek-19th Afternoon Session
"Connecting the nodes between Asia and Europe"
Date: Wednesday, September 19th
Time: 14:00 – 17:00

Presenting at Emergence Singapore, what.digital, BX.bet, Silent, and Flex will provide insights of blockchain startups in the betting, renewable and clean energy sectors from European jurisdictions such as Switzerland, Malta, and United Kingdom. During the panel session, each company will share their experience in working in an increasingly decentralised economy and bridging the European and Asian markets as interest in blockchain technology continue to rise in both markets
BitWeek-19th Evening Party
"Global Launch party—Announcing The biggest blockchain media ecosystem in the world"
Date: Wednesday, September 19th
Time: 19:00 – 21:00

BitWeek-20th Afternoon Session
"Empower the redundant computing power of the world"
Date: Thursday, September 19th
Time: 14:00 – 17:00

Empower the redundant computing power of the world by providing ubiquitous and shared-computing services beyond centralized public clouds (i.e. Amazon, Microsoft, Ali) with blockchain technology. Reconstructing the landscape of the global computing-power service market and utilizing containers to integrate various applications on a distributed-computing platform, building a new ecosphere based on a public blockchain. As Mark Weiser, a proposer of ubiquitous computing, once said, "technology should create calm, that which informs but doesn't demand our focus or attention." https://uranus.io/


BitWeek-20th Evening Party
"Exchange the World—Global Meetup X Singapore"
Date: Thursday, September 20th
Time: 19:00 – 21:00





BitWeek-21th Evening Party
"Future of blockchain security token?"
Date: Friday, September 21th
Time: 19:00 – 21:00

Date and time
Location
BitTemple
5F, Republic Plaza 9 Raffles Place Exit E of Raffles Place MRT Singapore, Singapore 048619
048619
Singapore