Refund policy
Contact the organiser to request a refund.
Eventbrite's fee is nonrefundable.
Defi is the new boom - but it's hard to get in. Join the DeFi Uprising to learn about what DeFi can bring to you.
About this event
The DeFi economy has grown massively this year as the total value reached 7 billion on 26 august 2020. One day in DeFi is indeed 7 years in traditional finance. However, the barrier of adopting DeFi as a platform remains, as the general public does not understand the concept of DeFi well. Both the complexity of finance and blockchain technology is a barrier to mass adoption.
We believe that DeFi is more than a short-term trend and it fundamentally innovates our existing financial system, giving the world access to an unlimited number of financial products and services.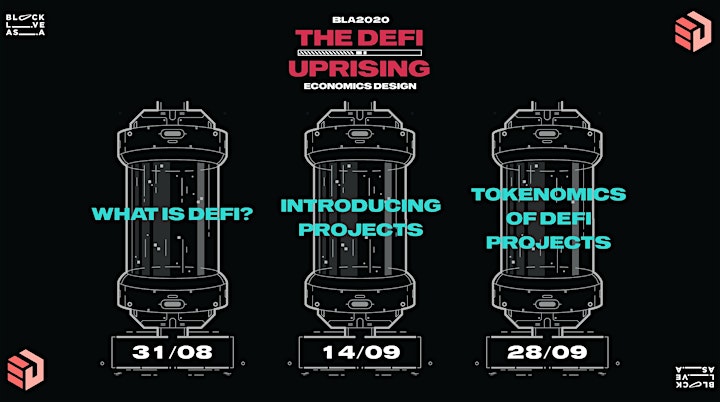 BLA2020 is a three-part digital event that aims to educate the masses about the potential of DeFi and inspire mass adoption of this technology.
Themes:
What is DeFi (31/08)
Introducing projects (14/09)
Tokenomics of DeFi projects (28/09)
Part III: Economics and Engineering in DeFi - 28 September 2020
Little Technical Economics and Engineering Conversions surrounding DeFi
Panel on DEX — What is AMM, Bonding Curves, Impermanent Loss and Price Slippage | 7.00 PM - 8.20 PM | Balancer, Bancor, Curve and Lisa JY Tan (moderator)
How DeFi is disrupting Traditional Finance | 8.20 PM - 8.40 PM | Robert Sharratt, Founder of CrescoFin SA
 DeFi in Cardano - The UTXO Way | 8.40 PM - 9.00 PM | Nicolás Arqueros, CTO at EMURGO & CEO at Brandmark
For more information on BLA2020, check out our website here.
About The Organiser
Grounded is an advisory firm for startups and blockchain is one of our core competencies. Talk to us if you'd like to start a blockchain projects.