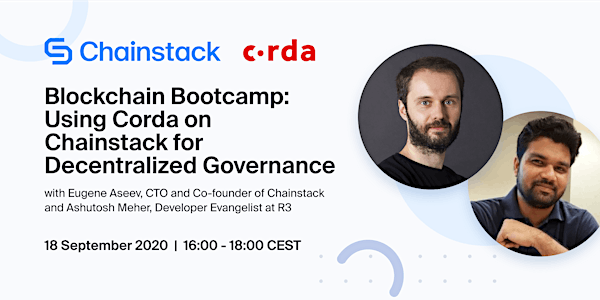 Blockchain Bootcamp: Using Corda on Chainstack for Decentralized Governance
Experience how to deploy and run a cutting-edge application of Corda with the potential to transform voting & staking, using Chainstack.
About this event
Introduction
Decentralized governance can take many shapes, and it will increasingly be part of how we interact with the technology around us. Decentralization is a technology of representation, and it wouldn't be true to itself if it didn't have the mechanisms to collect, audit, and act on the wisdom of the crowd.
In this bootcamp, you will experience a cutting-edge application of Corda with great potential to transform voting and staking. Guided by both the Chainstack and Corda teams, you will learn how to deploy a node on Corda using Chainstack.
You will then be guided step by step on how to join a private decentralized network and execute a purposely built auction CorDapp with all the other network participants.
Using a fixed 'budget' that is allocated to each participant, you will need to vote for one, two or three shortlisted charities, following your personal determination of which one is best placed to support the global society with help of blockchain.
After receiving the 'budgets' from all the network participants, the tutors will announce the winning charity that will receive a real donation from both Chainstack and R3.
AGENDA
Tutorial: Corda (10 minutes)
Getting to know the technology and the ecosystem (10 minutes)
Tutorial – Chainstack (10 minutes)
Introduction to the Chainstack console
How to deploy Corda nodes on Chainstack
How to deploy a CorDapp
How to monitor and manage your Corda network on Chainstack
Workshop (70 minutes)
Deploy a Corda node on Chainstack
Join a private network on Corda
Run a CorDapp
Use the CorDapp to allocate your budget to the charities
Results
Q&A
Final quiz (5 minutes)
Outcome
Upon successful submission of the final quiz, you will be awarded the Chainstack Enterprise Developer for Corda certificate.
Pre-requisites:
Basic knowledge on executing commands through the CLI
Basic knowledge on JavaScript and Node.js
About us
Ashutosh Maher
Ashutosh Meher is a Technology Enthusiast, Java Programmer and Blockchain Evangelist. He currently works as a Developer Evangelist at R3. As part of Developer Relations Team at R3 he works towards driving wider adoption of Corda by the developer community worldwide. He is a Java expert and has a background of implementing highly scalable enterprise applications for various clients. He is particularly interested in emerging technologies and has been working on Blockchain for the past 3 years particularly in platforms like Corda, Fabric and Ethereum. With an experience of over 9 years in the industry, he has worked with companies like TCS and Sapient prior joining at R3.
Eugene Aseev
Eugene Aseev is the CTO and co-founder of Chainstack. He has strong roots in engineering, cybersecurity, and research, with more than 10 years of experience in leading top R&D teams on a global scale. Eugene is passionate about driving innovation and building highly sophisticated products and technologies. Prior to Chainstack, he held the role of VP of Engineering at Acronis where his contributions have led to the development of Acronis Active Protection and Acronis Notary. He also spearheaded the security research team at GeoEdge and headed the anti- malware team in a leading cybersecurity company. Eugene holds a Master's degree in Computer Science from Bauman Moscow State Technical University and a CISSP certification. He has authored various publications in cybersecurity and has done multiple public speaking engagements, workshops, and training sessions. He currently resides in Singapore, where Chainstack is based.
About R3
R3 is an enterprise software firm that is pioneering digital industry transformation. We deliver purpose-built blockchain technology for all types of businesses in all industries.
Developed in collaboration with our ecosystem, our enterprise blockchain platform Corda is transforming entire industries by digitalizing the processes and systems that firms rely on to connect and transact with each other. Our blockchain ecosystem is the largest in the world with more than 350 institutions deploying and building on Corda and Corda Enterprise. Our customers and partners have access to a network of leading systems integrators, cloud providers, technology firms, software vendors, corporates and banks.
To ensure our customers derive the greatest value from their investment, we provide services and support to shorten time-to-market, as well as guidance on implementation, integration and building ecosystems based on a blockchain platform. Learn more at www.r3.com and www.corda.net.
About Chainstack
Managed blockchain services making it simple to launch and scale decentralized networks and applications—complete with an intuitive user interface, seamless orchestration, and predictable pricing.
We offer enterprise-grade tools and services that empower developers, solution providers, and consortia to safely experiment and run in production.
By building on Chainstack, you reduce the time, cost, and risk involved with leveraging decentralized technologies. With a secure API, membership management, and flexible deployment options, you can immediately accelerate and future-proof your development of transformative solutions.
Join our community on Twitter @chainstackHQ