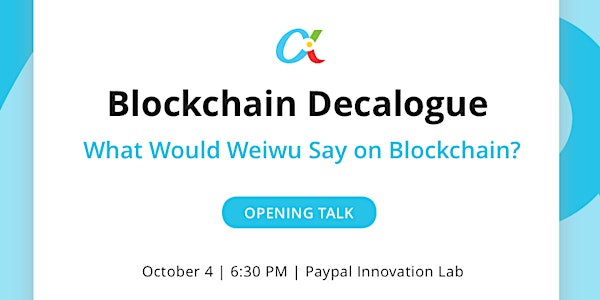 Blockchain Decalogue: What Would Wei Wu Say on Blockchain, Opening talk (1st of serise)
When and where
Location
Paypal incubation space, level 7, Suntec city tower 5, Singapore, 038985 038985 Singapore
Description
About the Blockchain Decalogue:
---
it's series open class given by blockchain expert Weiwu Zhang, CTO of AlphaWallet. This is the opening talk of this series, please follow us to get the latest information of next talks. The Portal of this event is :https://alphawallet.com/blockchain-decalogue/
Opening Talk:
We will open the conversation by examining the fundamental difference of blockchain and prior technologies.
The blockchain detractors would say nonchalantly: "in the past, the ledger is kept centralised, now it is decentralised, what's the big deal."
It is a very big deal. We will examine many scenarios that simply wouldn't be accomplished if

the ledger is kept centralised.
Talk 1- Talk 10 (not this time, will release in following weeks)
Talk 1: Elliptic curve and what was achieved before blockchain
Talk 2: The blockchain promise
Talk 3: Why the answer to life, the universe and everything is 42 - a Merkle Tree enlightenment.
Talk 4: attestations - go paperless, this time, for real
Talk 5: "If a tree falls in a forest and no one is around to hear it, does it make a sound?" - a hash-based contract inauguration
Talk 6: Proof without a proof - a zero-knowledge proof inauguration
Talk 7: Encryption technology: a Diffie–Hellman key exchange primer
(alternative) Talk 7: Self-sovereign identity
Talk 8: Smart contract security
Talk 9: Consensus
Talk 10: Blockchain is not there to help you win - it is there to change the game you are playing
Please follow us to get the latest Infomation
https://t.me/AlphaWalletGroup
https://twitter.com/Alpha_Wallet
https://www.facebook.com/AlphaWallet/
Class Forum
---
You can talk with other attendees and speaker Weiwu on this forum https://community.alphawallet.com/t/108
Talk with Speaker
---
As Weiwu Zhang has no any social media acconts, you can just put your question or get update from https://wwwws.org
Co Host
---
About the Speaker
---
Weiwu Zhang is AlphaWallet's co-founder and CTO. He has over 5 years experience in the blockchain space and was an early adopter and advocate of Bitcoin. Before joining AlphaWallet, Weiwu was the blockchain architect for Commonwealth Bank of Australia, the largest financial institution in Australia.
As the artchitect he designed over 12 blockchain projects. His footprint covers most blockchain financial services areas like identity management on blockchain, inter bank collateralization, post trade processing, cross institutional fund management, trustworthy financial communications, inter-chain asset exchange and mobile wallets. Weiwu also has a strong security and cryptography background and focuses much of his time on open source development. R3 Corda expert – serving R3 global architect working group. open source system expert. Highly recognised blockchain expert and a practitioner of Wing Chun.