Body Mechanic - Exercise and Movement (SKILLSFUTURE)
About this Event
The BODY MECHANIC (EXERCISE AND MOVEMENT) workshop is now eligible for the Singapore SkillsFuture funding!
Our SkillsFuture course code is CRS-N-0049592.
Eligible Singaporeans can now claim up to $490 to attend this workshop. When signing-up, select the ticket option for "SkillsFuture Credit Claim", and proceed to make the claim at My SkillsFuture to finalise your registration.
You may contact us at support@genesisgym.com.sg if you need assistance on how to make your SkillsFuture credit claim.
This is absolutely amazing value for the most comprehensive fitness workshop available in Singapore.
This course aims to teach sports team coaches and teachers the basics of successfully implementing a science based, safe and effective training program to help athletes perform better as well as reduce injury risk.
It will allow high quality knowledge gathered from around the globe to be implemented by local coaches and teachers in schools and sports associations.
Even recreational athletes and those who are serious about their own fitness will benefit from this workshop.
You will learn how to:
layout a comprehensive training plan
adjust training to match current stress levels
activate muscles before training to reduce injury risk and improve strength and flexibility
warm up most effectively for gym and sports workouts
perform and teach upper and lower body exercises with perfect technique
organise workouts for efficient training of a team or individual
Time:
11 January (Saturday) 1pm-7pm
12 January (Sunday) 9.30am-4pm
Attire:
Please come in workout attire, as there will be both practical and theory components.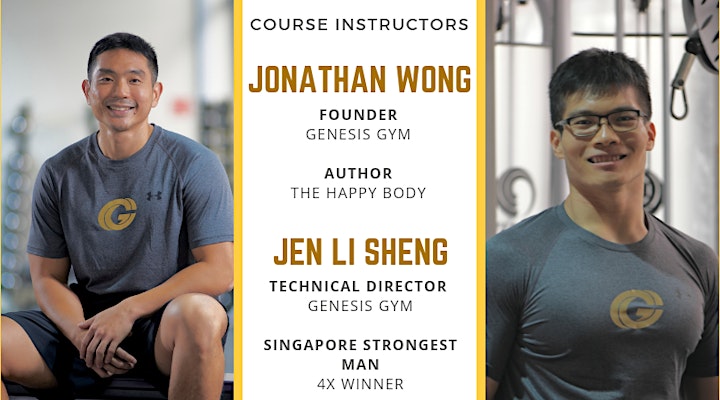 Combined, Jonathan and Li-Sheng have completed over 100 certifications, internships and courses related to fitness, anatomy, nutrition, rehabilitation and sports performance from experts around the world.
They have combined this knowledge with over 30 years of experience, and Genesis Gym's 1 million hours of client coaching to help athletes and sports teams maximize their potential and stay injury free.