Learn 5 simple techniques that helps with maintenance your body's natural ability to heal itself.
About this event
Course Dates (ONLINE / ZOOM):
15 Feb 2022 7:00PM - 10:00PM
16 Feb 2022 7:00pM - 10:00PM
BodyTalk operates from the premise that your body is capable of healing itself.
The BodyTalk Access techniques therefore helps stimulate the body's natural ability to Self-Heal.
By first allowing the busy mind to first calm and settle down first from within, at the subconscious and subatomic levels.
(This isn't something you do with positive thinking or words!!!)
The other techniques will thereafter support flow of fluid and energy, and with that allow the nature self regulating process to do its job optimally.
So, the Nervous and Immune system is calm and prepared instead of anxious and alert.
Give your body the chance to heal from within with BodyTalk Access today.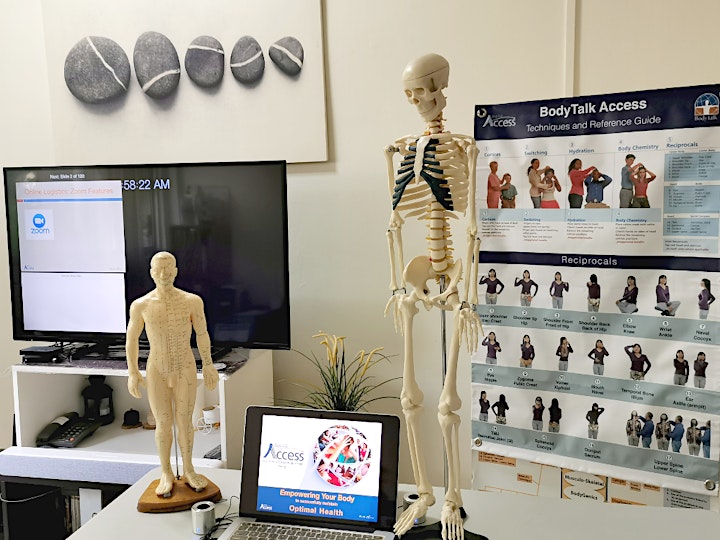 Date and time
Location
Refund policy
Organiser of BodyTalk Access Workshop (Online via Zoom)
.
A platform that Empowers you, to Nurture the Natural You!
Irene Khor is an international speaker and also a regional expert in BodyTalk SystemTM, a wholistic therapy that can treat the "root cause" of a number of physical, emotional and mental health conditions.
Irene has been providing private BodyTalk sessions  (in-person and distance) since 2006.
Over 15 years of practise, Irene is known to her clients and students as patience, kind, insightful and amazing teacher, mentor and 'healer' to some.
Today, she provides both private BodyTalk sessions and teaches the BodyTalk Access, BodyTalk Fundamentals & BodyTalk Fundamentals Integration, MindScape and MindPower Workshops in Singapore, China, Malaysia (Penang, KL & Malacca), Philippines (Manila), Thailand (Bangkok), Indonesia (Jakarta), HongKong and Guam, USA.
She has been invited twice, by Kuam News (USA), Guam's Official News Network in 2017, to share her perspective on certain physical symptoms being a psychosomatic (aggravated by emotional stress) which can be addressed wholistically with BodyTalk, to heal the symptoms at its root, and not merely medicating to relieve the symptoms.
She is very grateful for the opportunity to be invited by LetsMov8, an Active Enabler Programme (AEP) by ActiveSG in 2020. Where she contributed by teaching a simple self-help Technique, that helps with calming the brain. So we can snap-out instantly from drowning in mental and emotional stress unconsciously.
Since 2020 she started to compile her 15 years of experience into easily to follow steps structure, to help her clients and graduates to improve their physical health, harmonize emotional wellbeing and neutralise mental conditionings.
So that they feel empowered to take one simple step at a time, as they reignite their passion to eventual pursue their destiny. So every days feels meaningful and accomplished whether in career, business, relationship and of course supported by a healthy wellbeing and attitude.
 She sucessfully launched her first eBook titled, Making Sleep a Priority in Dec 2021.
"I am a true believer that Health-Education transform lives! ~ irene khor
Health and wellbeing is NOT achieved by getting rid of problems, yet an opportunity to understand why problems occur and conflict arises within oneself and what triggered that malfunction.
By educating ourself to understand where and how problems derived, allows us to reach greater depth to repair relationship with ourself. Re-connecting with our inner qualities, trusting our potentials to achieve true health and enjoy a complete life." 


www.bodytalk.com.sg
SelfCare; Self Discovery; Self Empowerment Courses & Self Mastery Retreats.