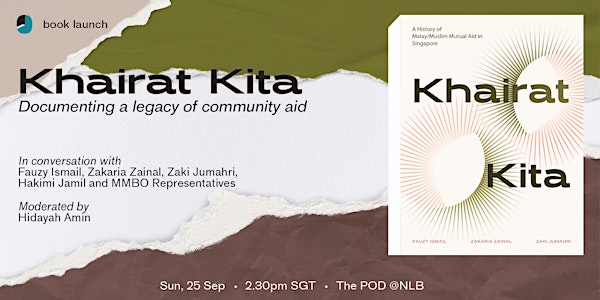 Book Launch of Khairat Kita: documenting a legacy of community aid
Join authors Fauzy Ismail, Zakaria Zainal and Zaki Jumahri, and filmmaker Hakimi Jamil, in conversation with Hidayah Amin.
When and where
Location
The Pod 100 Victoria Street National Library Board Singapore, Singapore 188064 Singapore
About this event
If tickets are sold out, we invite you to tune in to the livestream of this event on our Facebook page: https://fb.me/e/2ftwl8Waa
If you are not able to make it for this event, please cancel your tickets so that others will be able to join us. Thank you!
--
About the Event
Book Launch of Khairat Kita: documenting a legacy of community aid
Sunday, 25 September, 2.30PM – 4PM
Happening at The POD @ NLB, 100 Victoria St, National Library, Singapore 188064), access from L1
--
What are Malay/Muslim Mutual Benefit Organisations (MMBOs) and why are we documenting their legacy? Join us in conversation with MMBO representatives, authors Fauzy Ismail, Zakaria Zainal and Zaki Jumahri, and filmmaker Hakimi Jamil, moderated by historian and writer Hidayah Amin.
There will be an intimate dialogue with representatives from existing MMBOs discussing their history and value to the community, followed by a conversation with the authors and documentary filmmaker on the challenging process of documenting this intangible heritage in the midst of Covid-19. The launch will also feature a photo exhibition on the MMBOs by co-author Zakaria Zainal and a book signing with the authors.
Khairat Kita will be available for sale during this event.
Thank you to our venue partner NLB for supporting this book launch!
--
About the Book
A collection of interviews, photographs, essays and personal reflections, Khairat Kita: A History of Malay/Muslim Mutual Aid is a project documenting the last few remaining Malay/Muslim Mutual Benefit Organisations (MMBOs) providing aid and charity to their deceased members' families. Known as badan khairat kematian, they are volunteer, community-led initiatives based on a centuries-old tradition of mutual aid.
Khairat kematian organisations are social anchors in the community and custodians of intangible cultural heritage in Singapore's Malay/Muslim community.
With around 20 such organisations left, declining membership and ageing committee members, the future looks uncertain for these MMBOs.
Find out more about Khairat Kita at bit.ly/khairatkita.
About the Speakers
Fauzy Ismail researches Singapore's architecture and urban heritage. He completed his masters in architecture at the National University of Singapore, investigating heritage and thirdspaces in architecture, and dealt with gazetted buildings as a government conservation architect. He was an artist-in-residence at The Substation from 2018 to 2019, and was also a fashion designer in Paris.
Zakaria Zainal is an author and photographer based in Singapore. He published Riot Recollections and The Invisible Force: Singapore Gurkhas with Ethos Books.
Zaki Jumahri is an independent researcher and writer with a decade's experience across the arts, cultural heritage, non-profit and legal sectors. His writings have been featured in Today and arts publications including Art & Market and Art Republik. His research interests include Jawi and Arabic manuscripts, Singapore history, and art and cultural heritage law.
Hakimi Jamil has been actively contributing to the media industry since 2010. He made his start as a junior video editor, working on TV Drama/Docu/Movie while also foraying into several other projects in various roles. Currently, he is the Creative Producer at SevenOne Films, a company he started in 2018 with his partner, Tawfik Daud, working on projects with Disney SG, Mediacorp, MINDEF, and a few others. Hakimi Jamil is a graduate of Chapman University Singapore with a BFA in Creative Producing.
About the Moderator
Hidayah Amin is a Singapore-born, award-winning author. She wrote Gedung Kuning: Memories of a Malay Childhood in 2010. Since then, Hidayah has written eight non-fiction books and ten children's books. Her book Leluhur: Singapore's Kampong Gelam is the winner of the 2021 NUS Singapore History Prize.