Book Launch of "Liberalism Disavowed: Communitarianism and State Capitalism...
Description
The Singapore Research Nexus cordially invites you to attend our upcoming book launch event, "Liberalism Disavowed: Communitarianism and State Capitalism in Singapore" by Professor Chua Beng Huat, Department of Sociology, National University of Singapore.
ABOUT THE PRESENTATION
That the majority of educated middle class Singaporeans, unlike their counterparts elsewhere in East Asia, appear not to demand greater 'liberal democracy' of the People's Action Party, single party dominant government is a puzzle to liberal minded political pundits and academics. In Liberalism Diavowed, Chua Beng Huat argues that the PAP's unyielding antipathy to liberalism, especially the American version, is grounded in its founding social democratic ideology. Over the years the PAP, as a political party and as a government, has reworked the idea of the 'social' as an ideological basis of its rule, including 'communitarianism', 'supply-side socialism' and governance as 'trusteeship'. In addition, the early social democratic foundation has been institutionalized in various major social institutions, including near universal provision of public housing, made possible by the nationalization of land and extensive state ownership of enterprises at home and investments abroad, with half of its annual profit being channelled into the national budget. It is argued that these socially redistributive practices increasingly account for the legitimacy and the longevity of the PAP in government, rather than persistent authoritarianism.
----------------------------------
During the launch, Prof. Chua will discuss these themes in more detail, and after which Prof. Chan Heng Chee (Ambassador-at-Large, Singapore Foreign Ministry and Chairperson, Lee Kuan Yew Centre for Innovative Cities, Singapore University of Technology and Design) will provide her critical commentaries on his arguments. A Q & A session will commence shortly after the talk.
SCHEDULE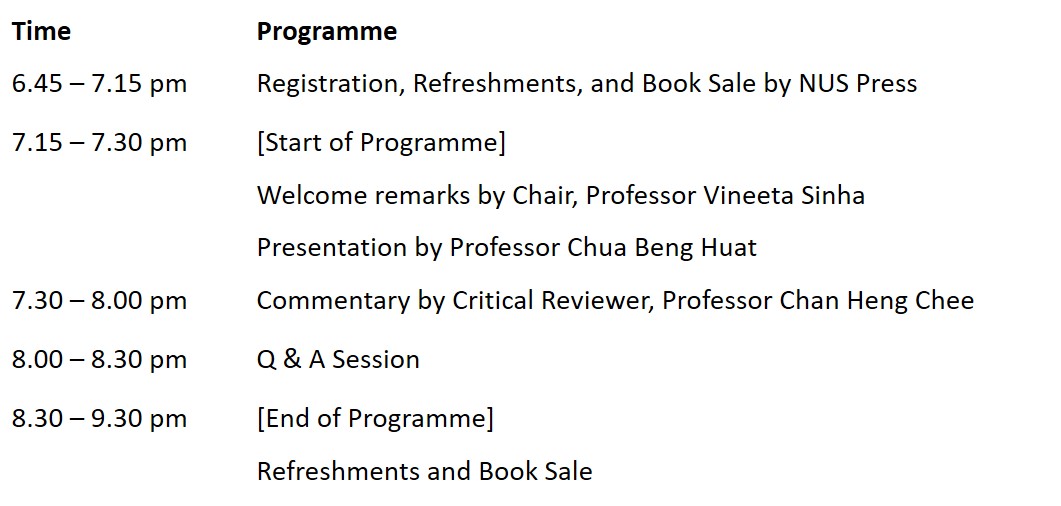 Registration begins promptly at 6.45pm. Please be seated by 7.10pm.
BOOK SALE (By NUS Press)
Books will be available for sale, before and after the event, at a special offer of $26.00! (Original price: $32.00)
To order your book online, click here. (Please note that this special rate is only available at the launch. It is not available for online purchases.)

ABOUT THE AUTHOR
Chua Beng Huat is currently Professor of Sociology at the NUS Faculty of Arts and Social Sciences and Professor and Acting Head of Urban Studies at Yale-NUS College. He has served as Research Leader, Cultural Studies in the Asia Research Cluster, Asia Research Institute (2000-2015); Convenor of Cultural Studies Programmes (2008-2013) and Head, NUS Department of Sociology (2009-2015). His publications on the society and political economy of Singapore include: The Golden Shoe: Building Singapore's Financial District (1989), Communitarian Ideology and Democracy in Singapore (1995) and Political Legitimacy and Housing: Stakeholding in Singapore (1997) and Life is Not Complete without Shopping (2003) and as editor, Singapore Studies II: Critical Studies (1999). Beyond Singapore writings, he has edited several volumes on cultural politics in Asia, including Consumption in Asia: lifestyles and identities (2000), Communitarian Politics in Asia (2004), Elections as Popular Culture in Asia (2007). He is founding co-executive editor of the journal Inter-Asia Cultural Studies.
ABOUT THE CHAIR AND CRITICAL REVIEWER
Vineeta Sinha is Professor and teaches at the NUS Department of Sociology. She is concurrently Head of the South Asian Studies Programme and the Department of Sociology at NUS. Her recent publications include the following books: A New God in the Diaspora? Muneeswaran Worship in Contemporary Singapore (2005); Religion and Commodification: Merchandising Diasporic Hinduism (2010); Religion-State Encounters in Hindu Domains: From the Straits Settlements to Singapore (2011); Singapore Chronicles: INDIANS (2015); Food, Foodways and Foodscapes: Culture, Community and Consumption in Post-Colonial Singapore (co-edited with Lily Kong, 2015); Sociological Theory Beyond the Canon (with Syed Farid Alatas, 2017). Her articles have been published in journals such as Religion Compass, Material Religion, International Journal of Hindu Studies, Journal of Southeast Asian Studies, Current Sociology, Australian Religious Studies Review, Journal of Contemporary Religion, Contributions to Indian Sociology, Teaching Sociology. She is Vice President (Publications) for the International Sociological Association (ISA) (2014-2018). She is the founding editor of the ISA's electronic journal, the ISA eSymposium, Editorial Board Member of Springer Book Series: Popular Culture, Religion and Society, Associate Editor of The Sociological Quarterly and Co-Editor of the Routledge International Library of Sociology.
Professor Chan Heng Chee is currently Ambassador-at-Large with the Singapore Foreign Ministry and Chairperson of the Lee Kuan Yew Centre for Innovative Cities, SUTD. She is Chairperson of the National Arts Council and a Member of the Presidential Council for Minority Rights. Professor Chan served as Singapore's Ambassador to the United States from 1996-2012, Singapore's Permanent Representative to the United Nations from 1989-1991, and was concurrently High Commissioner to Canada and Ambassador to Mexico. She has received Honorary Degrees from the University of Warwick, the University of Newcastle (Australia), and the University of Buckingham. She holds a B.Soc.Sc (Hons) First Class from the National University of Singapore, a M.A. from Cornell University and a Ph.D from the University of Singapore.
For further enquiries, please do not hesitate to contact us at singaporeresearchnexus@gmail.com.
Thank you and we hope to see you there!