Multiple Dates
Boost Your Confidence At Work⚡2-Week Intensive Training by Mei Phing
This program is for you if you're struggling at your job! **GET $50 OFF PROMO CODE: MEIPHING50 ** ** LIMITED **
About this event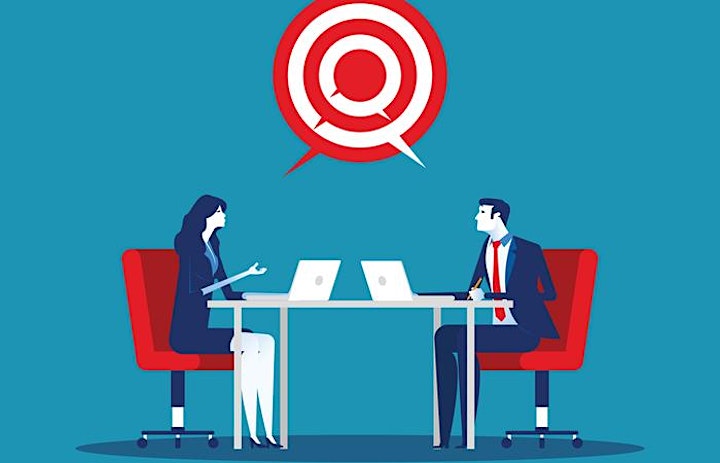 IN THIS 2-WEEK PROGRAMME, YOU WILL LEARN 👇
👉 1ST WEEK ~ 2 HOURS
✅ Expectation vs Reality At Work ~ Common challenges that might have been caused by misconceptions on what an ideal job looks like.
✅ Understanding Your Personality Type ~ Self-awareness is a very powerful tool in helping you understand why you are facing issues at work.
✅ Assessing Your Workplace Skills Gap ~ The first step to improving job skills is to clearly identify your current weaknesses that need to be fixed.
👉 2ND WEEK ~ 2 HOURS
✅ Communicating Clearly and Effectively ~ How to express yourself and deliver your message to your colleagues without any misunderstandings.
✅ Building Good Working Relationships ~ How to get along with your colleagues without feeling awkward and network effectively at work.
✅ Managing Your Workload Productively ~ How to identify the right priorities to focus on so that you don't become overwhelmed.
THIS PROGRAMME IS FOR YOU IF 👇
🚩 You feel stressed out with a lot of anxiety at work every day. You're constantly thinking if this is the right job for you and if you should quit.
🚩 You find it difficult to talk to your boss, colleagues or clients and feel that they do not understand you. Misunderstandings happen often leaving you frustrated.
🚩 You are overwhelmed at work with the never-ending job responsibilities that you're handling. You're not seeing improvements even though you've put in the extra effort.
As a former Senior Director at a global company with experience of working with professionals located in 43 countries...
I'd recommend that you start by improving your confidence and competence at your current job. Don't give up on your current job so quickly!
Give it your best shot!
UPCOMING INTAKES & DATES 👇
✅ AUGUST 21 & 28 ~ Saturdays, 8PM - 10PM (GMT+8)
✅ SEPTEMBER 18 & 25 ~ Saturdays, 8PM - 10PM (GMT+8)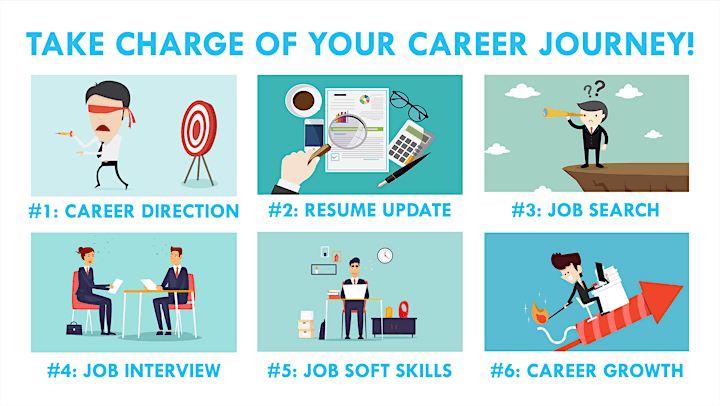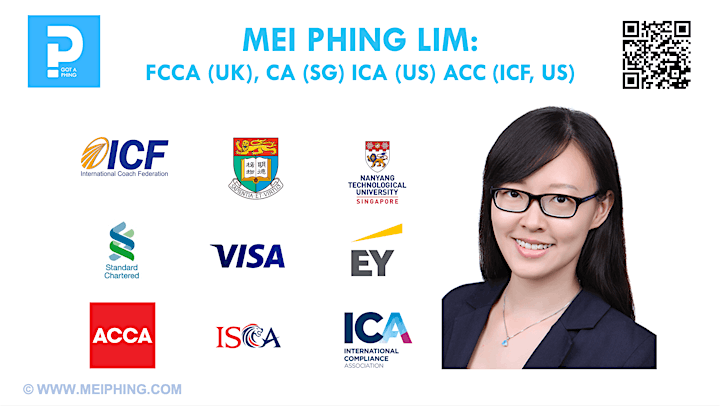 ABOUT ME:
Mei Phing Lim⚡Career Coach 🚀
Mei Phing Lim is a Professional Career Coach with more than a decade of corporate leadership experience and has been featured in the Top 70 Rising Personalities on LinkedIn Malaysia 2020. Mei Phing has empowered 100's of professionals from over 30 countries along their career journey and position themselves for career growth. Mei Phing is regularly featured as a keynote speaker on careers and personal branding at international events and conferences.
Prior to coaching, Mei Phing spent the last decade as a Governance, Risk and Compliance specialist with demonstrated leadership experience in the corporate world. She was consistently ranked top performer and fast-tracked to senior roles throughout her career in global companies. She is a Fellow of the Chartered Certified Accountant (FCCA & ACCA, UK) and Associate Certified Coach (ICF, USA). Mei Phing is a culture enthusiast and has travelled to 37 countries and counting.
COACHING & TRAINING:
✅ Career Interest & Direction - Gain clarity on your career path (and not get stuck)
✅ CV & Resume Review - Position your background, skills and experiences for your dream job
✅ Job Search Strategy - Practical tips for job hunt and connect with the right people
✅ Interview Skills - Boost your interview techniques and increase chances to get hired
✅ LinkedIn Profile Branding - Build a strong LinkedIn profile to attract career opportunities
✅ Job Soft Skills Upgrade - Develop and improve on your soft skills to do well at work
✅ Leadership Confidence - New leader or manager? Learn how to effectively lead your team
WHO I WORK WITH:
✅ Jobseekers
✅ Working Professionals
✅ New Directors, Managers & Team Leaders
✅ Corporate Organisations, Education Institutions (ACCA, HKU, NTU) & Student Associations
WORK WITH ME:
📌 1-1 Coaching Session
📌 Group Workshops - private (DM to book) & public (eventbrite)
📌 Event Conference Speaker
LEARN MORE:
🚀 Website: https://www.meiphing.com
🚀 LinkedIn: https://www.linkedin.com/in/meiphing
🚀 Testimonials: https://www.meiphing.com/testimonials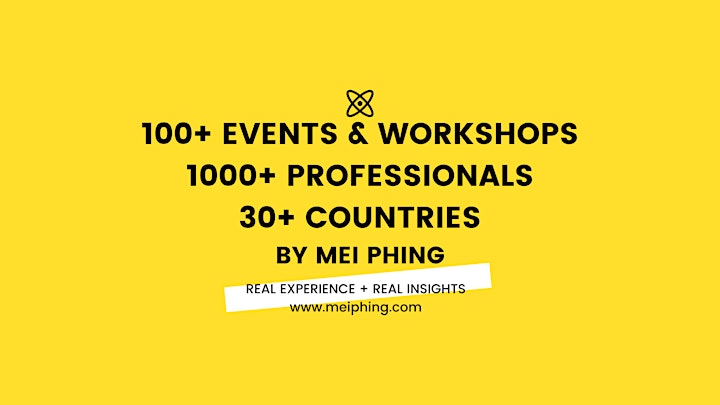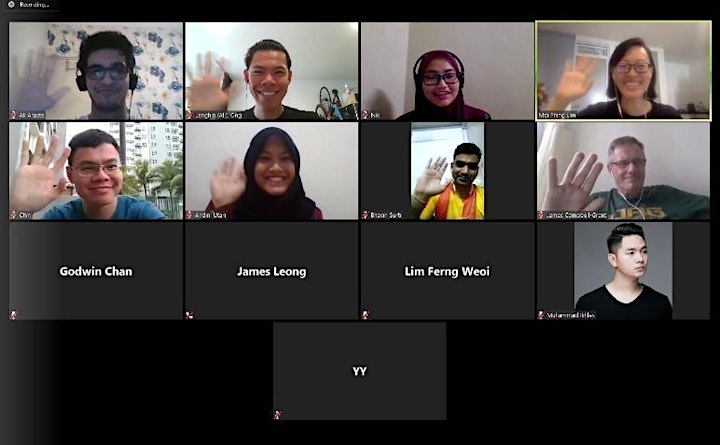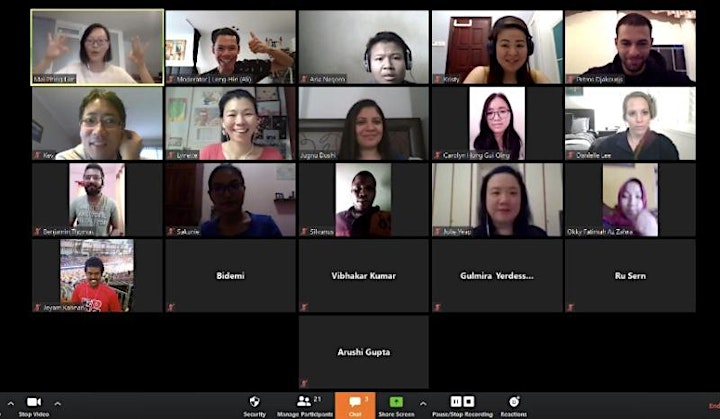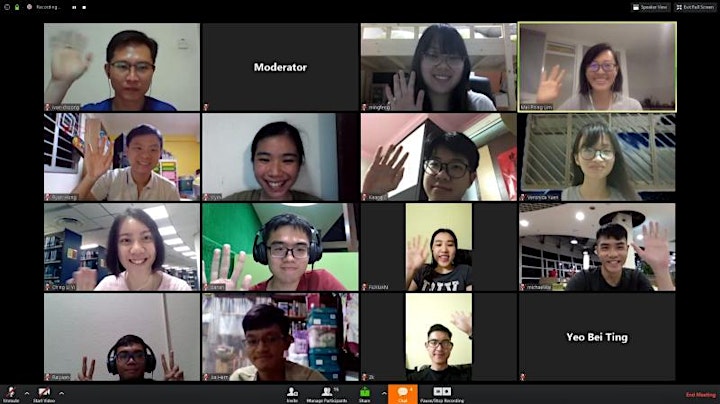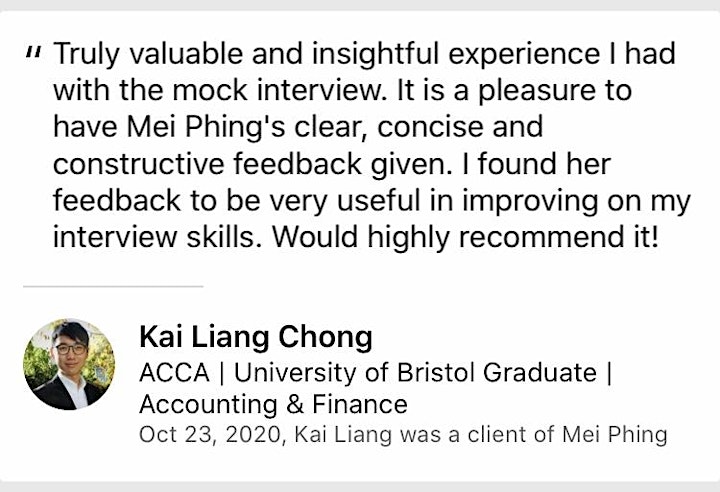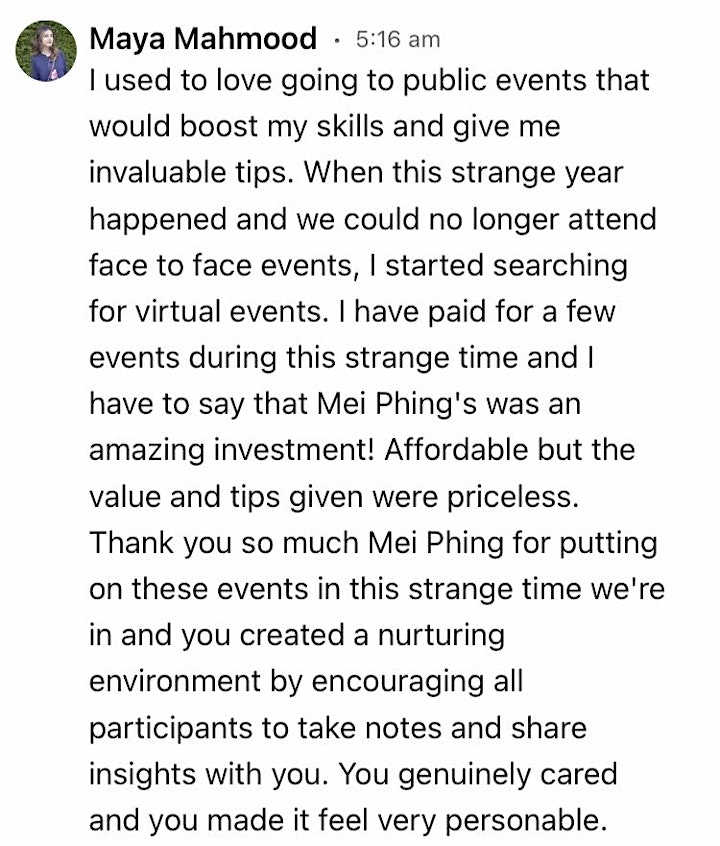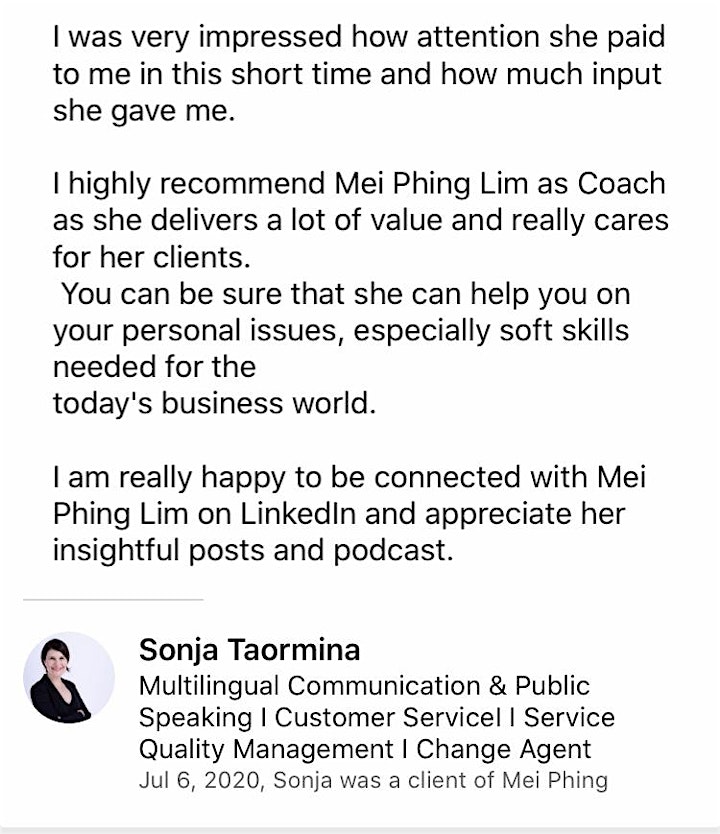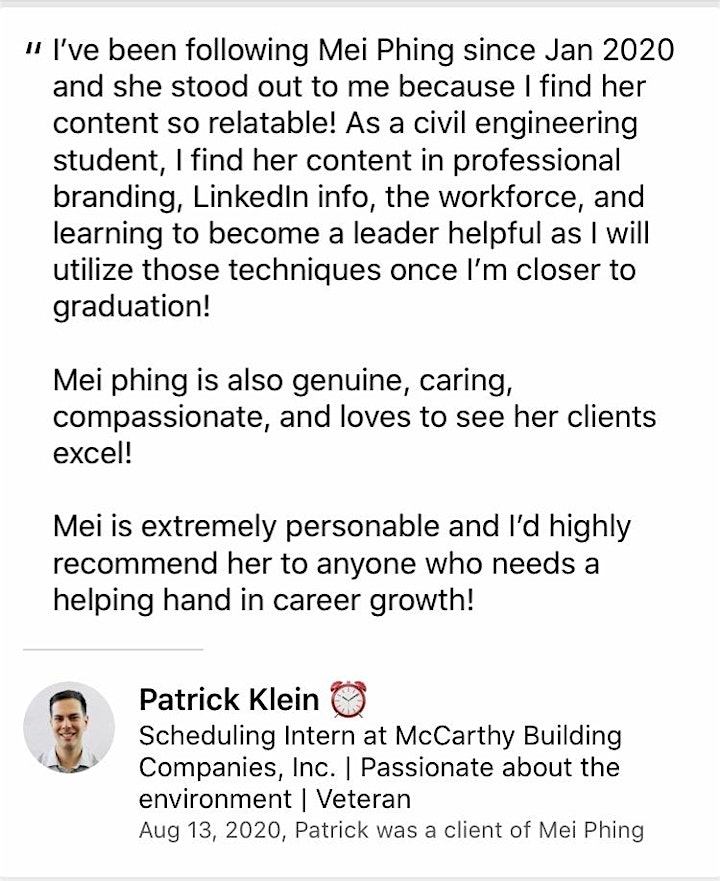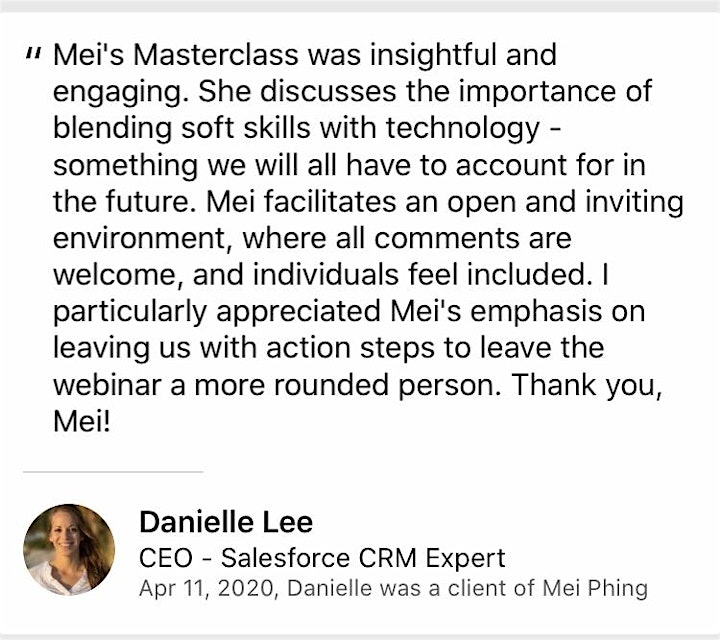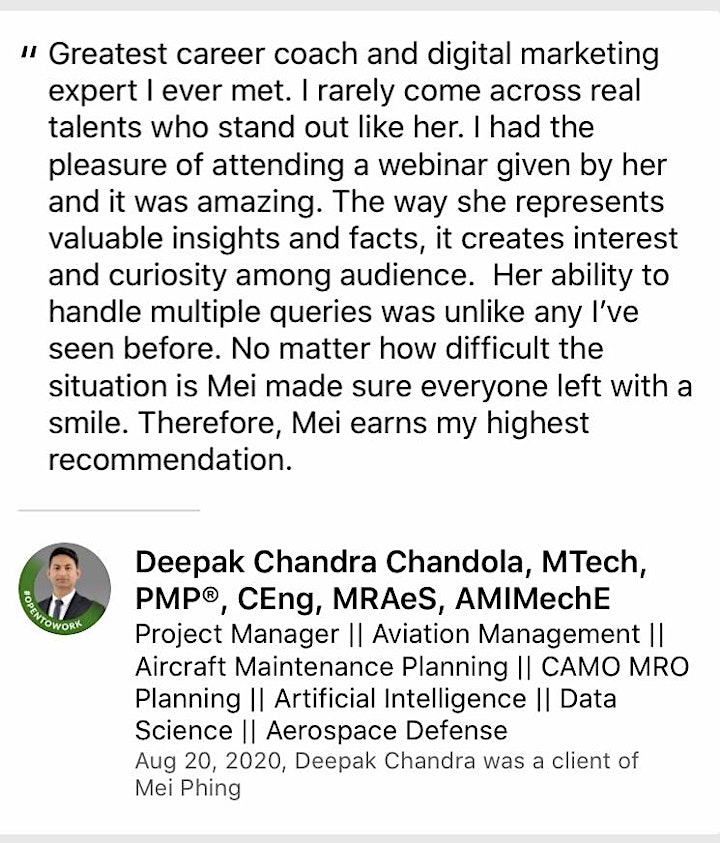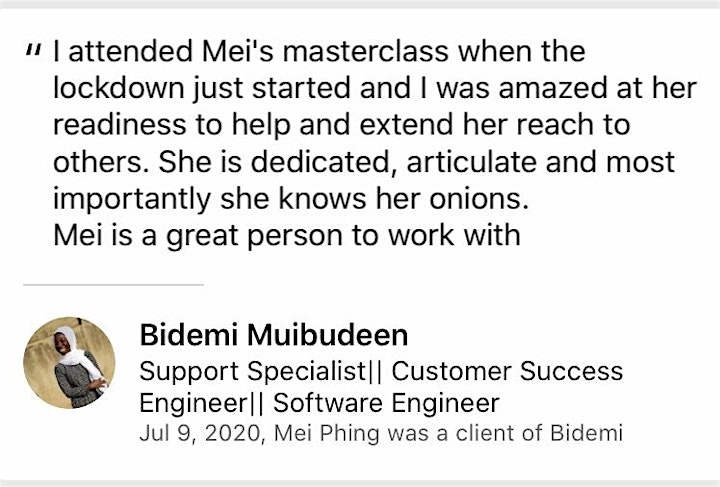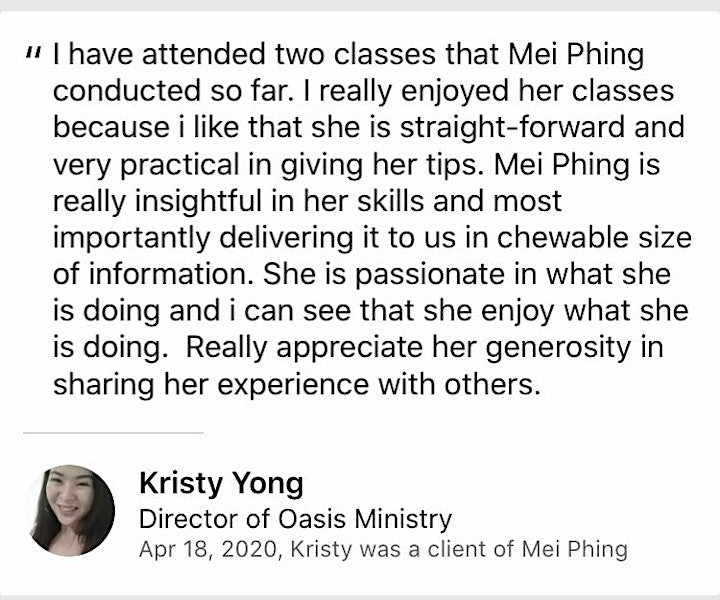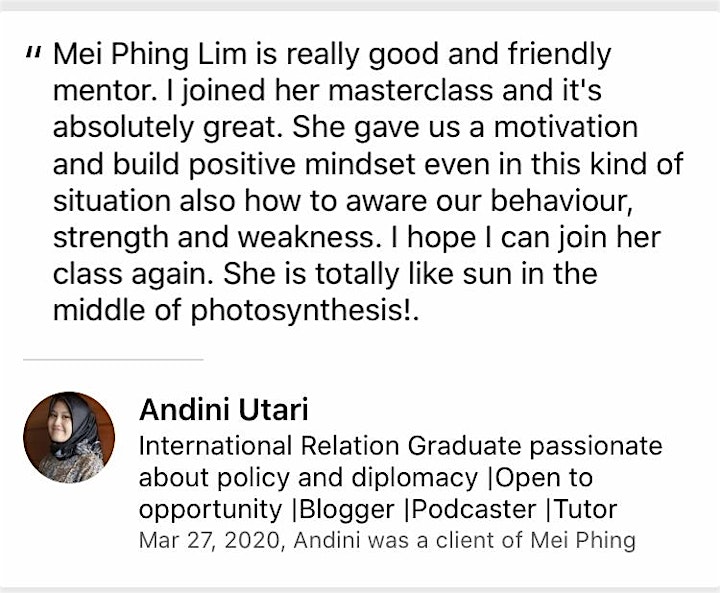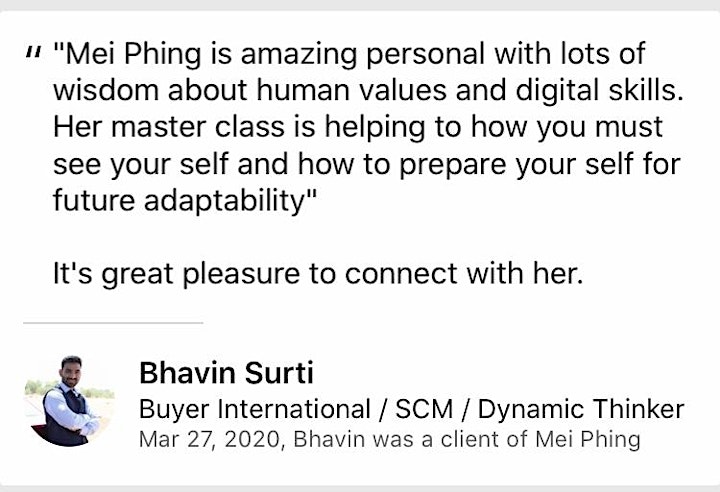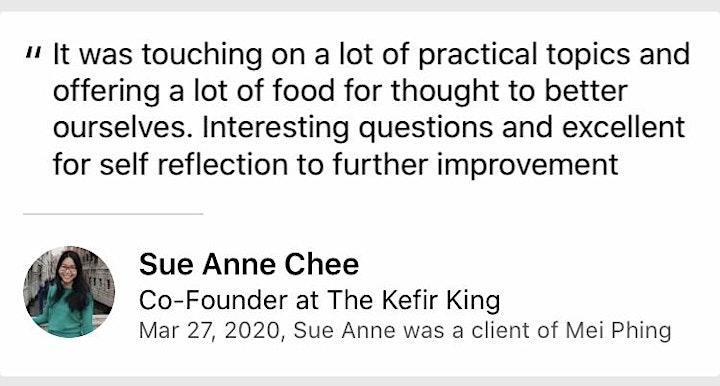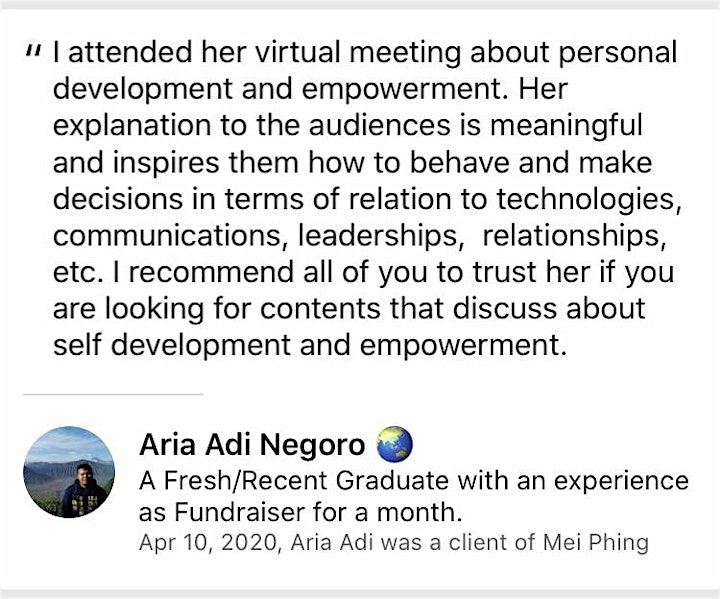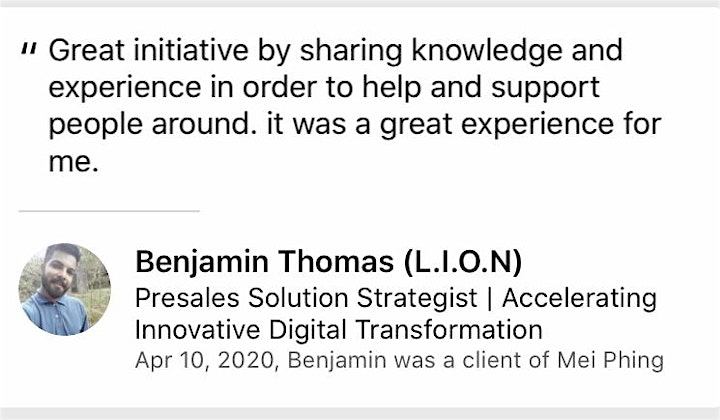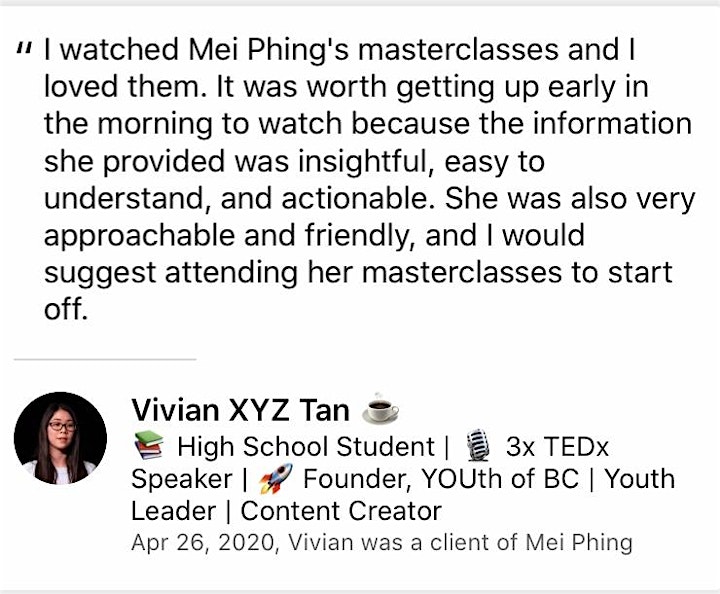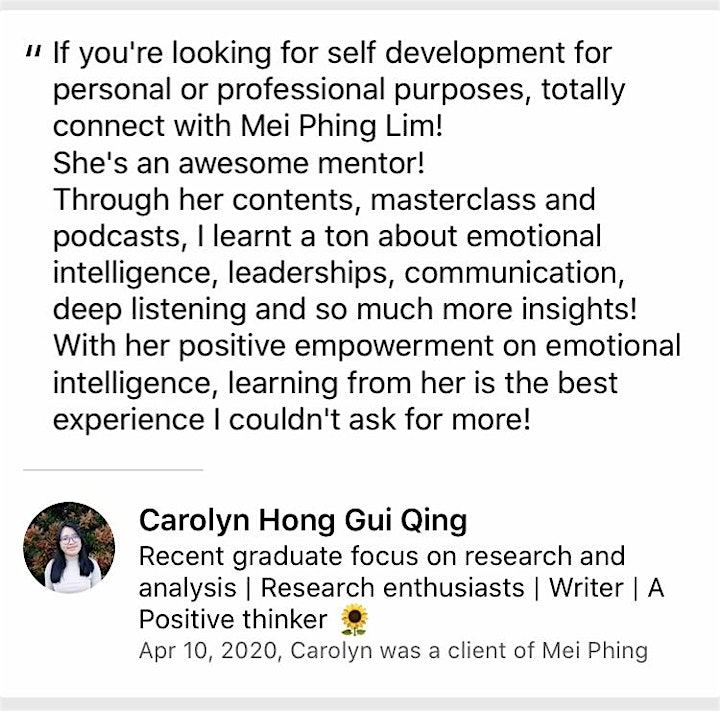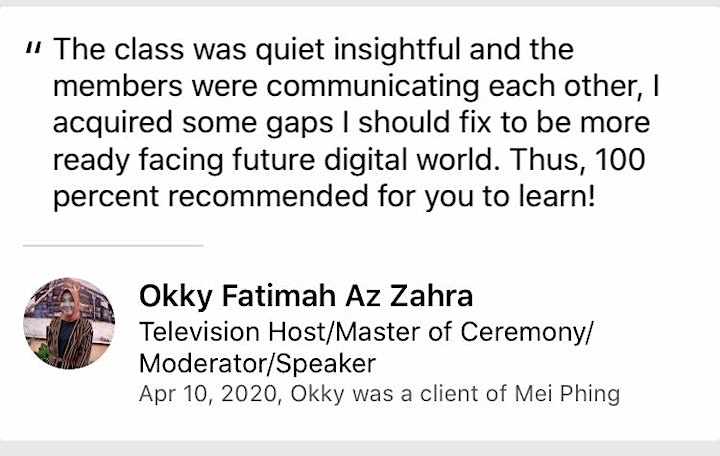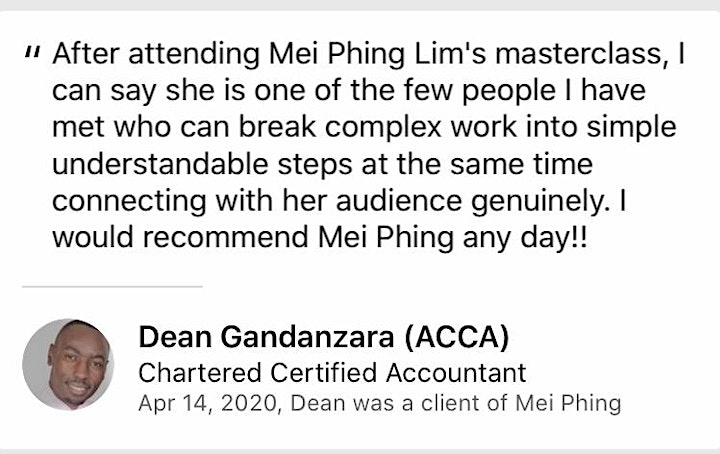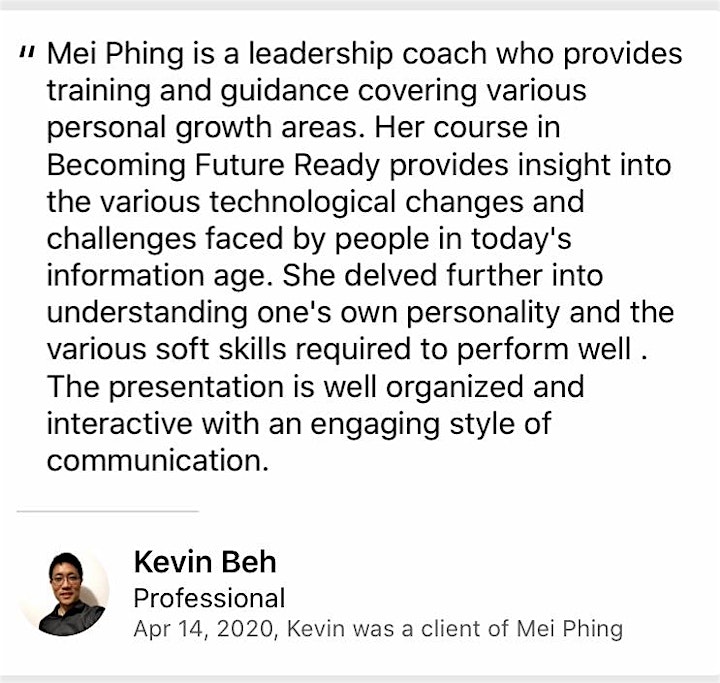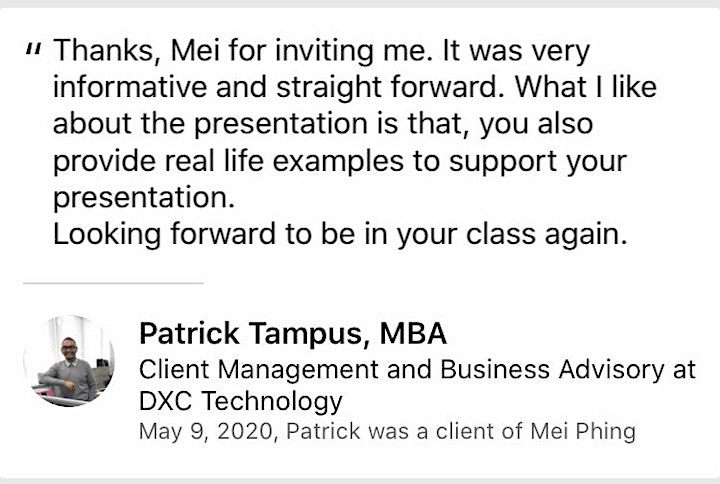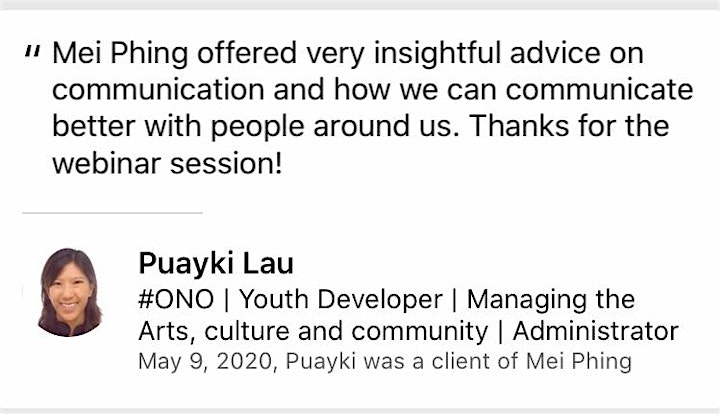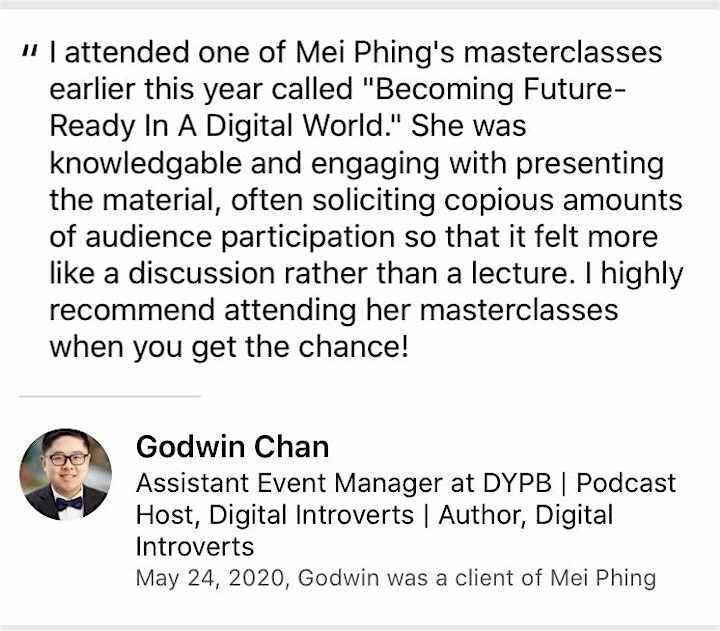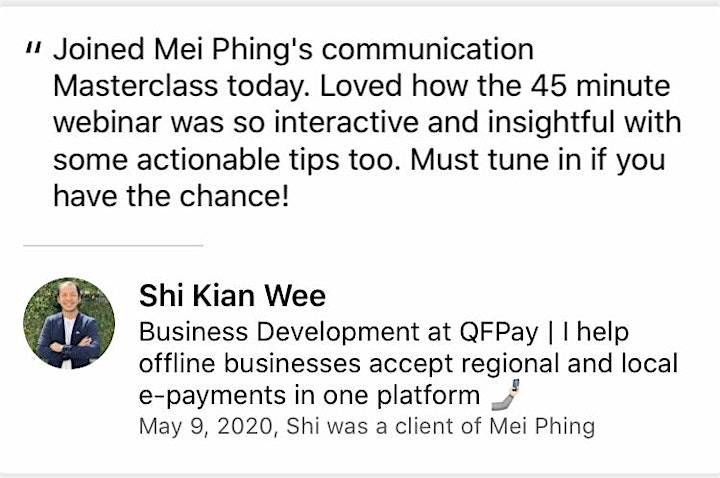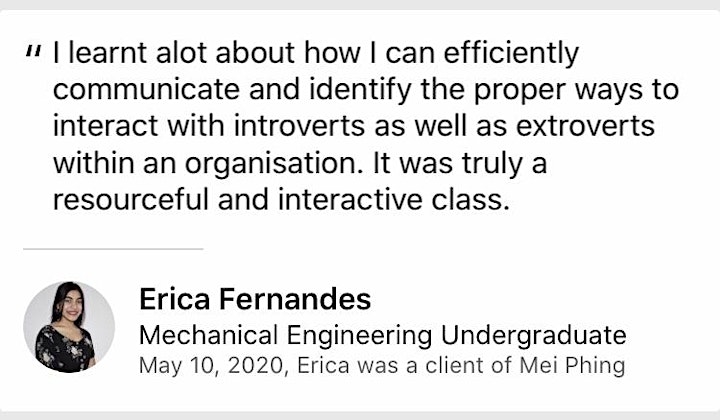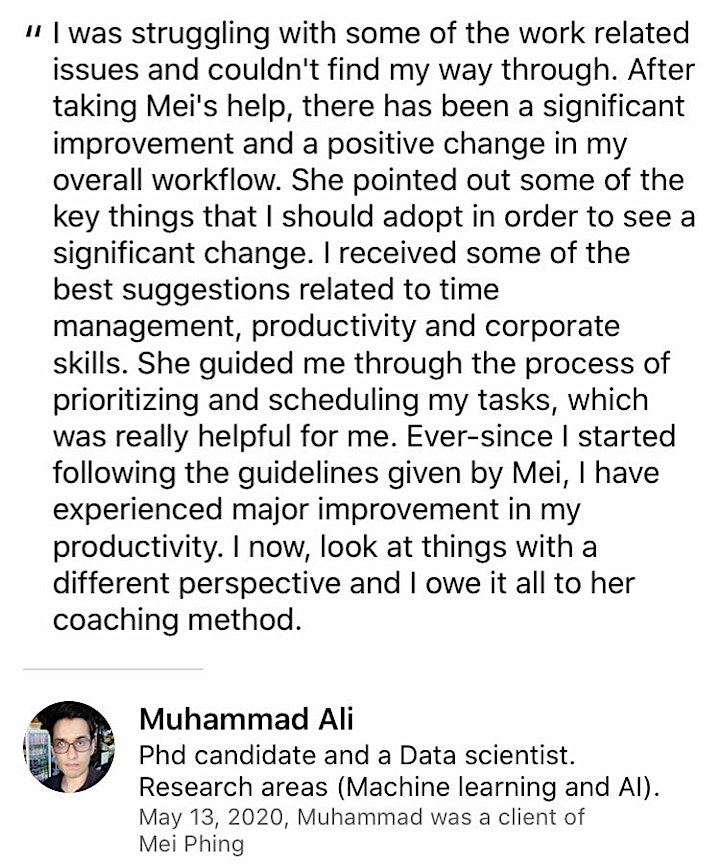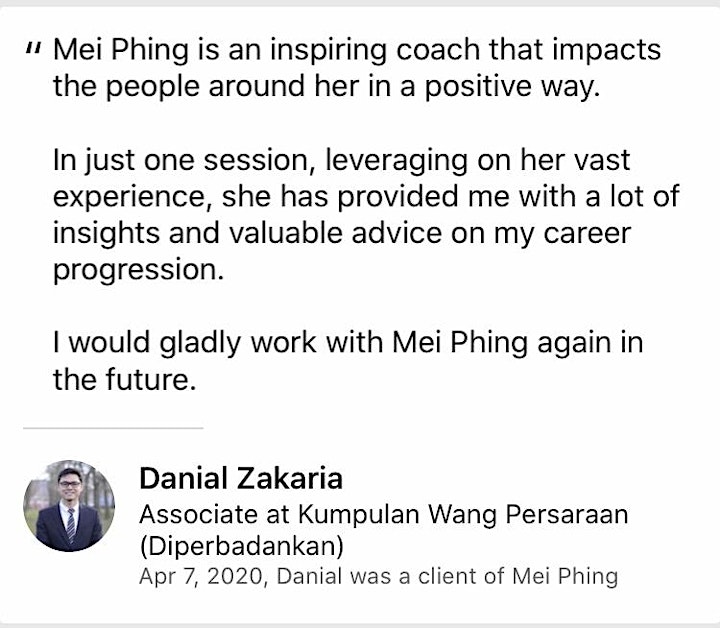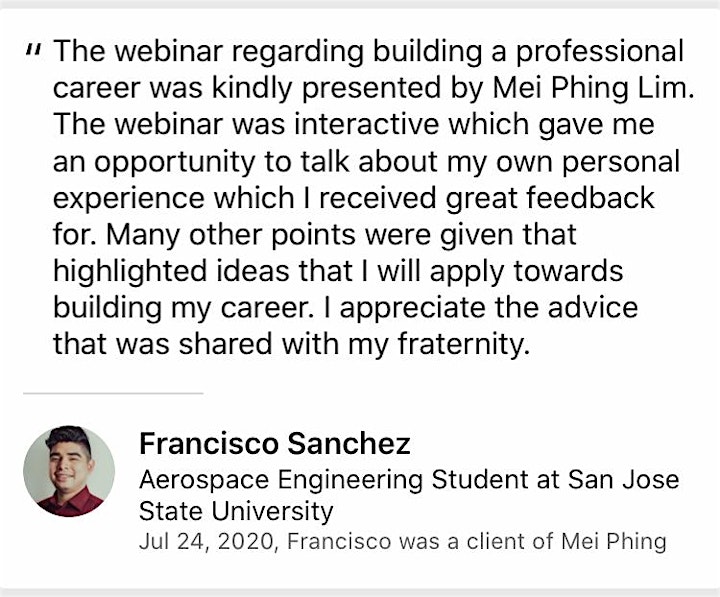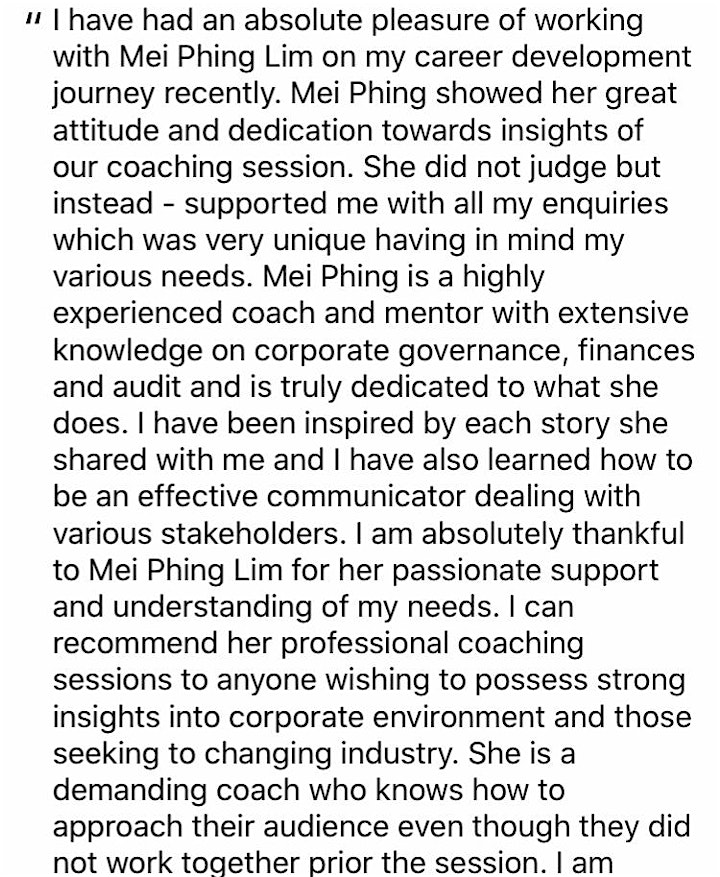 Organiser of Boost Your Confidence At Work⚡2-Week Intensive Training by Mei Phing