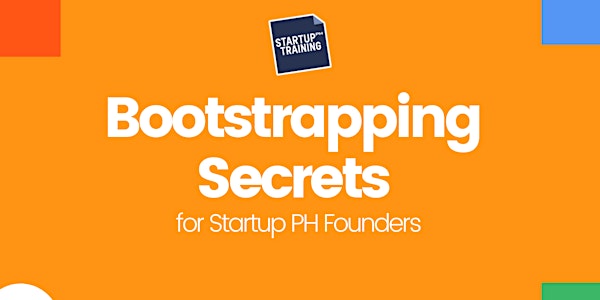 Bootstrapping Secrets for Startup PH Founders
Not getting investor money isn't just possible, some live by it. Learn how to survive pre-funding & rely on customers instead of investors.
When and where
Location
Dona Juana Subdivision C. Raymundo Avenue Pasig, NCR 1607 Philippines
Refund Policy
Contact the organizer to request a refund.
About this event
This Workshop is for Founders
With a startup idea that you think can scale
That have traction but still spending more than you make
Already bootstrapping, thinking of raising but unsure if they are investible
With these questions
How can I build my MVP without going broke?
How much money and time do I need?
What should I spend on? How can I save?
How can I go further and last longer?
How can we survive while our main idea isn't generating enough revenue?
When am I investible?
What have other Startup PH founders done?
A common misconception is that founders are able to immediately raise money once they have an idea. That's unfortunately not true.
Raise to grow, not to survive. To survive, you want to bootstrap.
What is it?
This is a 2 x 4 hrs, output-driven, interactive, live, and online workshop where startup founders learn how to sustain themselves despite the absence of outside funding.
Key Takeaways
Predict how much you need and when (or how much you're short!)
Actionable and copy-able best practices from Startup PH founders on how to they bootstrapped and survived the early stages
Determine if it's time for you to fundraise or if you need to keep bootstrapping - and tips on becoming investible
No traction yet? Or testing a different revenue model? Learn how to test your pricing ideas with real customers to get the feedback you need
BONUS #1: A list of grants and funding for no-traction, idea-stage startups
BONUS #2: A 3rd session for those that want to share and keep learning with fellow founders.
What We'll do
Session 1: Oct 1 (Sat) 2 - 6pm
This is the core workshop
The Fundamentals - Design, Lean, Fundraising vs Bootstrapping
Actionable best practices from Rey Refundo, Felix Assuncion and other Startup PH founders on generating revenue and lowering expenses
Other sources of revenue, grants and funding
Design an experiment to test your proposed revenue model/pricing or source of grants and funding
Start building your financial model
Between sessions
Execute the campaign to test pricing
Complete your financial model
Session 2: Oct 15 (Sat) 2 - 6pm
Participants present the campaign results and financial model
Facilitators, participants, and guest coaches give feedback and insight
This session is highly recommended but not required
Q&A / Open Forum with participants, facilitators and "veteran founders"
Bonus Session: Nov 19 (Sat) 2 - 6pm
For those who want to keep learning, sharing and collaborating with their fellow founders
Share updates on your bootstrapping journey
Practice pitching for those fundraising
What You'll Get
2 x 4-hour live workshop sessions
Cashflow Forecaster & Experiment Tracker,
Persona & Customer Journey templates
Experiment Reporting Template
Video recordings of lessons
BONUS 3rd Session for those
Ticket Prices
Regular Rate: Php 4,490 per team
Starts Sep 26 until workshop date
Early Bird: Php 3,900 per team
Starts: Sept 5
Ends: Sep 25
Super Early Bird: Php 2,900 per team
Now until Sep 4
Use the promo code first10 to get another Php 1,000 off!
Payment Options
Via PayPal or your credit card
Credit or Debit card using
Via BPI, Maya or GCash - choose "Pay Via Check" for the following payment options. (send a screenshot of the payment made to jona@startupphtraining.com )
Via BPI - Carlo P. Valencia - SA # 2609238286
Paymaya or GCash - 09399203466

Pay Via Invoice is also available
About the Lead Facilitator
Carlo P Valencia is an educator, a founder, a facilitator and an advocate for all things Design, Lean and Agile.
Carlo was the CEO-Founder of Klaseko, a VC funded startup that automated enrollments for schools. Since he left in 2016, he has been teaching founders how to succeed while being a freelance corporate innovation training, college instructor and in-house mentor for QBO Innovation Hub.
He has been "informally" bootstrapping during his freelancing phase and now "formally" bootstrapping as he validates some of his riskiest assumptions about Startup PH Training.